I had found this synthesizer on Craigslist about a month ago but I never heard back from the seller and thought that the synthesizer was already purchased…but several weeks later I saw the ad reposted so I tried again.  This time I was able to get in touch with the sellers and made arrangements to pick up before I left for a quick weekend out of town.  The weather, however, halted me near Manitou Springs because of a flash flood on Highway 24 at Cave of the Winds.  Frustrated, I was turned back and didn't know if I would ever be able to make the deal happen.
I was able to pick up the synth over a week later as the kids and I were using a rain check at the Topaz mine near Lake George and were passing through Florissant on the way.  So on 7/20/2013 early in the morning we were finally able to meet up with the seller and pick up this classic vintage synthesizer.

Upon getting the synthesizer home we plugged it in and everything was working as advertised.  There were a couple of cosmetic flaws that need to be addressed:
1) The data slider cap is missing
2) The left side panel is broken
3) The right side panel, and back right-lower corner is bent, but luckily not broken.  Obviously this has been dropped several times so I would like to try and pull out the dent in the corner of the metal.
4) The unit was near a painting project at one point of time and the left side is speckled with paint.  The paint had gotten onto the keys too which gives them a not-so-pleasant playing experience.
5) When turning on, the "low battery" notification shows.  I did the onboard battery check and it stated it was at 2.3V.  The battery is soldered to the motherboard; so there will have to be some disassembly to work on this issue.
6) The volume slider needs cleaned; it is very scratchy when moving.  Likewise, the data slider it jittery when trying to program; I suspect a good potentiometer cleaning will do the trick.
7) The lone mono output jack appears to be loose; which may be because it was dropped?
8) The modulation wheel is VERY loose; although still 100% functional.  I should be able to tighten this up once I have it apart.
9) There is a crack on the front panel membrane on 28.  I'm not sure how I'll fix this; I may tape it from behind to prevent further cracking.
But given its age, all-in-all it is in great cosmetic condition and appears to be nearly 100% functional!  I am ordering a used left side panel, brand new 3V battery and a used slider cap from syntaur.com.  I will then open up the DX-7 and operate to fix all most of the issues, hopefully in the next couple of weeks.  I need to figure out how to remove the unwanted paint still; scraping the keys with my fingernails helped; but I am still not satisfied with the "feel" and have only done a half-dozen keys so far.
As an added bonus, the synthesizer came with several extras:
Switch pedal which can be used for Portamento or Sustain
Volume pedal which can be used for Modulation or Volume
ROM Cartridge #3 (Master Group / Keyboard & Plucked Group)
ROM Cartridge #4 (Orchestral & Percussive Group / Complex & Effects Group)
RAM Cartridge (in original box)
Sheet Music holder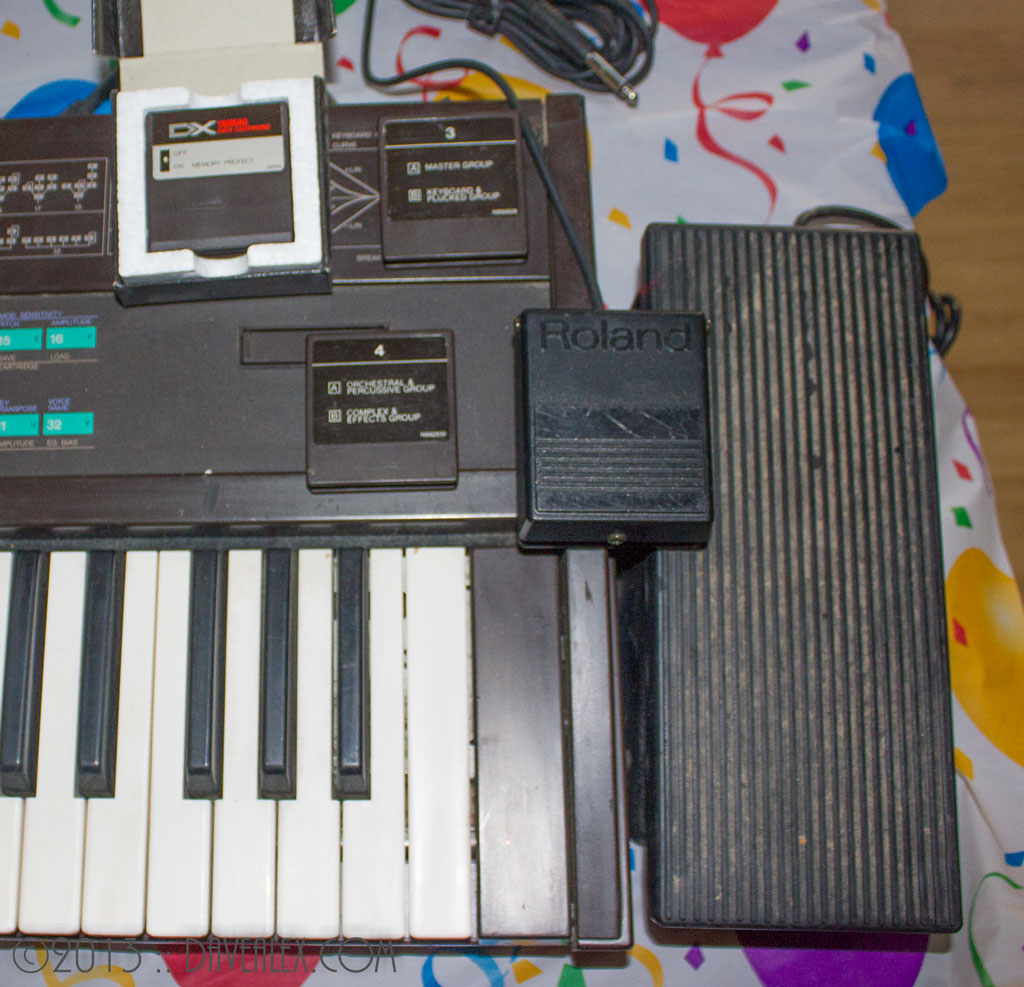 I found a copy of the "DX7 Bible" called The Complete DX7 by Howard Massey online (it is long out of print and hard to find original copies) on a Yahoo Group which I have read is a must for really digging into and learning to program the synth.  Another resource is the June 1985 Keyboard Magazine article on programming.  I found a HUGE stash and information site of commercial patterns/presets for the synth that can be loaded via Sysex!  This site has a ton of information on the DX-7 too.
Reading through various forums, many folks recommend software editors but someone posted in an online forum that the User Interface is actually pretty logical and once you get your head around how it works it is pretty easy to program directly.  I like to program without a computer so this intrigues me.  I recently picked up a Roland JX-3P and most people are the same here; with the new user interface that was popular in 1983+ people now just hate when there isn't a knob for every function to make programming very tactile.  But I found that the UI of the JX-3P is *very* simple and I don't need an expensive PG-200 programmer; furthermore other synthesizers of this era are selling for what I consider rock-bottom prices now; simply because of the UI; which is good for someone like me who doesn't mind not having 30+ sliders/knobs!  Back to the DX-7, on the forums another person gave the advice to learn the Envelope Generators and options first to make it easier and fun to program.
I am borrowing a Jabrudian Industries Missing Link wifi unit and there is a great editor for the iPad (or iPhone?) using TouchOSC that I can't wait to try!  I'm glad to have one of these classic "Analog-killer" Frequency Modulation synthesizers in the studio!
The Yamaha DX-7 came out in 1983 when the MIDI interface/protocol was brand new and was a smash; it's line ended up being the top selling synthesizer ever!  This was because the sounds were very contemporary and you could save all your sounds quickly for instant recall.  At the time the 13-bit "digital" sound was new and clean (yet a bit grittier than later Yamaha FM synthesizers) and much easier to deal with and take on the road than an Analog beast.