I led a field trip with the Lake George Gem and Mineral Club to Devils Head today. Given that there were a lot of cars we parked in a popular area, one which has several claims surrounding it.  Part of the responsibility of rockhounding is to know where claims are located and not to mineral trespass, so I put together a google terrain map with these claims on it so we were sure to understand where the claims were so we dug elsewhere.  Many folks asked me how I did this, so I decided to detail the process here.
First off, it is important for anyone Rockhounding to understand the rules.  Here are useful information links for Mining Claims and Rockhounding in the state of Colorado.
As you read above, part of staking a mining claim is to produce a Certificate Of Location (COL) and file with both the County Recorder's office and the BLM.  Part of this document is to record exactly where the claim is located, most of the time this includes a map that you can see the exact corner posts and perimeter.  These documents are public record, and you can research and request copies of them for a small fee (or free as I will demonstrate) from either the BLM or the County of record.  The BLM manages all mining claims on public land, so you will want to use their research tools to determine the status of any claim.  Note that the LR2000 online website may not contain the latest and greatest information; so getting your information direct from the BLM is the best source.
I like to create a prospecting map so I know the vicinity of where these claims corner posts are (or should be, sometimes the claim owner does not have them marked).  To do this is a 3-step process.  Luckily Douglas County has their records available to search online, so you can get this information from the privacy of your own home–but most counties are not that advanced with their software yet.
Research which claims are active, this requires knowing the Meridian, Township, Range and Section where you are looking.  Review this blog posting for more information on using the LR2000 online web application.  For the popular Devils Head area "Virgin Bath", this is

Meridian:  6th Principal
Township:  9S
Range:  69W
Section 21

Once you have the claim owners information from LR2000, you can locate the COLs from the Douglas County Recorder's website
On this website, click on Documents and read and accept their rules. You will need to have a valid account, which is free, to view documents online; so you should go through the registration process.
Choose Location Certificates as the document type and put in a reasonable date range.
From the search results, you can review or even download the COLs from this site.  To review, just click on the row, or add to the review list with the +.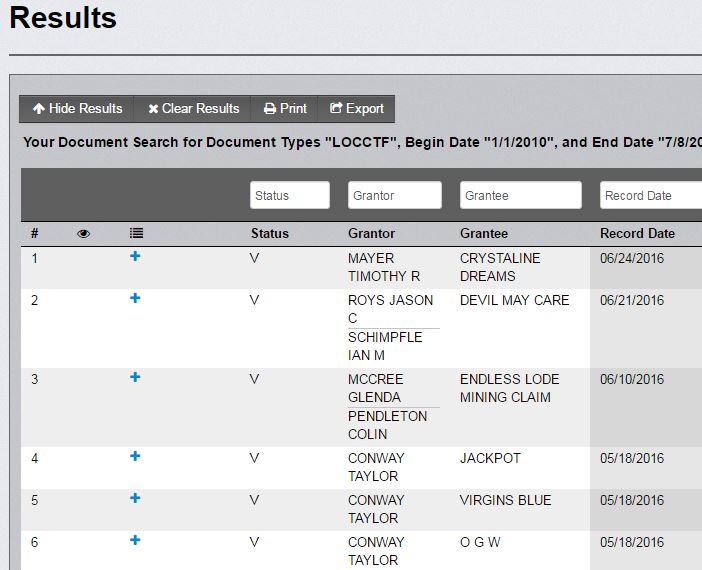 6.  Within each document there is a map, you may need to refer to a topo map to know the Township/Range/Section, but from here you can see the claim boundaries.
7.  Print these out, or combine into a single "rough" prospecting map using Google Maps.
8.  When out prospecting you can use these maps to get the vicinity of the corner posts so you can find them and ensure you are digging on non-claimed areas.
Hope this was helpful.  Happy prospecting!