Someone asked me about all the twisters I have seen and it got me thinking back on all of those good times. I decided to write down this list as it seems with the passing years I have a more difficult time remembering each one of them. I have photos and videos for most of the new ones; and have a couple of photos of the older ones somewhere; hopefully someday I'll dig those out of my folks photo albums.
July 1977 South of Johnstown
From the deck of my hometown house we could see a landspout looking structure south of town (we were on the north side; about 5 blocks and over a slight hill is the southern end of town–so we saw it clear in the sky south of town). Dad immediately grabbed our neighbor Wayne (who is a photo genius) and we headed out in my dad's old truck to check it out. My first chase!
I was starting to see it over the hill when Wayne told my dad to turn around as it was spinning right on us. I looked up and saw the swirl in the clouds that I will see many times throughout my life. That ended my first chase as a kid! I've been absolutely hooked since.
April 1983? Key Largo Florida waterspout
Still verifying the date; will have to cross-reference from vacation pictures someday at my folks place.
This was a fun story; it was stormy at our hotel on the beach in Key Largo, FL and I was on the beach. I saw a funnel come down into the ocean many miles away. I got excited and went to fetch a camera in the hotel room. I was sprinting up the stairwell steps and accidentally ran into a lady walking the other way; I missed her, mostly, and I apologized profusely; when asked the reason I was in "such a hurry" I said to fetch a camera for the twister. She told me how I didn't know what I was talking about; "this is not tornado weather, I am from Kansas I should know". She went on and on telling me how stupid I was, meanwhile I was missing the show! I couldn't take it anymore and said sorry and bolted off to fetch the camera. By the time I arrived at the beach again, it was gone…I'm sure it was gone when she checked it out too, knowing my luck! Crazy kid!
June 1987? landspout west of Johnstown (called 911) (filmed on betamax)
This one was cool. I was hanging out with a buddy Dave and he was splitting for dinner; walking him to his car we looked west directly up the street and I saw a funnel behind the trees beyond the end of town. I saw the dim outline of landspout dust near the ground. I ran inside and grabbed my Dad's Beta-max video recorder and filmed this cool tornado for about a minute or two before it was completely obscured by the trees.
I called 911 and the lady said she wouldn't raise the sirens unless someone else called it in. I had no clue of NWS at the time and wasn't an official spotter, so my only experience listening to Dad's fire department pager was to call 911. Because of the lengthy conversation with 911 I missed some of the tornado, but still got a little on video tape.
July 1987? Milliken / Gilcrest landspout (in clouds) (filmed on Beta-max)
This one was sweet. I went outside for some reason and looked up at the clouds and they were dark and dreary. I got my Dad's Beta-max camera, got on my bike and rode to the far eastern edge of town (about 3/4 mile away). I filmed this incredible skinny tube that made it half-way to the ground did a 180 degree U-turn and then started back up. It disappeared into the clouds so all there was a U shaped rope!
Then I noted several miles to the north it came back down to the ground kicking up some dirt from the fields. What crazy structure! I'd estimate it was directly north of Milliken at this time in the Big Thompson River valley. I ran to my friend's house that lived right there and called 911; then we watched in the field across the street from his house until it roped out. I got some sweet video, probably 10 minutes worth on tape! Oh, and once again, 911 wouldn't officially run the sirens in town unless the sheriff gave a confirmation, which didn't happen. Luckily no damage was done that I heard of.
Got about 10 minutes on video tape. Nice mix tape so far, the one above too and a funnel from another storm! NOTE: The whereabouts of this tape is unknown. I don't know if my mom donated the tapes or perhaps it got recorded over (I reviewed most of our old tapes in my college days and didn't find this particular one, bummer!), so I've never heard or seen of these storms since. Keep an eye out at some thrift store near you!
Spring 1990. Officially trained and certified with National Weather Service as a storm spotter. I went with my dad at the training in Greeley in about 1990. That was a great and useful course; I still refer back to the manual they gave us for storm structure schematics!
June 15, 1990?89? (http://www.thorntonweather.com/blog/weather-history/june-12-to-june-18-this-week-in-denver-weather-history/). Colorado National Speedway. I think the year is wrong, they say 97 in the article; I remember Fathers Day, 1989, 90, 91 timeframe? Perhaps a different storm? Any ideas? Father Days landed on: Jun 18 89, Jun 17 90, Jun 16 91, Jun 21 92, Jun 20 93, Jun 19 94
This one is pure luck. We were sitting down for dinner on the Fathers Day or similar celebration dinner with my family (don't remember the exact year, the one in the article is not the correct storm). I looked out the dining room window towards the south and saw the evil looking finger in the sky far south of town. I only saw it for about a minute before it was obstructed by houses. Since we were in the middle of dinner; no one shared my enthusiasm to run out and chase it. Heard it reported over the police/fire scanner and later the news said a tornado was by Colorado National Speedway, I believe it tore up a couple of trash cans, maybe some of the stands. I'm still researching, if you remember this twister and any details of it give me a shout.
March 23, 1996; Jefferson County Airport inflow band touchdown
This one was way cool; but this was before I carried some kind of camera with me. I was driving home to Boulder from work in Golden. Along Hwy 93 intersection of McCasulin at the open space parking lot I parked and checked out the eerie clouds. However, in the nice inflow structure/tail a little section started to swirl, you know, the good swirl in the clouds that can only mean one thing. I estimate less than 15 seconds later there was a nice funnel cloud.
The funnel came down and hit the grounds somewhere probably West or a bit NW of Jeffco Airport. There was a tornado in Boulder that day too that was very photogenic; but the one I saw wasn't it. Another person pulled into the parking lot to go mountain biking and he saw the tail end of it too! It was about 8 minutes later the guy in the bike arrived. The tornado had just roped out before he got there…and he didn't believe us on how close it was to him.
I drove by Nate's place in Broomfield and knocked on the door. He answered the door and had a surprised look on his face. I snagged him and we chased the storm. My sister took this when the storm was out west of Fort Lupton, the only shot of that storm that I know of.

So, I got tired of getting pelted with hail, so I purchased a Baron WX Mobile Threat Net Weather station for the car; only went out in college periodically because I was so busy all the time and couldn't see the storms out far east of town. After working at NOAA in Boulder I realized that technology is it and after the last storm I was hooked again! Because of work constraints, however, I didn't really get to go out much until the late 90s. Instead I watched storms over the internet and see what my target would have looked like. I learned a lot and did this for years. Here are some shots of the dash of my chase vehicle.
After learning "DaBaron" I wanted to try it out; but loved the idea of being driven around the plains, staying at a nice, clean hotel and getting up and predicting the weather each morning. This was on the Silver Lining Tours Master Class tour. 10 days on the plains, learning weather (got some nice software and skills on the trip). Was a great time; I have a DVD if you want to swap one of yours.
Here is the Silver Lining Tours summary.
June 7 2005 South Dakota badlands, SW of Wanblee SD, Jackson County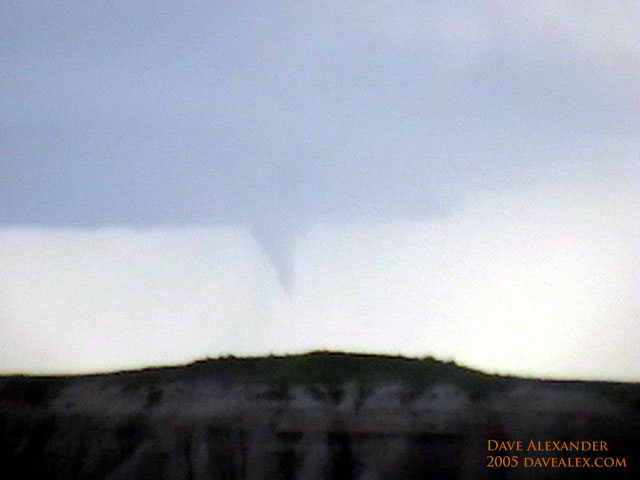 June 9, 2005. Hill City Kansas #0 (This was reported to the NWS by the folks I was with; he was a NWS employee, but this picture isn't that great).
June 9, 2005.  Hill City Kansas #1 (Truncated Cone)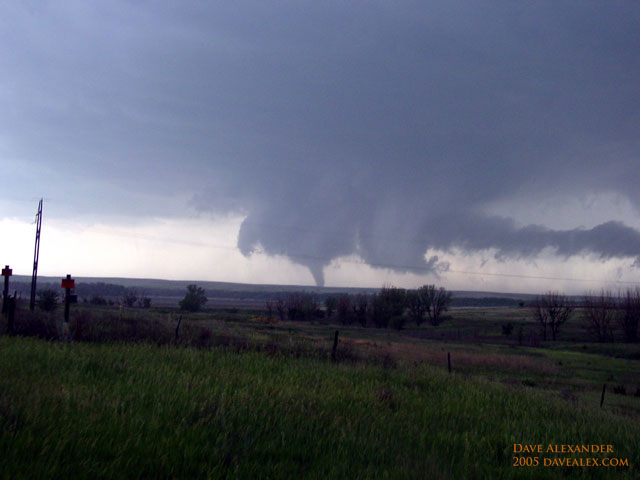 June 9, 2005.  Hill City Kansas #2 (The infamous tornado)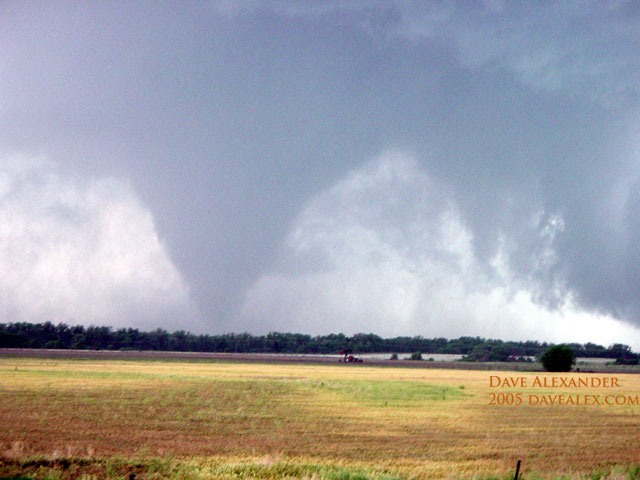 June 9 2005 Palco Kansas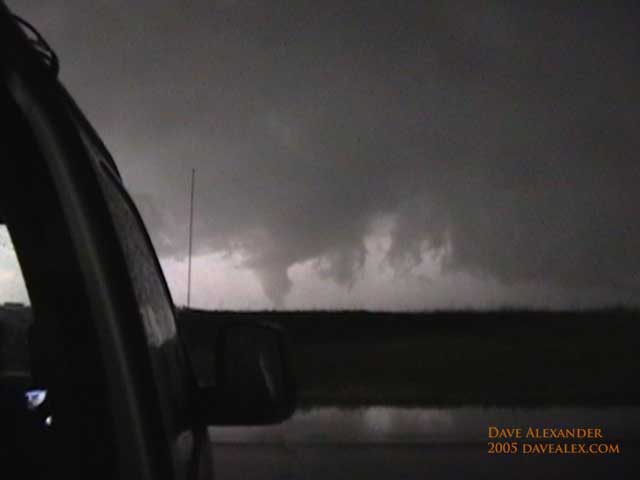 June 9 2005 Damar Kansas double twister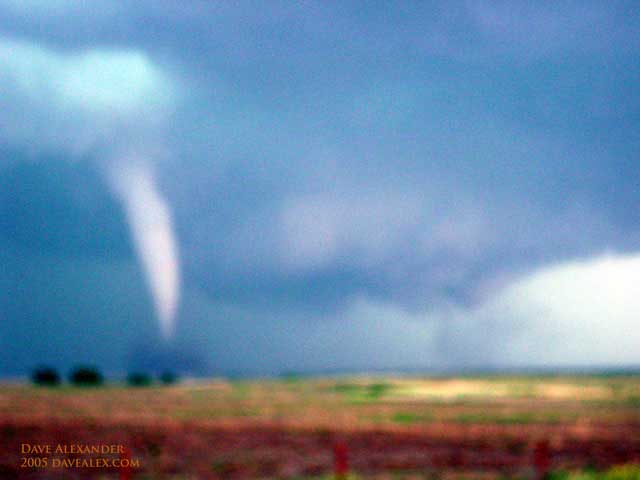 June 9 2005 Ellis County Kansas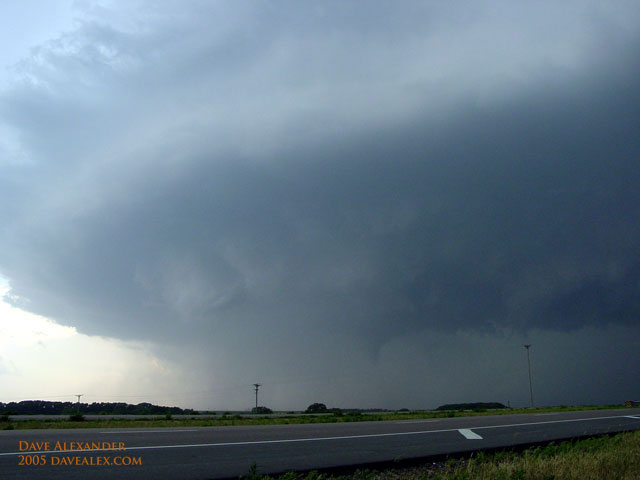 June 11 2005 Caprock Texas (or was it 10th)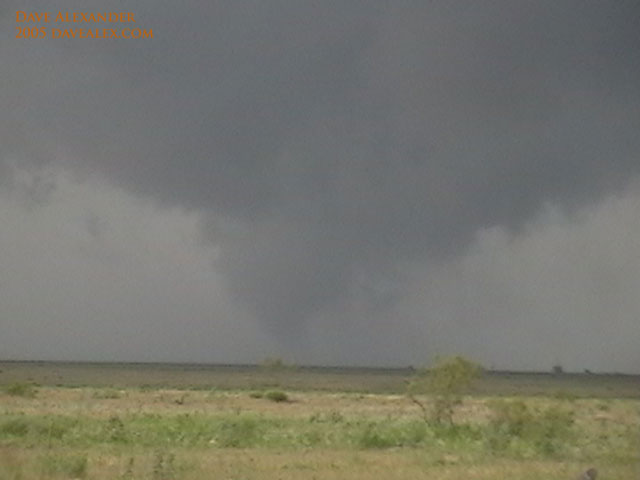 June 12 2005 sw of Jayton Texas (Kent Co) #1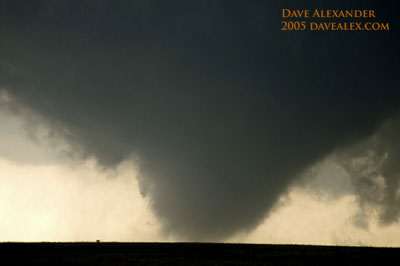 June 12 2005 SW of Jayton Texas (Kent Co) #2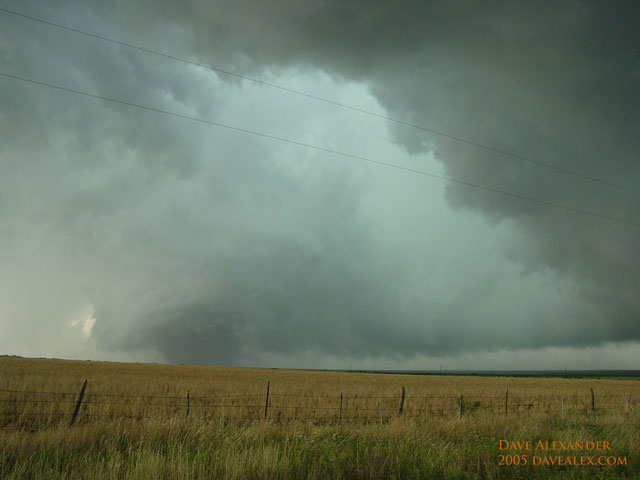 June 12 2005 SW of Girard Texas #3 multivortex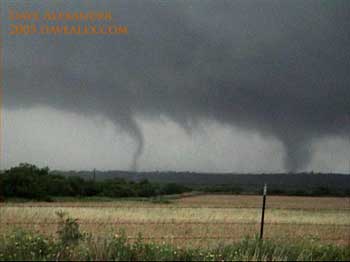 June 12 2005 SW of Girard Texas #3
June 12 2005 Jayton/Hamlin Texas #4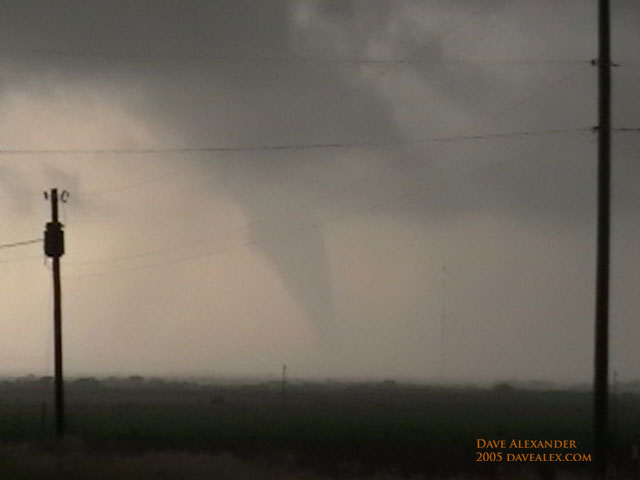 June 14 2005 Trego Center Kansas Mothership (this was confirmed by Doppler on Wheels that was right next to us)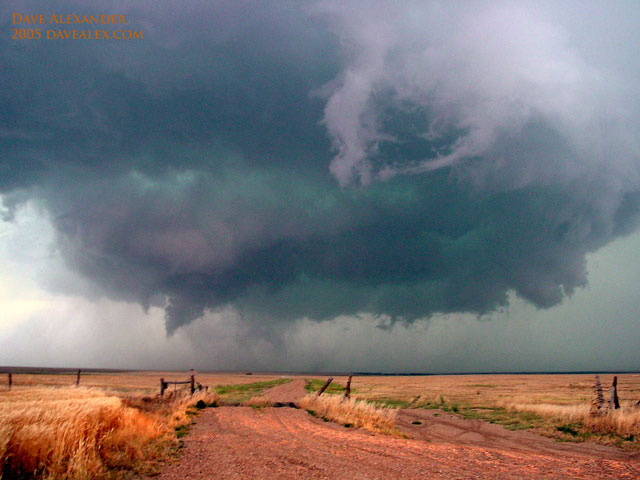 What a great learning experience! Much quicker than learning it without for sure! I had a blast and I highly recommend Silver Lining Tours!
(((Doing what I could I got in some chasing in 2006 and 2007; but work schedule prevented me from doing too many chases; thus no tornados but many great structure, lightning and storm photos!)))
May 22 2008 Hoxie Kansas
This is the same day as the Windsor tornado. I was past Sebert and didn't think I'd make it back to the Front Range, especially since the storm was moving Northwest (huh?). Kansas was supposed to go bonkers on two consecutive days…I chose to chase western Kansas!
I ended up in good position on a Tornado Warned storm but needed to hold out for the core to cross the road; this was west of Hoxie Kansas and I didn't think it wise to core-punch this beast. That ended up being a very wise move! I pulled off in the field entrance and watched several storm chasers get ditched on a slick-as-ice road (I tried it and backed up). I got just a couple of still shots that are quite Photoshop-ed to get good contrast; it was a HP supercell day! Immediately when the cell passed the road I headed east to get into great position, but ended up stopped by downed power lines (and a roof) across the road. The power lines were snapped in 3 or 4 segments, wow! It seemed so cruel to me for the Mother Nature to blow away two of the homes in the middle of no-where–miles and miles of nothing in every direction! The tornado was pretty big from the video I've seen, I think I saw it beginning to rope out and come out of its rain-wrapped environment.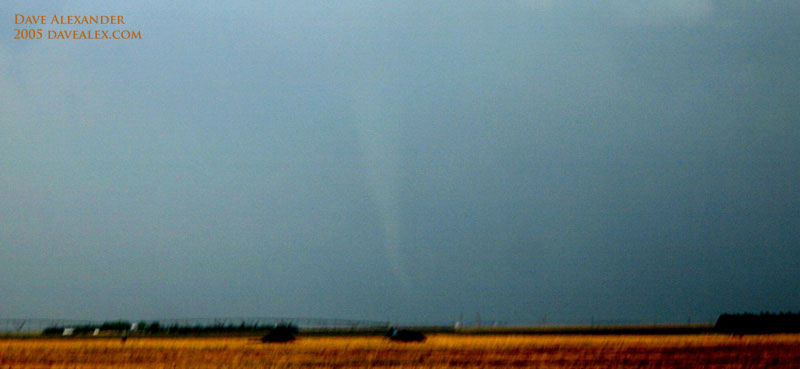 June 15 2009 Elbert County Colorado #1
It was Daphne's 5th birthday and I worked from home so I could go out and chase this day. I targeted the Palmer Divide and assumed action would start around 3pm. I was waiting for my new HD video camera to be delivered. The moment UPS arrived the storm of the day was passing over; so I hopped in the car and headed out. About 7 miles from home I caught this awesome supercell; chased it to Colby Kansas and saw the best stuff here! Amazing that the battery came charged enough to take this amazing video!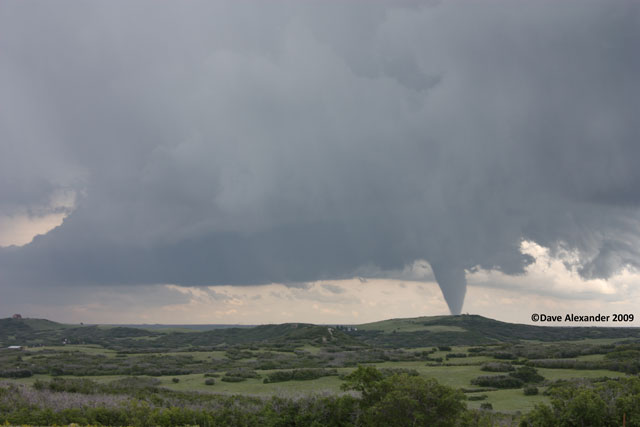 June 15 2009 Elbert County Colorado #2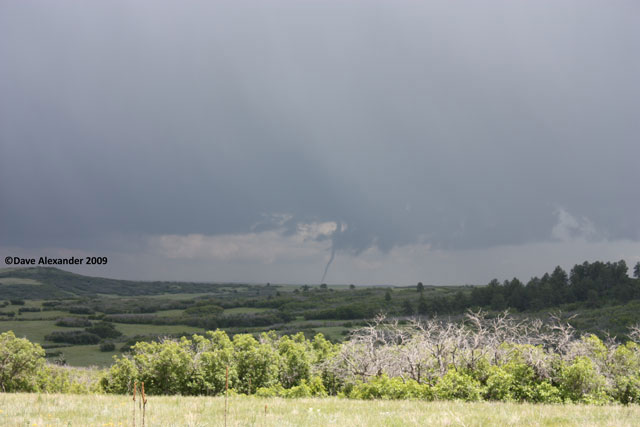 June 15 2009 Elbert County Colorado #3 (plus satellite #4)
It then dissipated as you see in the video; but a need then comes back out of the cloud. The video is six to eight times sped up, so this was about 30 minutes of video if I remember correctly). The original funnel had left and I couldn't detect much rotation; but then a needle came back down probably out of the same Meso-structure; very cool. I then took off to go after it. I drove through Elbert County and over one hill I saw a huge funnel with a sattelite tornado around it. I can't confirm these were on the ground; I didn't have a good shot and was hoping around the next turn there would be one but there wasn't. So I only got a shot while driving which wasn't so good (the focus was on driving at that time). I followed it to Colby KS; had an exciting encounter with hail and incredible (and scary) structure.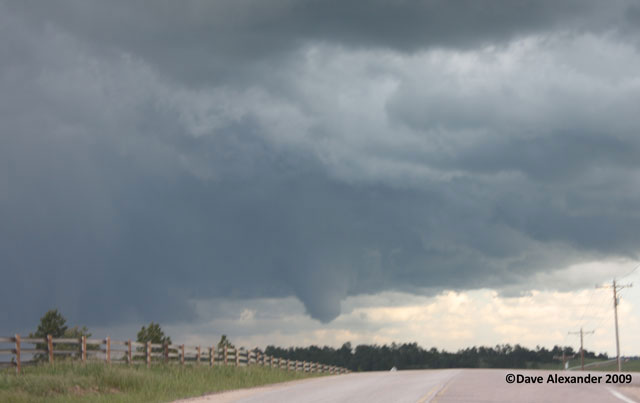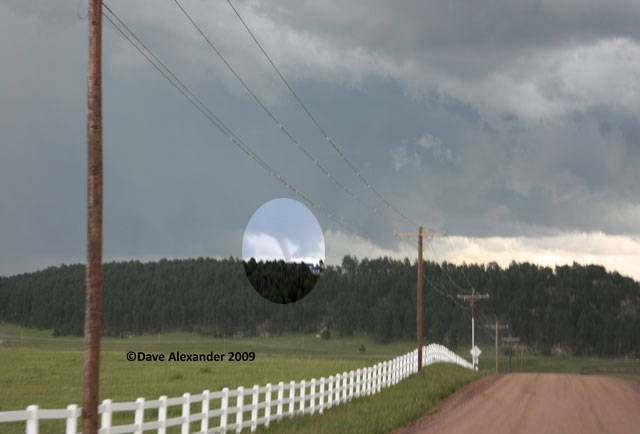 Music in the following by my band, Multicast…
June 7, 2012:  Palmer Divide / Agate Tornado
I what appeared to be a brief tornado but because I couldn't confirm rotation from my location I figured it was just scud.  But after watching some other chaser's video I realized that I did witness a tornado between Agate and Deer Trail on this monsterous supercell.  I was driving at the time so I don't have a picture or video.
June 7, 2012:  Simla, CO Torando
I had gained good position on this amazing structure supercell and it was tornado warned as it headed NW of Simla.  From my vantage point I couldn't 100% confirm a tornado but after confirmation from other chaser video and accounts I do believe I saw a tornado; and the position of the tornado was consistent in the meso as the later Calhan tornado.
June 7, 2012.  Calhan tornado.
As I was driving I saw a funnel form but there was no good place to pull off the road at the time; so I continued to watch while the funnel grew in size.  I eventually was able to pull over and got some cool shots as the funnel drifted into the rain core.  Later video capture shows the funnel back-lit by lightning.  Although I never did see the funnel reach the ground; chasers closer to the storm did confirm and there was damage.  I was trying to stay in front of the storm to capture structure shots so I wasn't as close as others.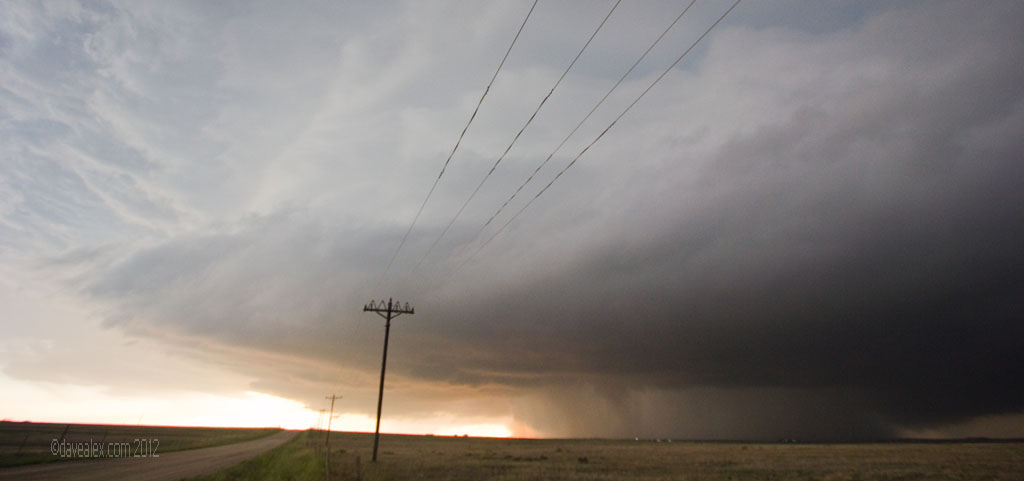 August 10, 2013.
It's ALWAYS exciting to visit the San Luis Valley; there are dust devils every time; and as you guessed it, I'm not picky, I love dust devils! We went down to the Gator Farm during our Ruby Mountain camping trip; as we were eating lunch I looked off to the NW down the driveway and saw a beautiful landspout. Of course, I had already put my camera away; so I trucked it down to the truck and grabbed the equipment.
I was able to get this twister as it backed into the rain and then became obscured. It was so much better earlier in its life; but I'm just glad to have gotten a picture to remember it by! Saw a bunch of gustnadoes this day too; but this one was official!

July 28, 2014 – Rocky Mountain Arsenal landspout
Full detail here.  Sitting at work and seeing the lighting, I got up and looked out the window to be treated to a funnel and eventually landspout tornado right outside of my office window!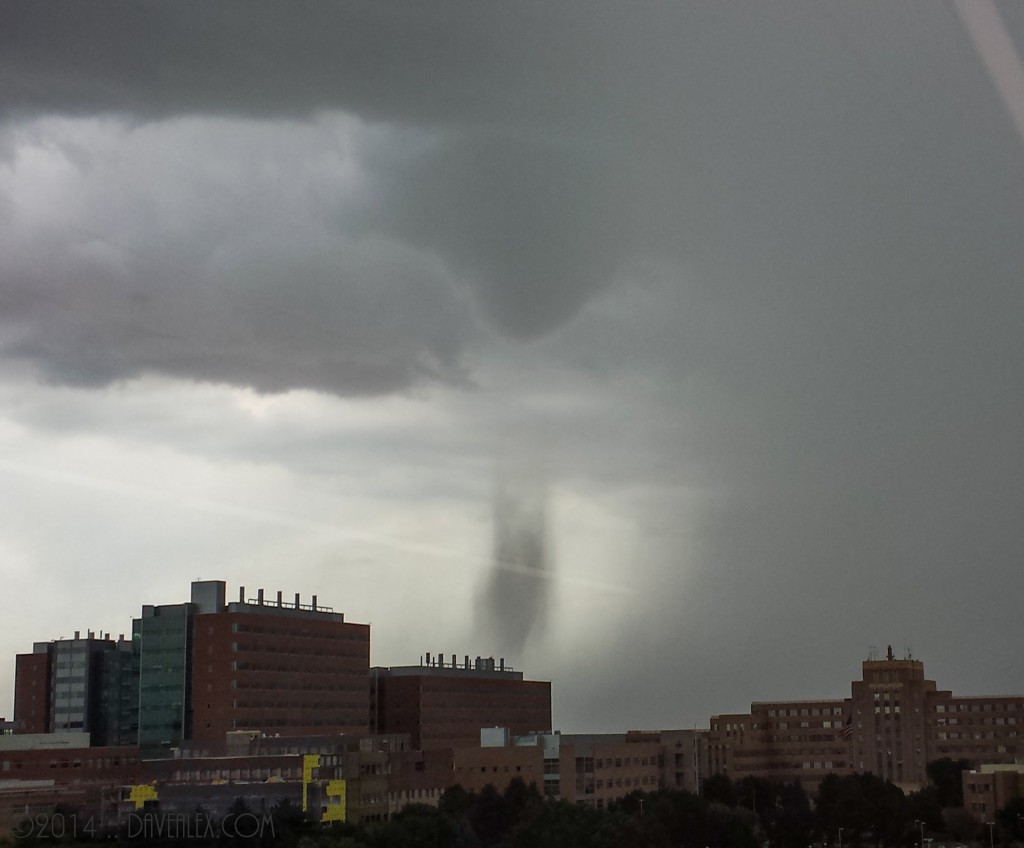 June 12, 2017.  Colorado/Wyoming/Nebraska borders.  I saw 4 tornadoes this day, two of them I was able to photograph; two I couldn't stop to take photos.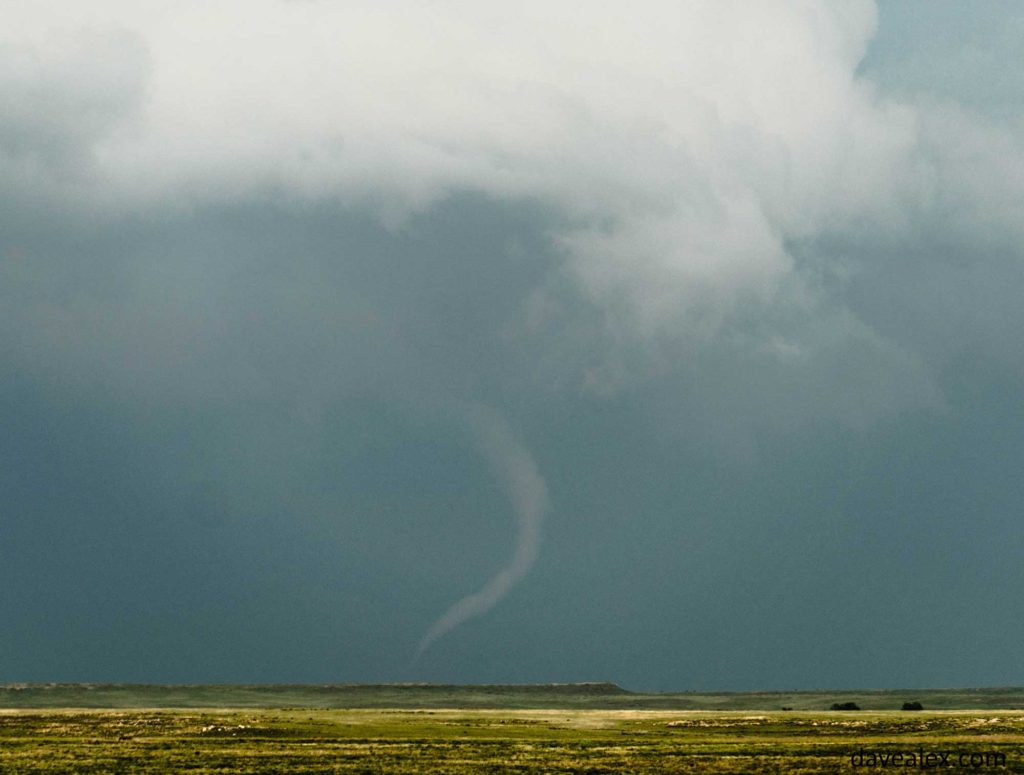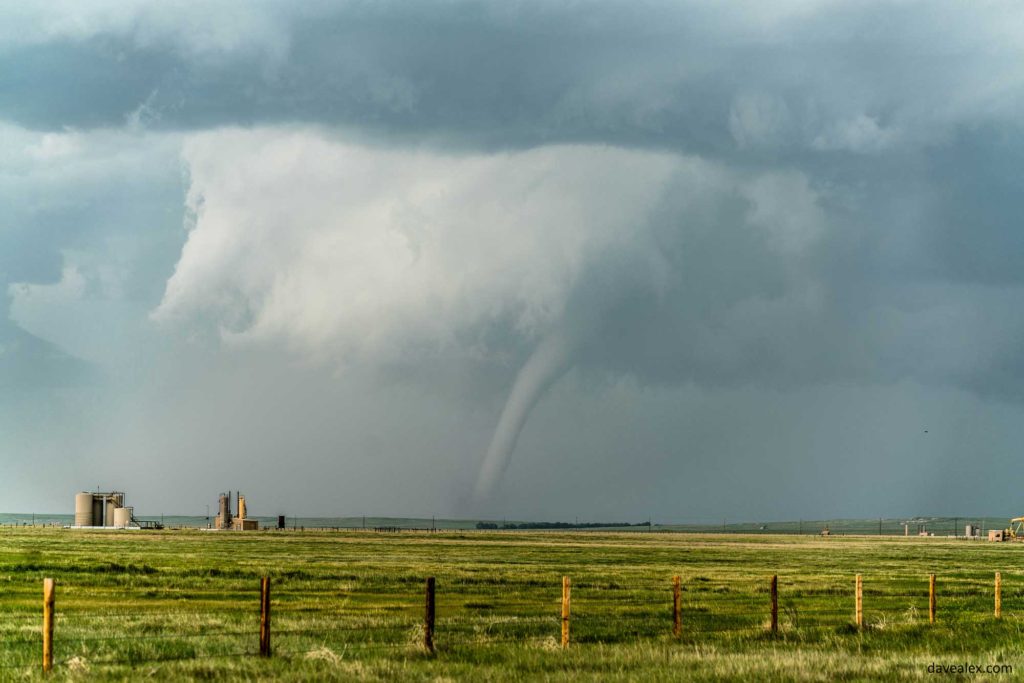 June 19, 2018.  Keenesburg, Colorado.
One of two reported tornadoes in Colorado this day.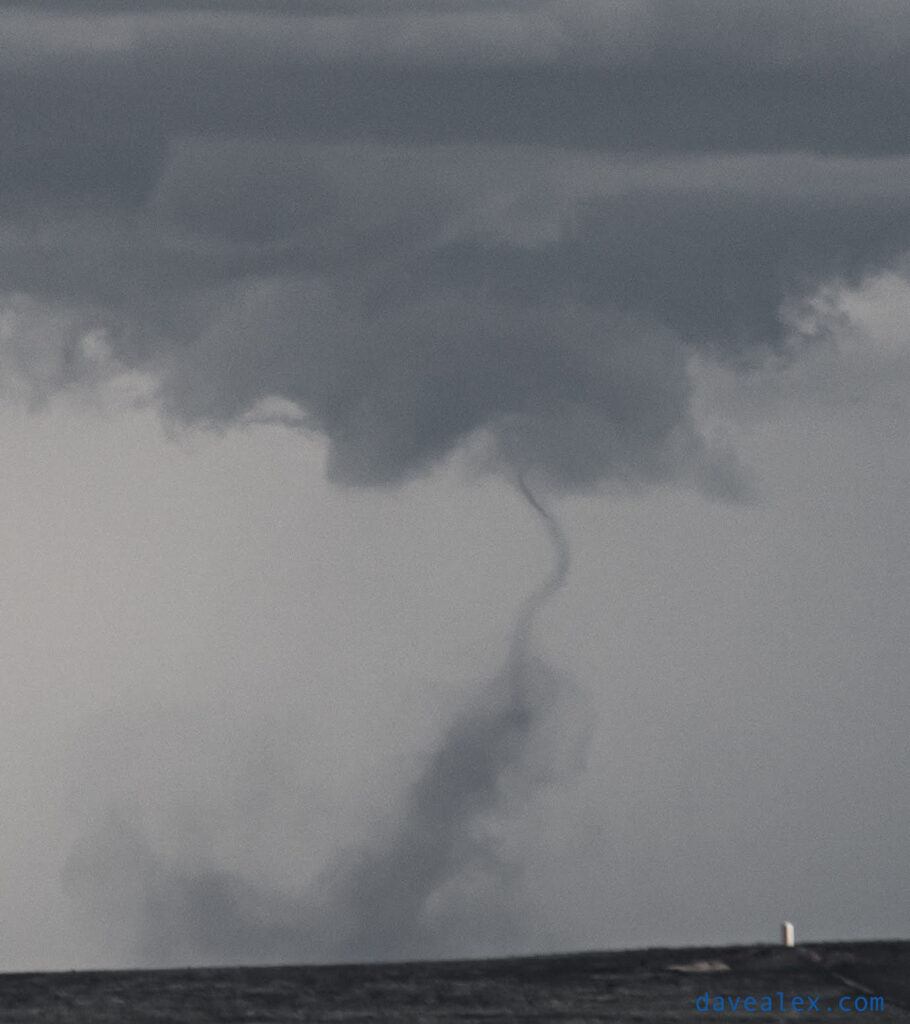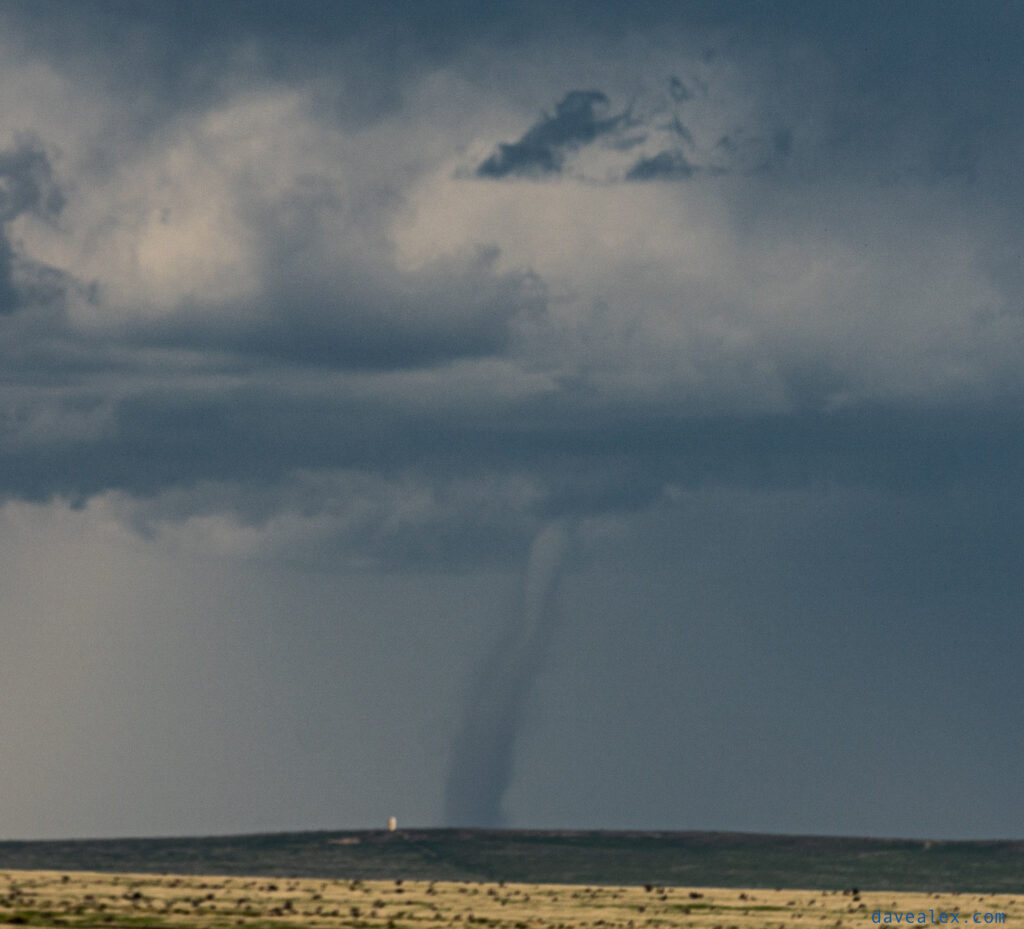 Summary. That's it for the official count. I have seen lots of wall clouds, funnels, swirls, gust-nadoes, etc; but I only count them if I can confirm it is a tornado (and I call that into the weather service). In the last several years I've not seen any "official" twisters but I have seen many situations that were highly suspect…just couldn't confirm rotation or ground debris usually because I was in bad position relative to that part of the storm. I've also been on many storms with confirmed tornadoes but just in the wrong place; part of the fun of chasing!
Can't wait for the next season!!!