The season of Scorpio often brings good luck to me in the Colorado Rockies, and this year I was treated with a special find (large quartz crystals)!  As most rock hounds probably experience, as you gain experience you think of old places you've dug and the potential for those spots still producing crystals now that you know what you didn't during the original dig.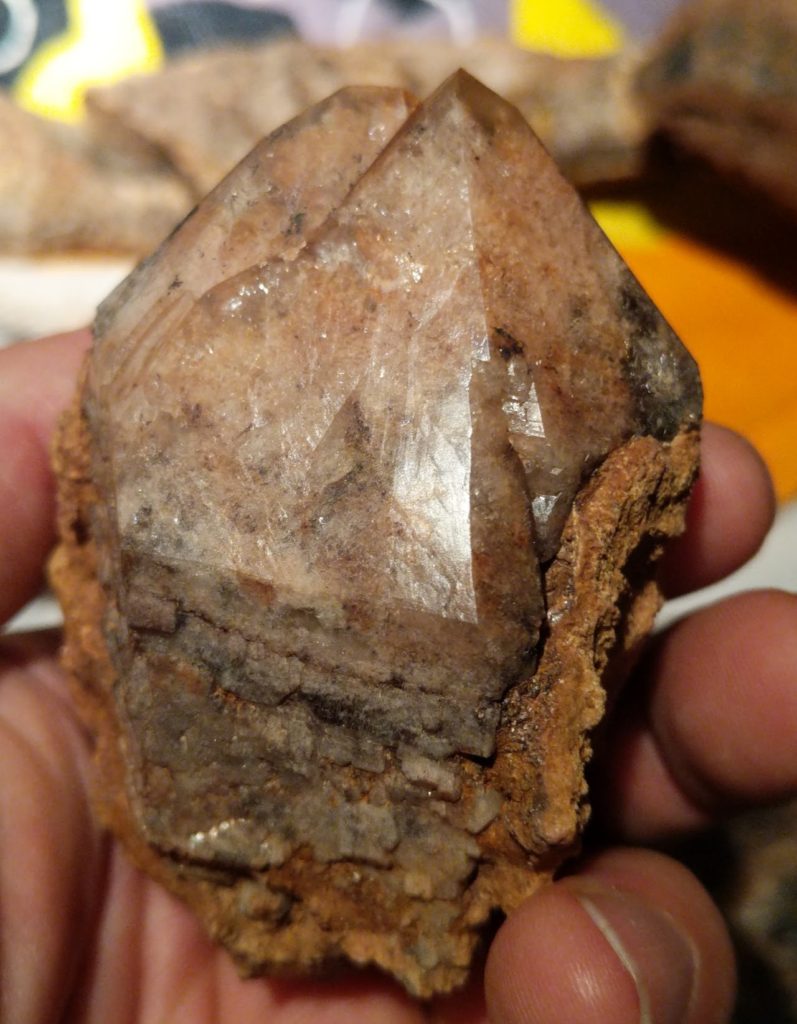 There was a spot I found many years ago where I found a couple of floater crystals that were so-so and I abandoned that dig site prospecting for lusher areas.  I have always wondered, what if I dug deeper in that spot?  I didn't think I dug deep enough but I always wondered if it would be worth the effort to try that area again as it was a bit of a hike with several steep hills.  So I have been thinking about this spot now and again over the years and I finally decided to prospect that area again.
In early November I went out on a crisp morning and found myself in the area of this dig.  I wasn't having any luck prospecting, so I decided what the hell, I need to resolve this once and for all, so I hiked back to that spot.  I reclaim all my digs and after many years away they have grown back the ground cover and looked good, which was pleasing.  I ended up digging in the area that I had long thought about, and within about 30 minutes starting hitting some signs.
The area had some large rocks and as I dug around them I started to see some darker coloration, which ended up being pegmatite.  Digging into that started to produce some flats and faces and it wasn't long before the first crystal popped out, maybe a foot underground and in a peg seam.  After the initial crystal I started to see the seam open up and then experienced some harder clay.  Only once have I hit a really thick clay, but I could tell right away that experience was happening again.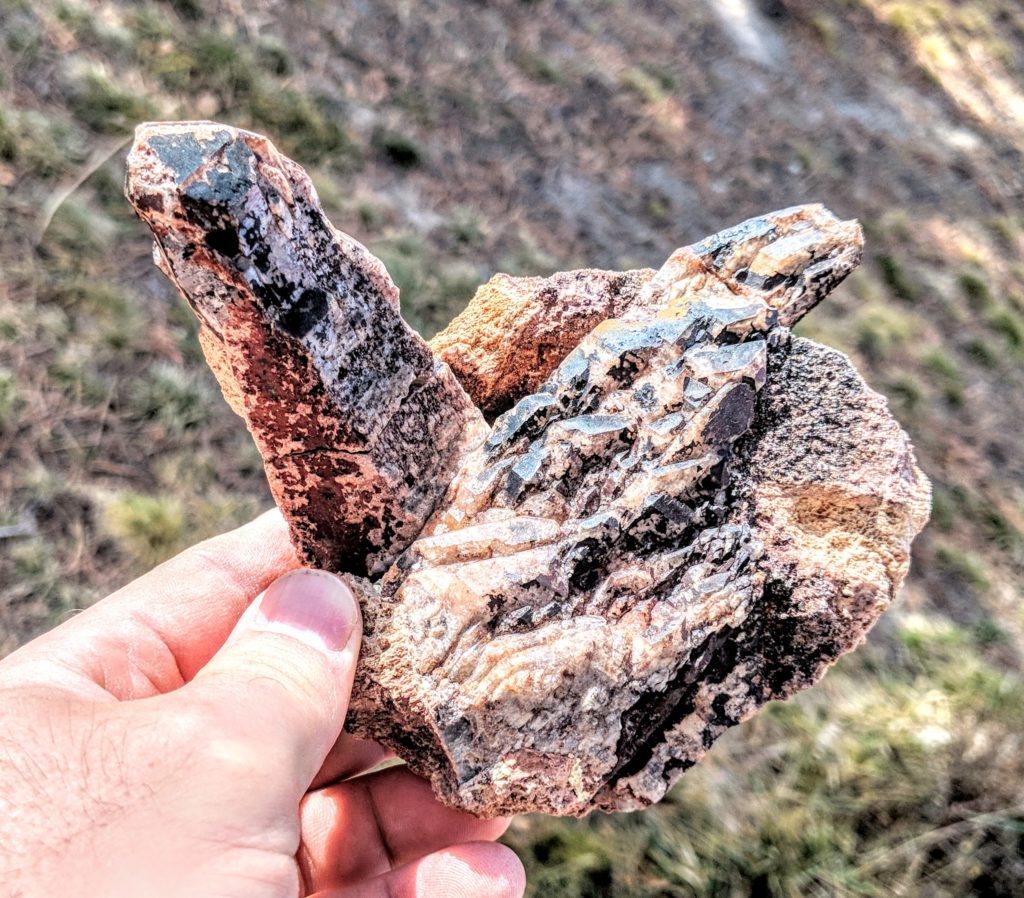 Working in the clay requires metal tools, there is no way you can get it out with your fingers or even wooden material.  I have a dulled screwdriver just for these times.  I started to pull out quartz crystals but they were all heavily overgrown with a brownish, sharp milky quartz-type crystal.  It wasn't coming off, that's for sure, and I thought perhaps it would require a little soaking to loosen up the overcoating.  So I continued to dig and starting pulling out some really nice crystals, but it was VERY slow going and somewhat tedious on the fingers and wrists due to the clay.
As I continued to dive down with the pocket, the clay got thicker and the crystals got bigger!  It finally ended up where there were many large crystals all at the bottom of the pocket.  I could tell the pocket collapsed because I found bits and pieces of broken crystals in between these larger ones that matched up to crystal parts I was finding at the top of the pocket.
The crystals all have several stages of growth.  Most are coated with a brownish quartz like coating.  I could tell there was microcline in the pocket, but it appears to have all been corroded away and the replaced on all the smokey quartz throughout the pocket.  Must have been some acidic stuff in the pocket during its creation!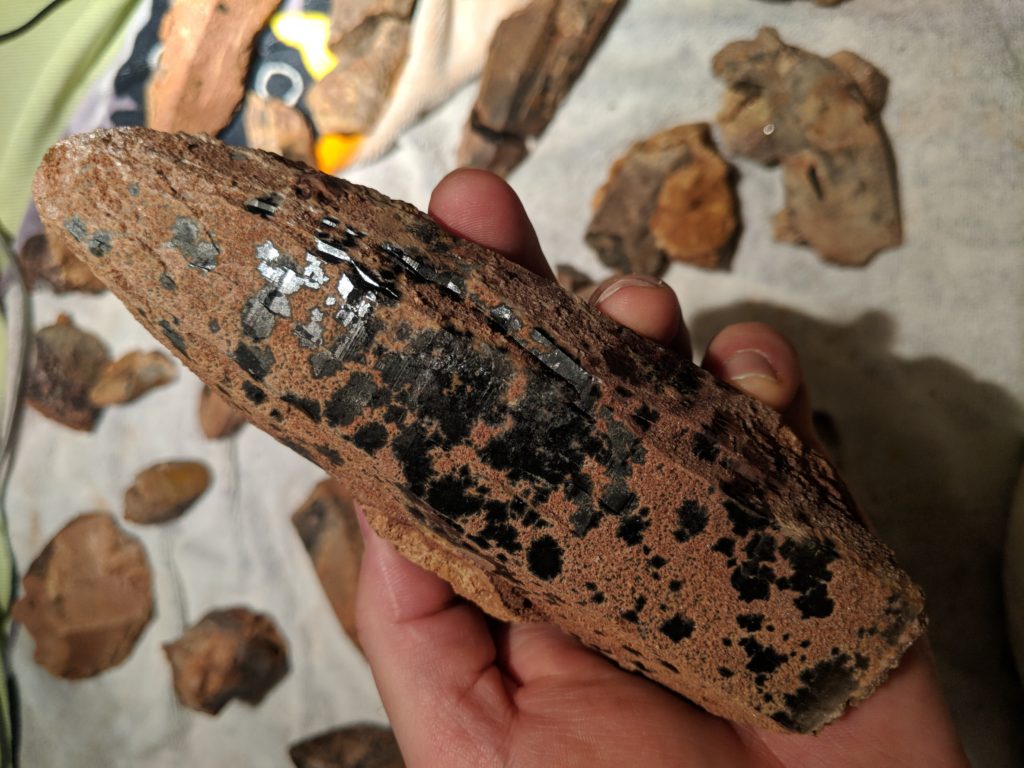 Needless to say, these crystals are going to be VERY difficult to clean.  Super Iron Out has pulled some of the coating off; leaving behind a harder, sharp layer of quartz type coating.  I was able to shine a light through the side of a quartz, and the big crystals I found are all typically very gemmy inside–at least those I could peer into.  So I am looking into an abrasive solution to help make some of these large, beautiful smokey quartz crystals shine!
This was one of the largest pockets I have found, definitely the largest by far this year.
If you have any tips to help me clean these, I'd love to hear your suggestions.  Note that I put a couple of crap crystals in a beaker of fully concentrated muriatic acid and it did clear the brown off, the quartz-like coating did not get touched.