Was able to break away from work so I took a vacation day and went up to Devil's Head digging this last Friday.  Been rough to get up there this year due to a busy schedule, but it was nice to be back out in the forest again.
I had a plan for this day–which I had been pondering upon over the last month while planning this trip.  First thing I wanted to prospect an area that I remember looking promising a couple of years ago and if that didn't pan out I wanted to dig some float on a very old dig I found that seemed pretty productive to the original prospector.  If I got skunked with both parts of the plan I had a third option that was within a mile.
I stopped several times during my prospecting and checked out what looked to be good ground in many places.  There was peg showing on the surface–both quartz, feldspar and combos–but the quartz was very striated, fractured and had no flat faces at all.  I found many places along this steep hillside with the same situation, even though there was a lot of "good looking" signs on the surface.  I ended up finding one rough point about the diameter of a nickel in one spot, but nothing otherwise.  The hill was *very* steep and after nearly 4 hours I got tired of all the climbing and precarious hiking so I decided to give up on that area.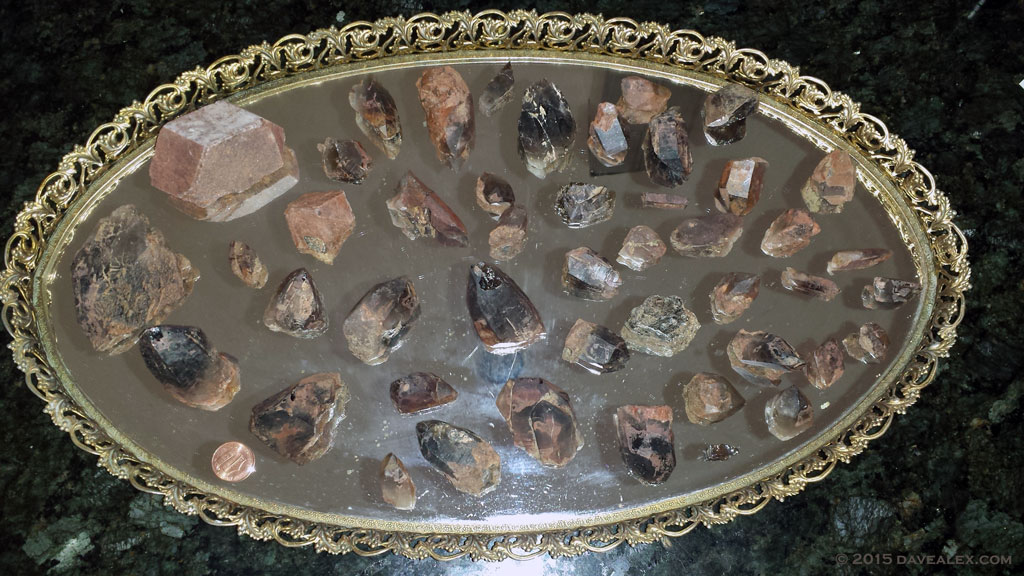 My second stop was about 1/2 mile away and was a old dig that someone obviously had success with as they had excavated a trench about 50 foot in length as they followed the pegmatite dike across the hillside.  I could tell the dig was really old because the trench had naturally filled in most of the way and was looking pretty filled in.  I believe this is why the Forest Service is okay with leaving holes unreclaimed as over time they naturally fill back in, although I still believe to fill in my holes as it takes a long time for nature to do it; and holes are simply an eyesore in our forest and potentially dangerous to animals!
My goal at this location was to see if I could find float or perpendicular seams coming out of the peg with some nice sized crystals (given the dig was fairly large). In other spots I have found my best crystals not in or under the pegmatite dike but rather coming out perpendicular to it in many spots in smaller peg seams. I also figured as I got into the old diggings I could possible see what the person was into–I always like to analyze others' digs as this is a primary way I learn!
I started digging about 4-6 feet downhill of the old trench about 2-4 feet wide and a couple of feet deep.  It was hard to tell if I was just digging in tailings or actual virgin ground below the trench, but soon I started finding crystal parts which narrowed my focus.  Quickly I zoned in upon a small seam with microcline and smoky quartz crystals.  Some were nice and I kept them; but most were only partially euhedral which was a sign of a smaller, tighter seam–even though some of the crystal parts were 5-7 inches long!
The crystals were organized to make me think this was not float (i.e. eroded crystals that eroded and rolled downhill from the pocket) as evidence of microcline and crystals next to each other and some red stained dirt.  They definitely were in loose dirt and not harder rock.  I followed this seam at a angle of about 30 degrees from straight downhill (I was on a very steep hill) for about 25-30 feet until it disappeared.  The further downhill I went the smaller the crystals shards were, the less smoky in color and less frequent.  The last 20 feet or so didn't have anything worth keeping.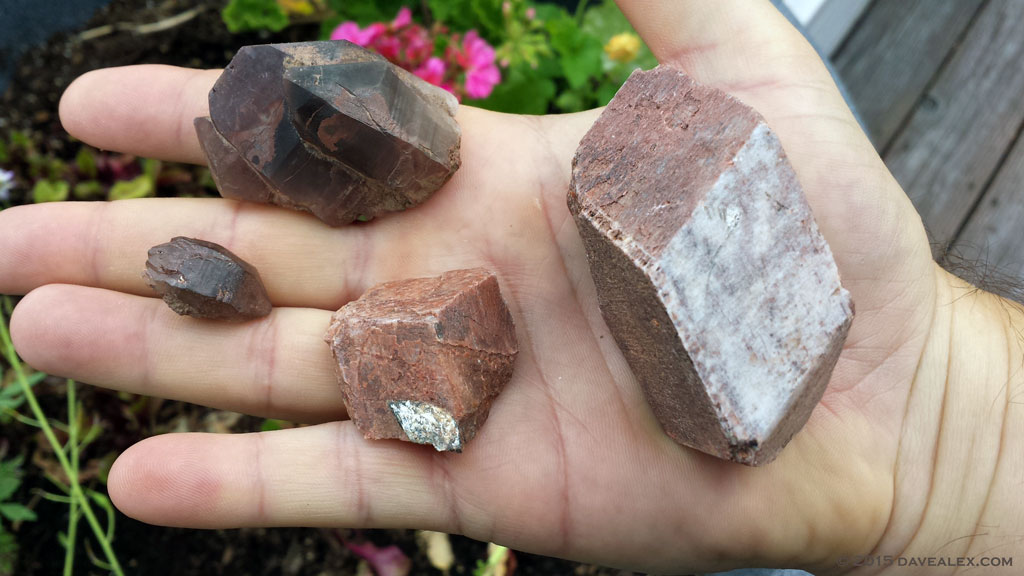 As I made my way into the old trench from below I started hitting larger masses of pegmatite (like three feet deep), this was the original peg that the prospector followed across the hillside.  The digger left many crystals along the bottom of that seam and had obviously found a crack in the peg that had crystals, which is where I often also find my crystals.  The unfortunate thing was that the digger obviously used metal tools in this seam and most of the crystals he left attached to the bottom of that seam were damaged on their points.  Obviously the digger was finding nice crystals because they didn't care about the nice 2-3 inch ones they were damaging all along the bottom of the small pocket/seam.  Moral of that story, don't use metal tools in your pockets and take your time, unless you don't care about the "little guys"!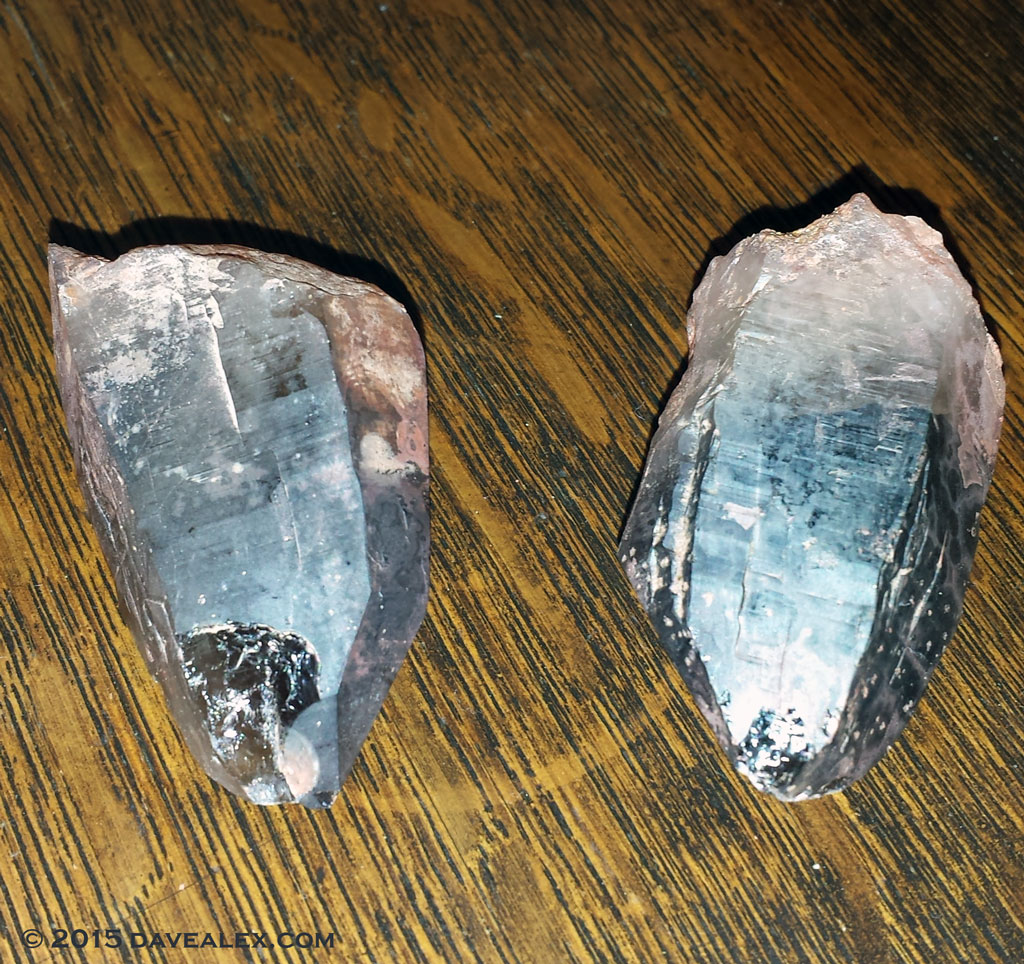 I dug until the sun was setting (beautiful sunset) and it started to sprinkle, since I had a heck of a hike (about a mile with some steep hills) back to the car I didn't want to wait and have it get dark.  As always, had a blast being out in the forest prospecting and was able to prove that–whether it is float or a perpendicular seam–there are sometimes crystals left behind by other prospectors and available if you put in the work from previous digs.  This is definitely easier than prospecting good ground signs and striking into virgin ground, which likely will improve the chances of finding crystals quickly?