Was a fun year DJing KGNU radio. All my archives can be found at AfterFM.com/DJDaveAlex. I typically do all vinyl mixes. We lost some great music legends this year and I did a couple of tributes with Uncle Jeff of Kraftwerk and Tangerine Dream. You don't have to die to have a tribute, however, and I did another Air Liquide and friends tribute as well.
Here is a collection of my cheesy flyers for 2020.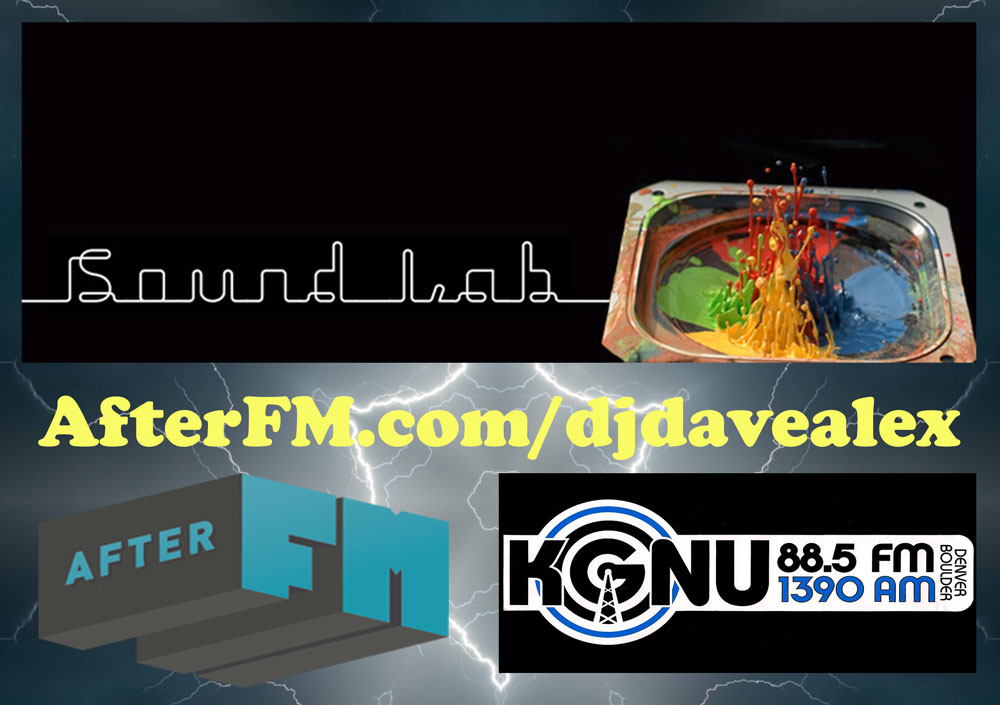 I didn't do a flyer for the 25th Electronic Air anniversary show, but it is here.
Here is the press release:
KGNU-FM LONG-RUNNING EDM PROGRAM "ELECTRONIC AIR" TURNS 25
November 23, 2020- Denver, Colorado – For 25-years the legendary community radio station KGNU has featured the Electronic Dance Music program: "Electronic Air" – yet another milestone over its four decades of providing the community with eclectic programming. Electronic Air will celebrate its 25th birthday live on Saturday, December 5 from 9:00 p.m.-11:00 p.m. MST on kgnu.org.

The program started in 1994 as a replacement show during weekend evening programming gaps. It quickly gained traction as a routine Saturday night show and in December 1995 became KGNU's first webcast program and one of the earliest webcasts in the nation. Although web-simulcasting wasn't in the vision of KGNU's mission at that time, the resultant surging global listenership of Electronic Air – when electronic music, in general, was solidifying its position as an "international language" – helped bridge the gap between KGNU's role as a traditional broadcaster and a station that routinely charted many firsts.

1994 was a year of "EDM" (Electronic Dance Music) convergence, introducing many KGNU listeners to cosmic electronic beats of many sub-genres across multiple on-air programs. With five independent producers showcasing electronic music on the Sleepless Nights edition, "Radio Ping," Sunday morning's electro-heavy "Present Edge," and across Morning and Afternoon Sound Alternative shows, by 1995 a collective formed to develop the featured program that would become known as "Electronic Air."


"EDM, while a club sub-genre in its own right, is really just the buzz-phrase of the day," says long-time Electronic Air co-producer Buddha Bomb. "But our show, as the name implies, encompasses all-things-electronic. We're curators of not only what is the most contemporary wave in electronic music, but we also go deep on the history of artists, labels, and sub-genres, playing classic electronic music as far back at times as early in the 20th Century. Underground, mainstream, esoteric – we've got some of all of it."


Another of the program's co-producers is cofounder E23, who similarly walks the talk. A self-avowed "rave child of the '90s", he also produces original electronic music, podcasts, and for several years taught a course on Digital Audio Production at the University of Denver. He was also known as a pioneering force behind Techno iRadio as the co-founder and program director of RadioValve.com.

"Electronic Air has been a labor of love, pure and simple. There was a group of us who took the idea before the KGNU Program Committee back in the early 1990s. We came from different geographies and age demographics, but we shared inspiration from what was at that time termed ' Rave Culture '," he reflects. "Since then we've evolved through a roster of various DJs, each bringing their own style."

Current Electronic Air co-producers additionally include House/Breaks producer/DJ Ian Campbell; legendary Boulder nightclub DJ and Obliq Recordings label head/artist Dave Alex (aka Multicast, and Freq Modif); live performance/DJ tech-house duo Falling Short; Apogaea/Burning Man veteran Aphonix; Symbolic Insight label head BioStatic; DJ Winter, and fanboy-turned-DJ, Doug E. Stale.


Best known for its showcase of global underground mixed by local artists, Electronic Air has also featured its share of international talent, with exclusive interviews and live sets by the likes of Bassnectar, Paul van Dyk, Moontribe, and Peter Christopherson, among many others.


Catch the 25th Anniversary celebration live on-air Saturday, December 5 from 9:00 pm-11:00 p.m. MST on kgnu.org, 88.5 FM or 1390 AM. Archived sets can be heard by searching on Electronic Air at AfterFM.com or Mixcloud.com.

Visit https://www.facebook.com/kgnuelectronicair for photos and general info.

Call 303-909-4830 to request interviews with DJs.


About KGNU Community Radio

KGNU is a volunteer-powered, listener-supported community radio station, heard locally at 88.5 FM in Boulder and Denver, 1390 AM in Denver, 93.7 FM in the Nederland and Ward area, 98.7 FM in Fort Collins, and online at kgnu.org . We seek to stimulate, educate and entertain our audience, to reflect the diversity of the local and world community, and to provide a channel for individuals, groups, issues, and music that have been overlooked, suppressed, or under-represented by other media. The station seeks to expand the listening audience through the excellence of its programming without compromising the principles stated here. For more information or to get involved visit: kgnu.org .