Update:  September 2014.  
I was contacted (see comments for this posting) by a claim owner in this area informing me that he has a claim in this area.  He states that he has the area clearly marked and gated.  He stated that if you have interest in visiting his claim to contact him at spiritfamily25@yahoo.com, his name is Casey Lehman.
Whenever you visit a claim, I've been told that you should have a printed authorization ON YOU in case there are any questions why you are visiting, which Casey also states is required for his claim.  Thanks Casey for this reminder as this is important as rockhounds and claim owners to follow all the rules.
Rockhounds are obligated to prospect an area before digging looking for discovery notices and/or corner posts (I've been seeing center side posts being placed to help mark claims recently, which is helpful but I don't think required!).  Many claims corner posts I have found contain information about the claim (name, contact information, GPS coordinates), so in these cases it is easy to know exactly where is not available to dig–thanks to the claim owners who do this as I can pop the coordinates into my GPS and know immediately where the boundaries are at! Remember, claims can feel very large when you are hiking and sometimes the corner posts can be hard to see.  I have found that many claim holders post notices in obvious places around their claims to ensure it is seen if someone is looking, so make sure and look at the trees as well, postings on trees can be seen usually from all angles especially around dug areas!
In talking with several folks in the Rockhounding clubs where I'm a member, it sounds like there are more and more areas within popular spots under claim.  For example, the popular Mt Antero and Lake George localities I guess are heavily claimed….so much so that if it is easy to get to then it probably is off limits.  I've been told by very "in the know" people areas that are open to dig; just to find corner posts in those areas when I look. Thus, even if you've been to a place in the past or read about it in a book, it is still important to ensure the area is not currently claimed.  Note that claim owners must post corner posts and also a discovery notice on their active mining claims, so responsibility is shared between rockhounds and claim owners.
I highly encourage any avid rockhounder to join a local club as this is the easiest way to hit the "hot spots" on club fieldtrips to private claims (many times the claim owner is there and can tell you the history of the area, and more importantly, help you be successful)!
——————
Went twice near Red Feather Lakes and found crystals.  I started digging into a Quartz vein and pulled out a nice set of crystals within the quartz.  The kids just went around and picked up float and everyone had a great time.
The second time I went up my dad and I went alone.  There was obviously a serious snow storm coming and the ground was frozen about 4-5 inches deep; but it wasn't too cold to mine.  I ended up digging along where I thought the quartz vein I had luck with last time which was mostly big sand and small rocks.  My dad ended up sifting through this with my screen and we were finding several crystals per shovel full of dirt.  So we did this all day.  I found the quartz vein about 24-30 inches below the ground but we didn't go that deep into it as we were having fun working the looser dirt.  Most of the crystals here are clear but covered with yellowish or gray staining, some of which is Hemotite.  Once it started snowing really hard we decided to leave as I had to head home that day…I started my new job that week.
We found several double terminated crystals on this second day.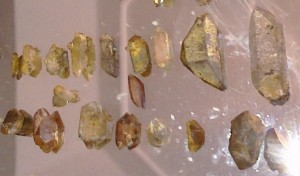 We found many larger crystals and lots of smaller ones too.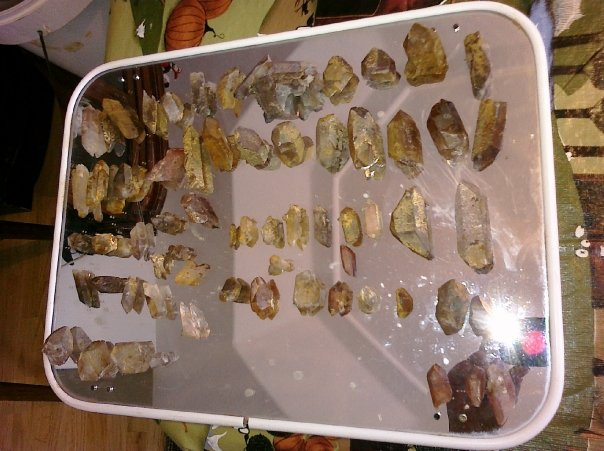 Most of these are stained and Oxalic and Myriatic Acids do not take these off.  Anyone know of a way to clean these kind of dirty crystals that appear the bad color to be caked on by heat?