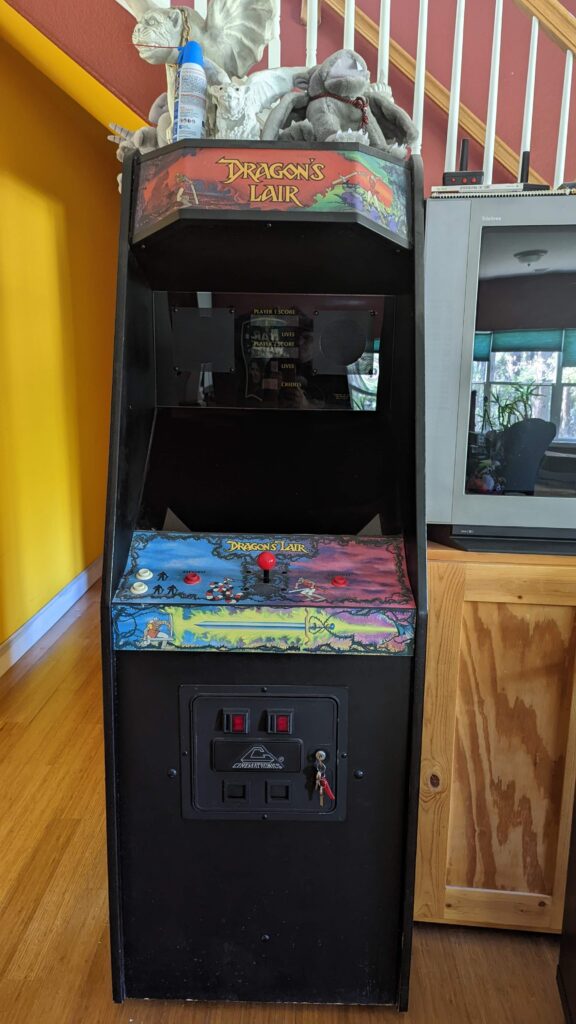 If you are looking for vintage laserdisc game working parts for sale, or cool Bluth laserdisc game collectables, view my Laserdisc Game Parts For Sale post.
My Introduction to Laserdisc Games
I have always loved Dragon's Lair. Like so many others back in the early 80's I spent much of my free time in the arcades. We had two arcades in the tiny town where I grew up (~1,500 people) but the local arcades never brought in laserdisc games. I first saw Dragon's Lair during a trip to the big city (Denver, Celebrity Sports Center) but due to the hoards of people I only got a couple of plays. The monitors on top of the machines allowed my friends and I to watch from afar–that day's exposure to Dragon's Lair was forever cemented in my memory as one of the best video games ever made!
Eventually an arcade closer to home had a Dragon's Lair and I was able to snag rides with various parents to play every once in a while, I got better at it but still only about made it about half way through the game. I remember Space Ace and it just ate my quarters (it was a 50 cent game too) so fast…I never did get very far. Eventually these laser games disappeared from the arcades.
Bringing the classic arcade games to my home game room
Fast forward to the 90's; a friend of mine was also a Laserdisc game enthusiast, and he actually HAD an Dragon's Lair cabinet at home! What's more, he had Space Ace and Thayer's Quest conversions too! I learned a ton about the history of the game from him and he helped me gain confidence that I could build a cabinet for my game room! Given I had a limit of one full sized cabinet I decided it was going to be a Dragon's Lair!
In the mid-90s my friend found a Dragon's Lair 2 Timewarp (which I had only heard of thru him but never seen or played) and bought it for his home game room. He however was in a bind as they were building a house and asked if he could just keep it at my house until they moved in? Of course, like any good friend would do, I offered to keep it at my house until he moved it! 🙂 I fell in love with Dragon's Lair 2 — more than the original or Space Ace — and I decided that I'd probably prefer a Dragon's Lair 2 at home if possible.
At some point in time in the early-2000s my searching found a really interesting classified selling a Dragon's Lair cabinet which was switchable between all three of the Bluth Trilogy of laserdisc games. This fit my requirements perfectly, and I purchased it and had it shipped across the country!
This 3-in-1 game was housed in an original Cinematronics cabinet with Dragon's Lair artwork and marquee. It had a DL/SA logic board with switchable ROMs and a DL2 logic board. It had three dedicated laserdisc players for each of the game discs (and came with a spare player too). It had a High Tech board to convert older laserdisc control protocols to allow usage of two reliable Sony LDP-2000 players (switchable between DL and SA with a serial switch box). The logic board's cable harnesses were manually switchable via jacks/sockets and easily accessible through the coin door allowing the controls, speakers and coin door to be switched between the logic boards. It had an upgraded gaming monitor so the LDP-1450 needed a RF Attenuator, the LDP-2000s had both video outputs; all the Laserdisc outputs were passed through a 3-to-1 coaxial switch box to feed the monitor the current game's signal. Power to all the components was switched off/on using a power distribution switch and multiple power strips. Most of these parts were replaced and are now excess. For the time, this was the best Bluth-based laserdisc 3-in-1 arcade game setup one could have, however there are simpler solutions available now which I have taken advantage of. All three games were working flawless when I upgraded.
The Upgrade Situation
Switching between games was as minimal effort as it could get back at that time, but retro game enthusiasts have since created upgrades to make switching between these three games much simpler. I have found that switching out the games at a party takes too long and the person wanting to play ends up losing interest. I have found this myself as well; I have played the game less over the years because I didn't want to switch games due to the sensitive nature of the cables; even though it is roughly a 5-10 minute task. In switching games I have actually had some issues with the wiring harness which has required some repairs.
I'm going to upgrade now that there are better solutions. This blog post will follow my journey as I make the transition. In the end, I will continue to have a switchable solution (hopefully with extra games!) but no rewiring or switching. Tremendous thanks to the passion of laserdisc game enthusiasts who have created upgrades making the game more robust and multigame!
Switching Between Games
The person that crafted this cabinet had a great vision for making this trilogy 3-in-1 game simplest (as possible in the early 2000's) to switch between games. The process of switching games was as follows.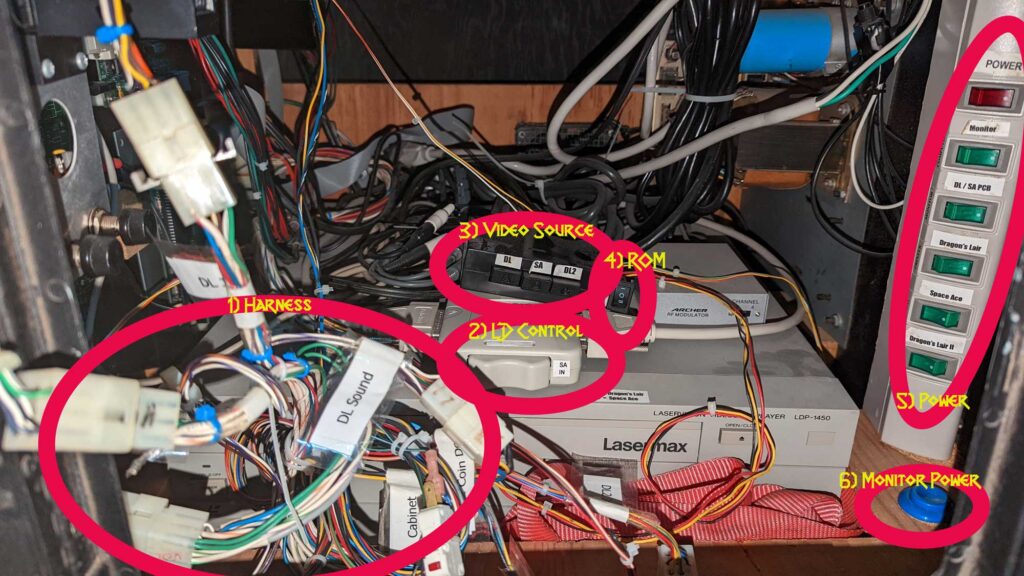 Step #2: Laserdisc Control. This is only required when switching between Dragon's Lair and Space Ace. This routes the laserdisc control from the motherboard (via the Hi-Tech board, more on this later) to either the Dragon's Lair or Space Ace Sony LDV-2000 laserdisc player (stacked under the Lasermax player in the picture above).
Step #3: Video Source. This is required for all games. The composite video switcher takes the laserdisc player output and routes it to the monitor's motherboard.
Step #4: ROM Select. This is required to switch between Dragon's Lair and Space Ace ROMs, which are a special aftermarket upgrade (more details on this later).
Step #5: Power. This powers up the motherboards, monitor and laserdisc players based on the game you want to play. This power feeds other power strips mounted immediately behind.
Step #6: Monitor On/Off. The upgraded Sharp A51KZR96X monitor requires that you hit the on/off switch regardless of the games you've selected with the above steps.
Detailed Equipment List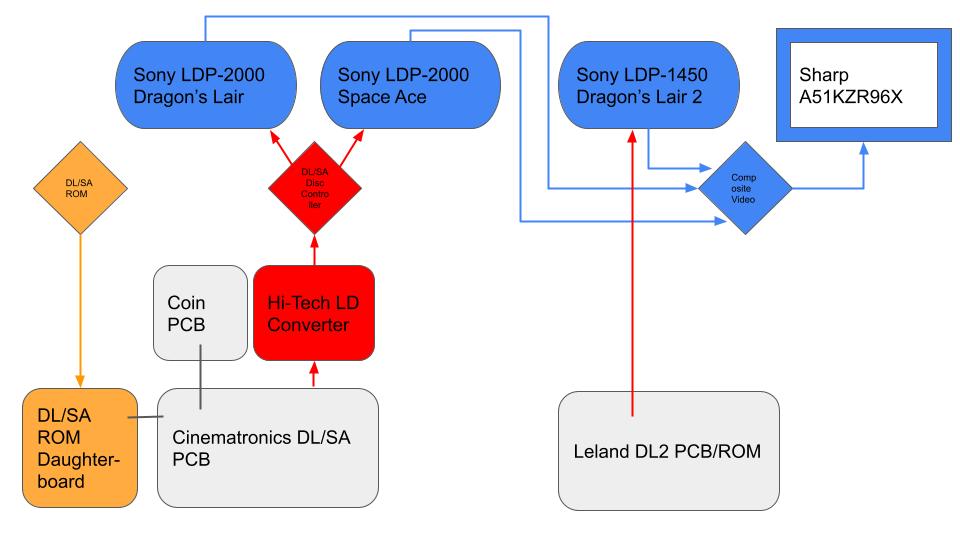 I put together this block diagram to help me understand exactly what all was installed in this cabinet. The diamonds are the switches. Orange represents ROMs, Red laserdisc control wiring, gray is the PCBs and Blue the video sources and monitor.
Cinematronics / Magicom PCB: This is the original 1983 Dragon's Lair (and subsequently Space Ace) motherboard. Serial number inscribed by hand is LD-04743.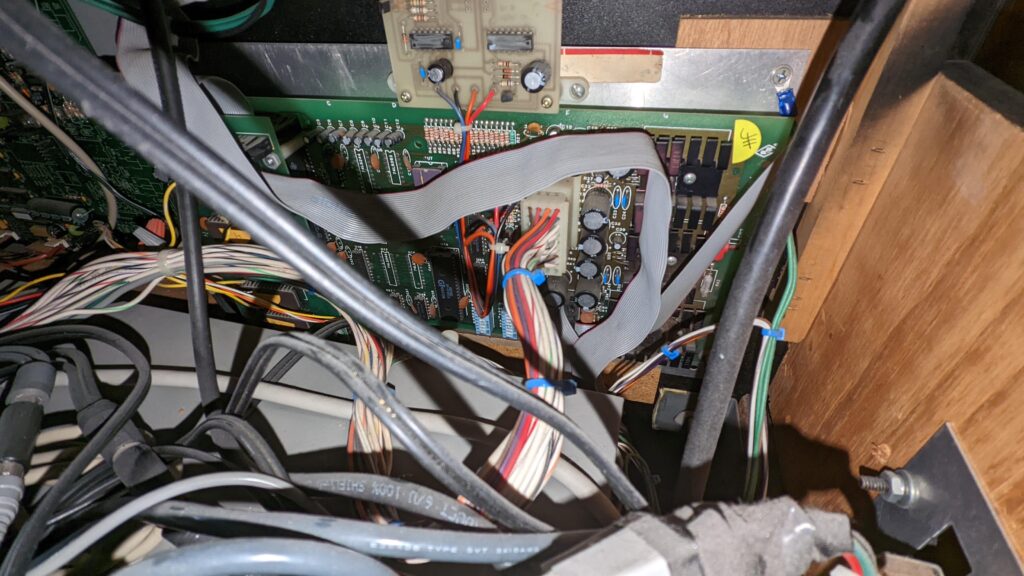 Dragon's Lair / Space Ace Combo ROM: The ROM daughter board was retrofitted with five upgraded memory ROMs so that both Dragon's Lair and Space Ace could be imaged together and switchable between the two per this modification described on Dragon's Lair Project website.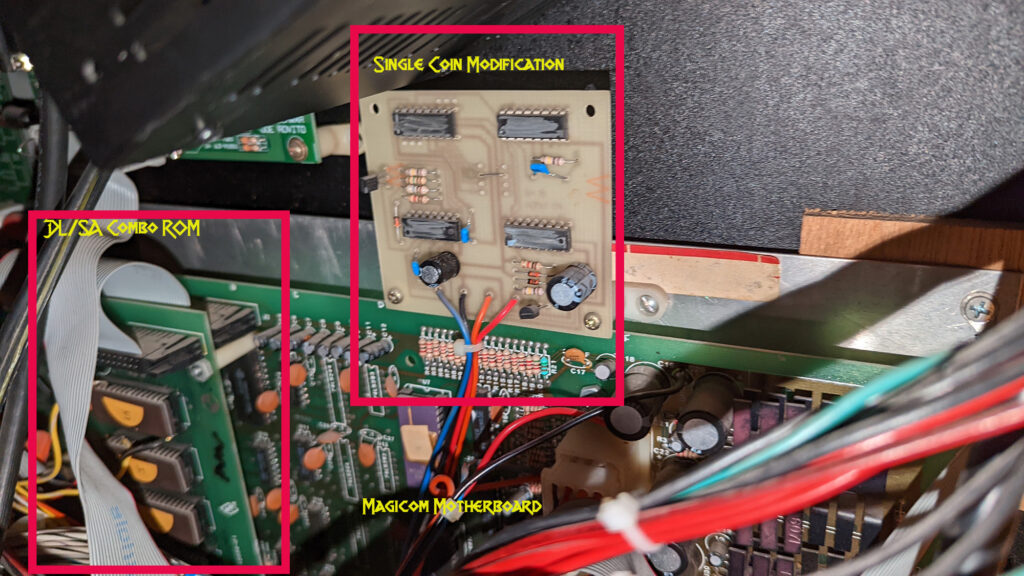 Coin Doubler Modification board: I have been told that there was a modification that allowed for a single coin to be used to play (this was the first 50 cent game after all). I believe this is what this mod is for but not sure because I always had to put in 2 coins to play. What I realized recently is that the red wire (+5) is not soldered to the motherboard which may be why this is, perhaps that was broken when the game was shipped?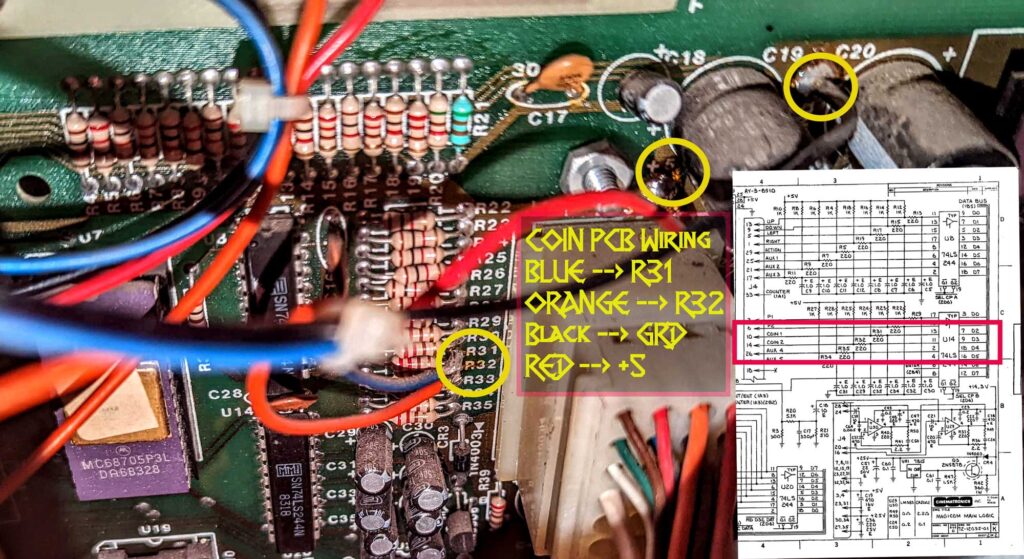 Hi-Tech Laserdisc controller upgrade board. Early versions of Dragon's Lair came with the Pioneer PR-7820 or LD-V1000. This Hi-Tech laserdisc controller upgrade card allowed the game to utilize nearly any laserdisc player since the early players were prone to malfunction. This card is set to PR-7820 integration to the motherboard.
To control both Dragon's Lair and Space Ace (as this unit has the Combo ROM upgrade) there is a serial switch that sits between the Hi-Tech board and the two upgraded Sony LDP-2000 Lasermax players.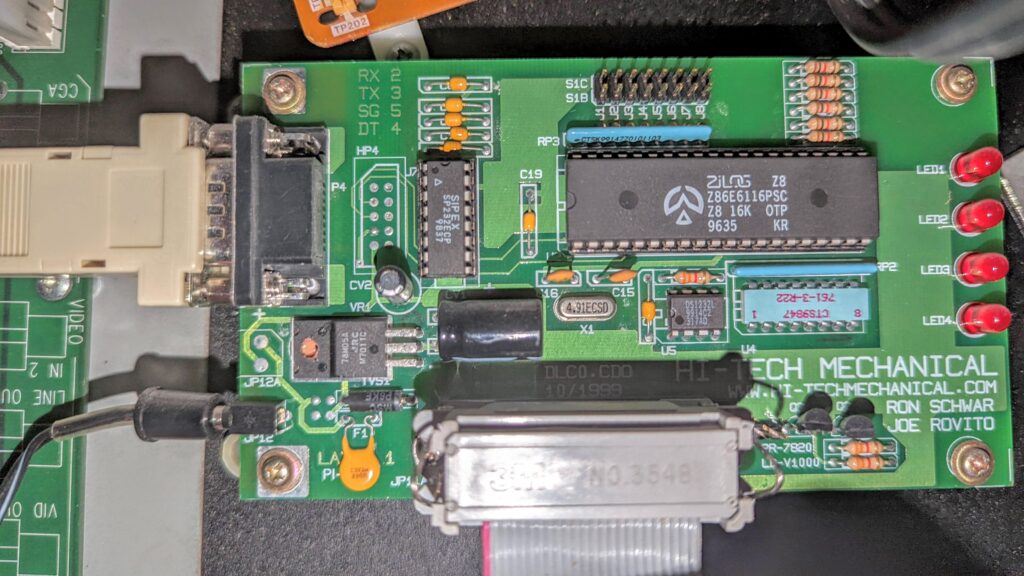 Leland Dragon's Lair 2 motherboard: Dragon's Lair 2 came out in 1991 and was incompatible with the original Dragon's Lair and Space Ace setup. For this game, the entire motherboard was added with the dedicated Sony LDP-1450 Lasermax laserdisc player. To switch between motherboards and all the cabinet components, you had to switch out the wiring harnesses for the Coin Door, Joystick panel and Speakers.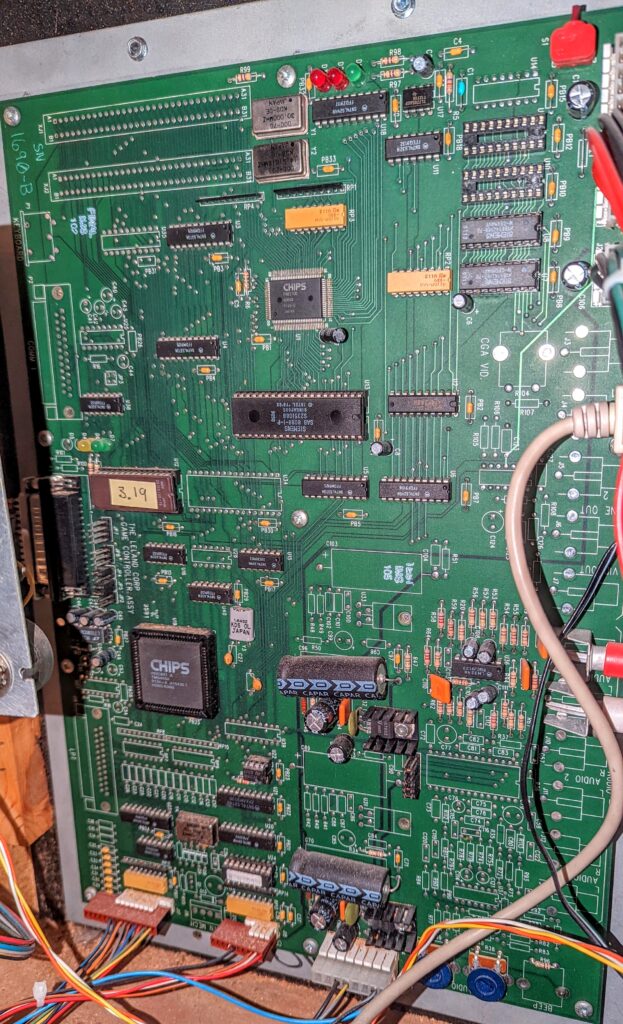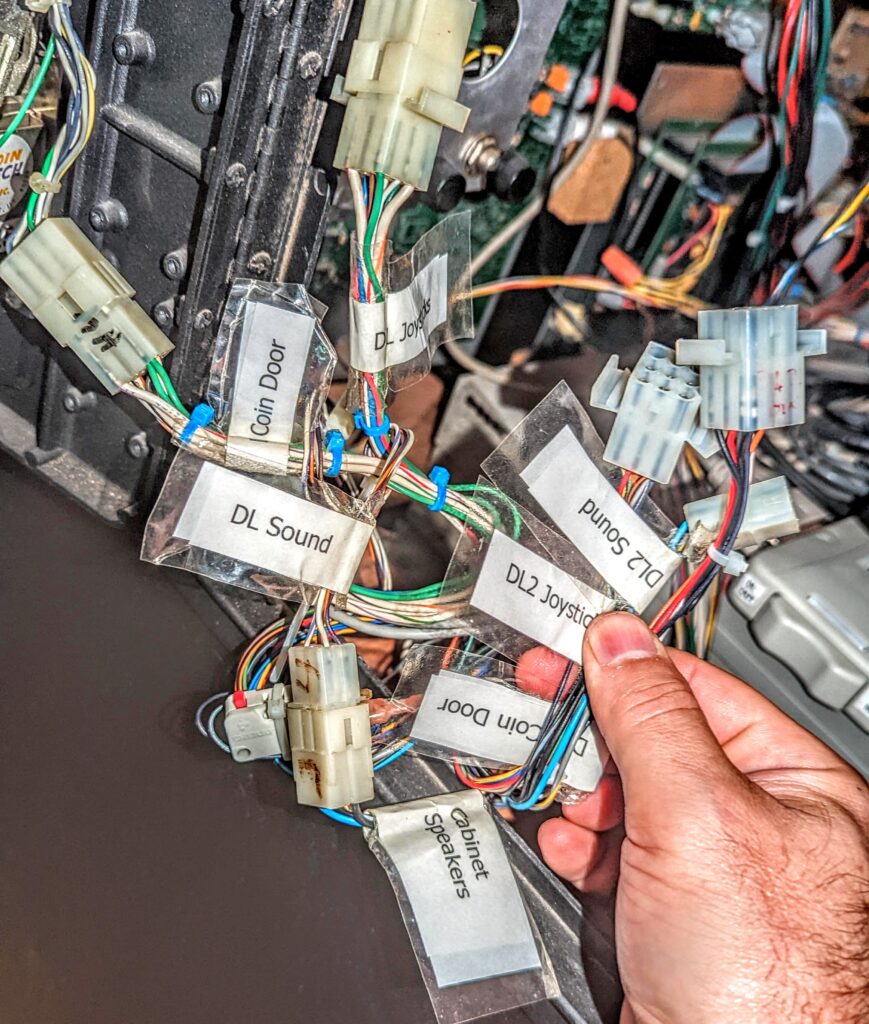 Updated CRT Monitor. This cabinet has an upgraded CRT to the Sharp 20 inch monitor which is popular since it has compatible A/V and fits the cabinet. The only downside was that there is a on switch that is required inside the coin door, but you have to open the coin door for inserting coins manually and for powering all the components.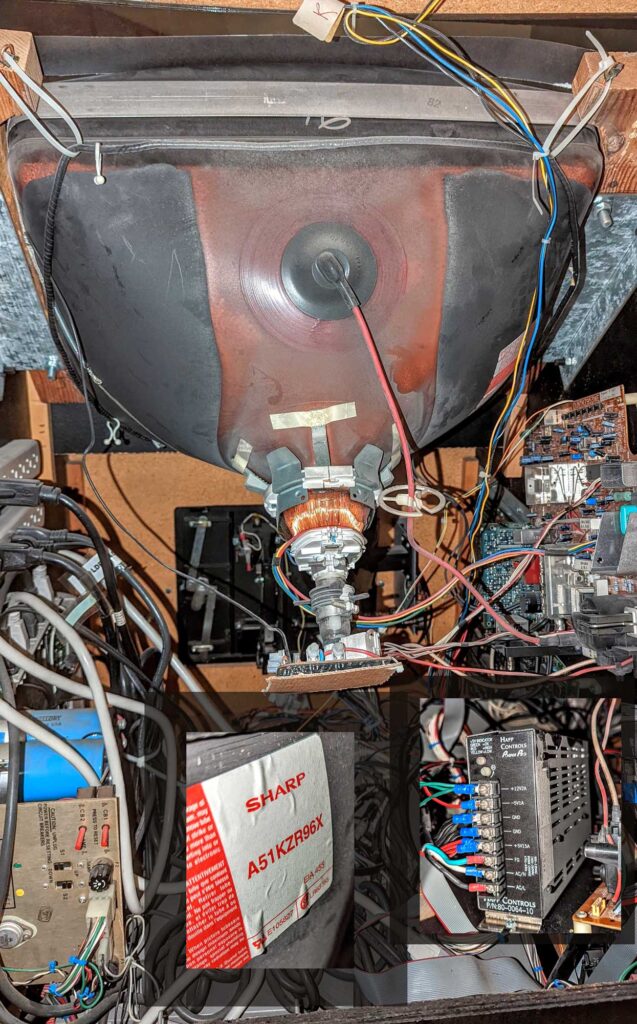 Power Central. To power components of the unit the game requires the player to switch on/off the appropriate components inside, not easy for casual players to figure out!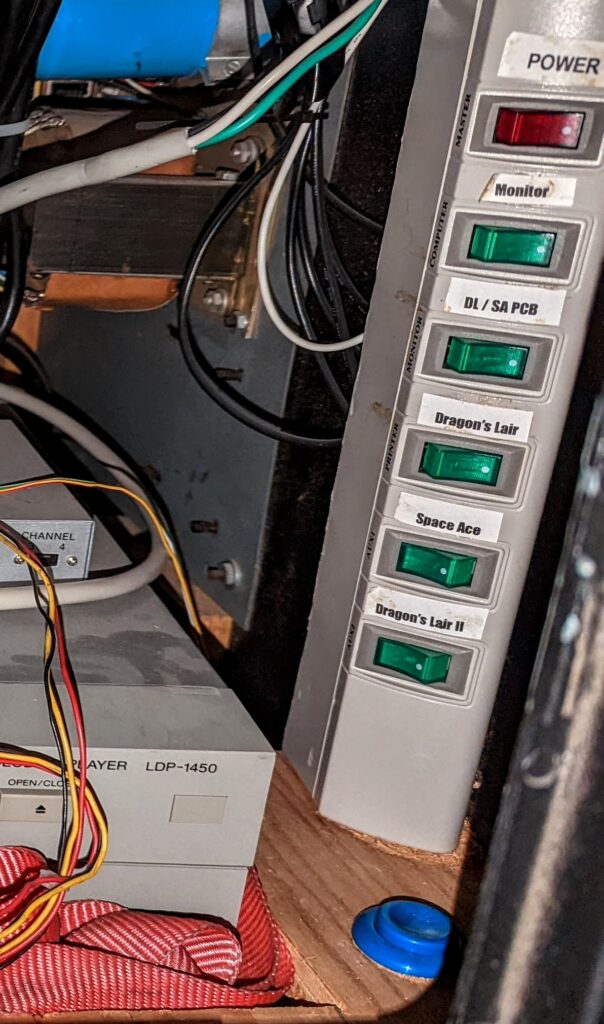 Laser Disc Players. I currently have three Sony LDP-2000 players for Dragon's Lair, Space Ace and a spare. I have Dragon's Lair 2 running on a Sony LDP-1450. I have the original laserdiscs plus two copies of Dragon's Lair 2 in Spanish (anyone know how rare these are)? In the cabinet the laserdisc players are stacked on top of each other.
The Upgrade Plans
September 2022.
I'll continue to add to this post as I make progress, but the upgraded system should remove most of the components that currently exist inside the unit. The upgrade should make the games easier to switch between and remove all the vintage pieces and parts that make it so complex and intricate.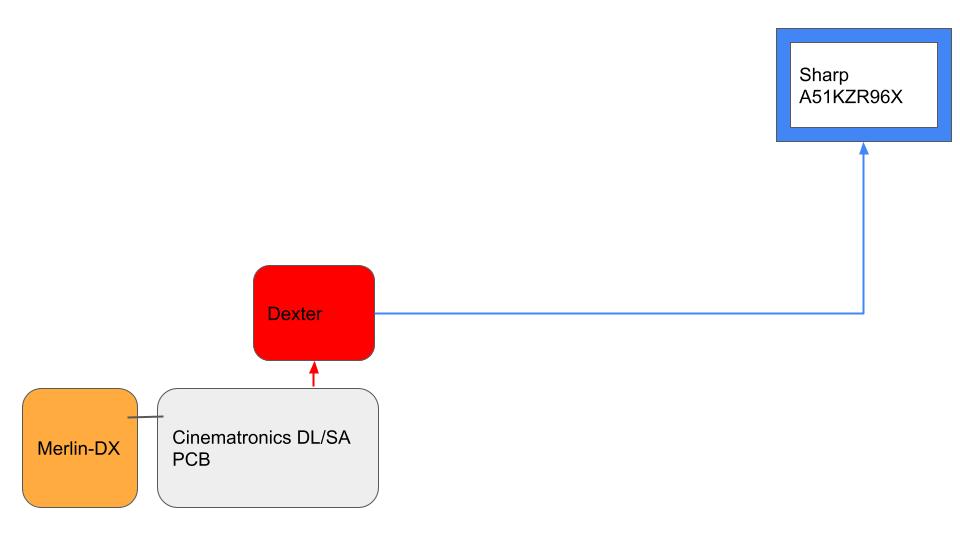 The Dexter upgrade will replace the two Sony LDP-2000 laserdisc players and the Hi-Tech laserdisc controller board plugged directly into the Cinematronics motherboard. Eventually, after a ROM upgrade supporting Dragon's Lair 2 with Merin planned for later in 2022, it should also replace the Sony LDP-1450 laserdisc player.
The Merlin-DX will replace the need for the DL/SA Combo ROM board, switch and the entire Leland motherboard.
I will need to figure out a way to automatically toggle the on/off switch for the monitor as the game is turned on.