Recently I was reviewing my web blog referrer statistics and saw an interesting website called NoBreastsNoRequests .  With my curiosity sparked I paid a visit to this referring site.  It ended up being a really cool and unique blog; featuring signs in DJ booths at clubs around the world!  Going through the blog I discovered a ton of really funny (and sometimes really crude) signs in DJ booths and request sheets that DJs have received.  The blog was referring to my original posting of a request I found in an old record from a couple of years back.
Just out of pure coincidence I had pulled a record a few nights before to listen to that had another one of these requests in it…which prompted this posting.  The story goes as I was DJing whenever I would get interesting requests I'd save them with the record I was playing when I received the request.  I have many crazy request sheets stashed away giving me a laugh every now and then–throughout the rest of my life I'll get a random laugh from the past!  Glad I decided back then to save these!
I decided to go through a row of records in the stacks and I ended up finding several of these requests.  I thought since there is interest I'd share them!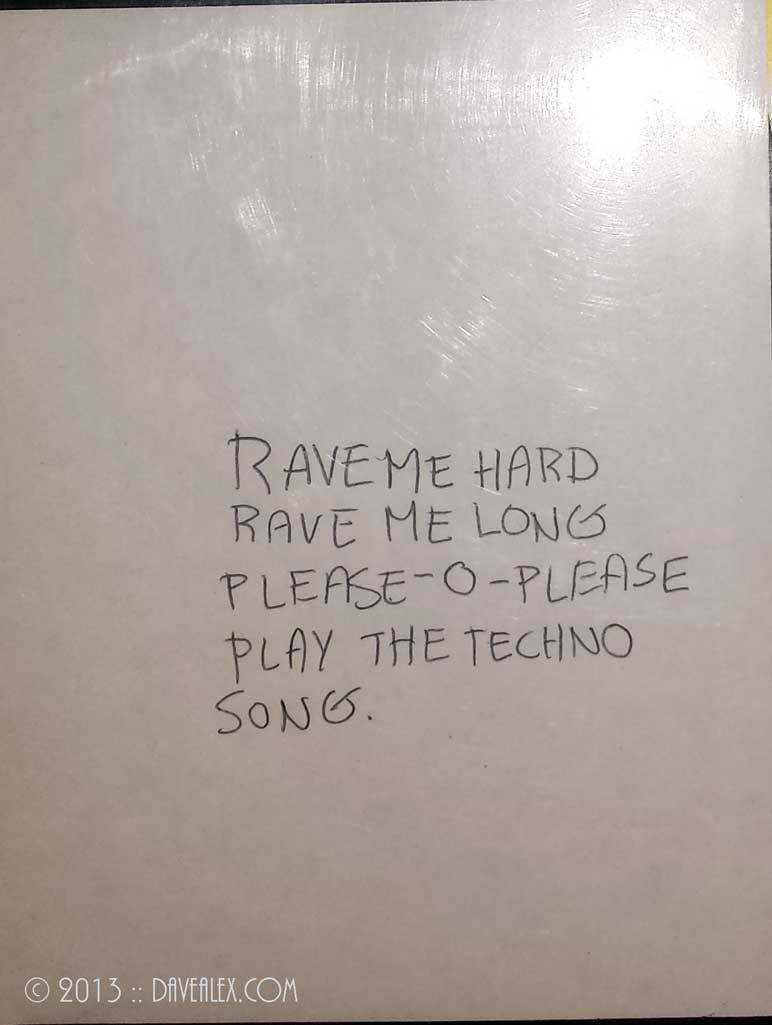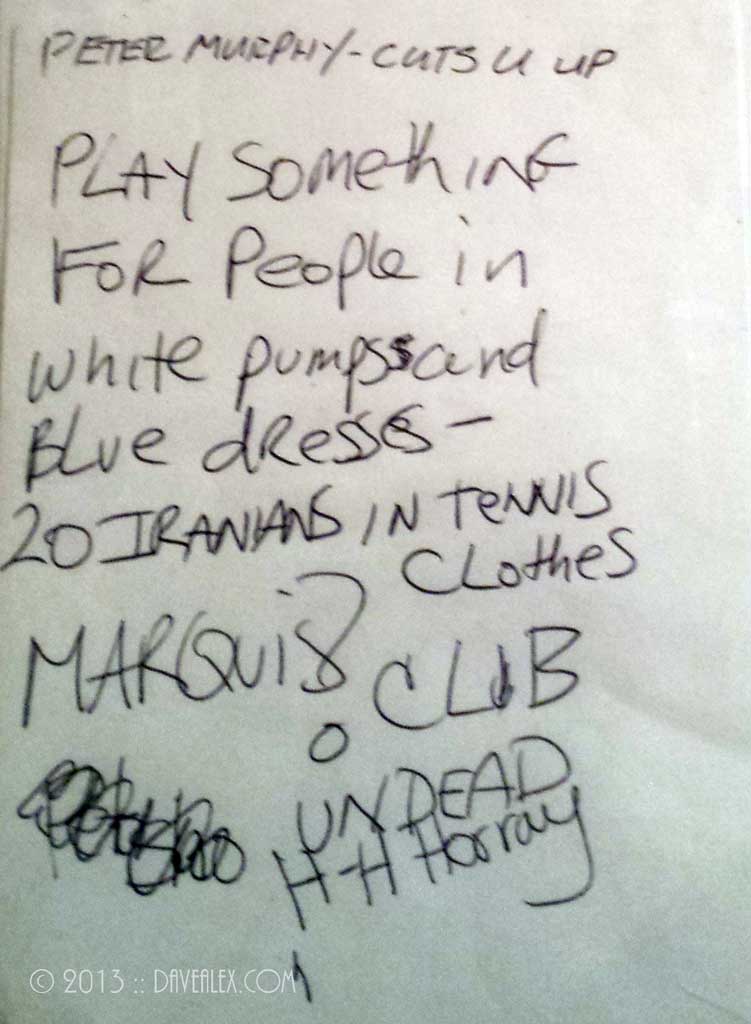 This next one has a funny story; the local warehouse raves at the time were promoted by a couple on entrepreneurs from UK. Although these raves started off pretty fun, many by one promotion company ended up being pretty sketchy and sometimes scary. I played a bit of techno at the time and someone had requested the classic Ice-T sampled "I am a nightmare walking" by Kid Unknown. Another statement (obviously not a request) was added about that local promoter making me laugh!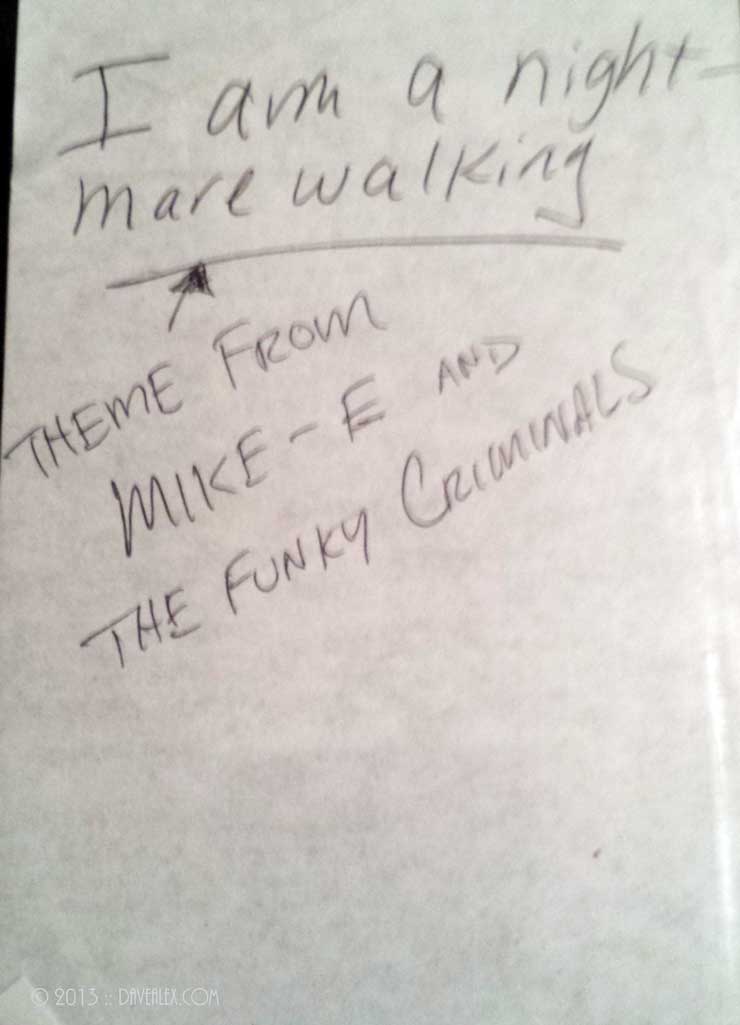 The next couple deserve some explanation as I think I know what was going on. I was DJing in Boulder Colorado, a fairly small University city northwest of Denver. I tried to play a variety of styles of music since we were the only nightclub downtown and attracted a variety of patrons. The club one summer started to have some fights and the club owners attributed it to the "ethnic folks" that obviously didn't live in Boulder (as Boulder isn't that diverse of a city). To cleanse the club of the problem I was ordered by the club owners to no longer play hip-hop music (common bands were Beastie Boys, Public Enemy, DJ Shadow, etc.). I thought this directive was incredibly lame and I'd sneak in a song or two with the excuse of it being a request; and of course I'd get in trouble. Eventually I'd comply and stopped playing the genre all together (but soon after I left the club). We obviously had fans of the small sets of hip-hop that I once played that came solely for those short sets…I felt bad I could not provide the music they wanted to hear on their night out on the town; but I also wanted to keep my job…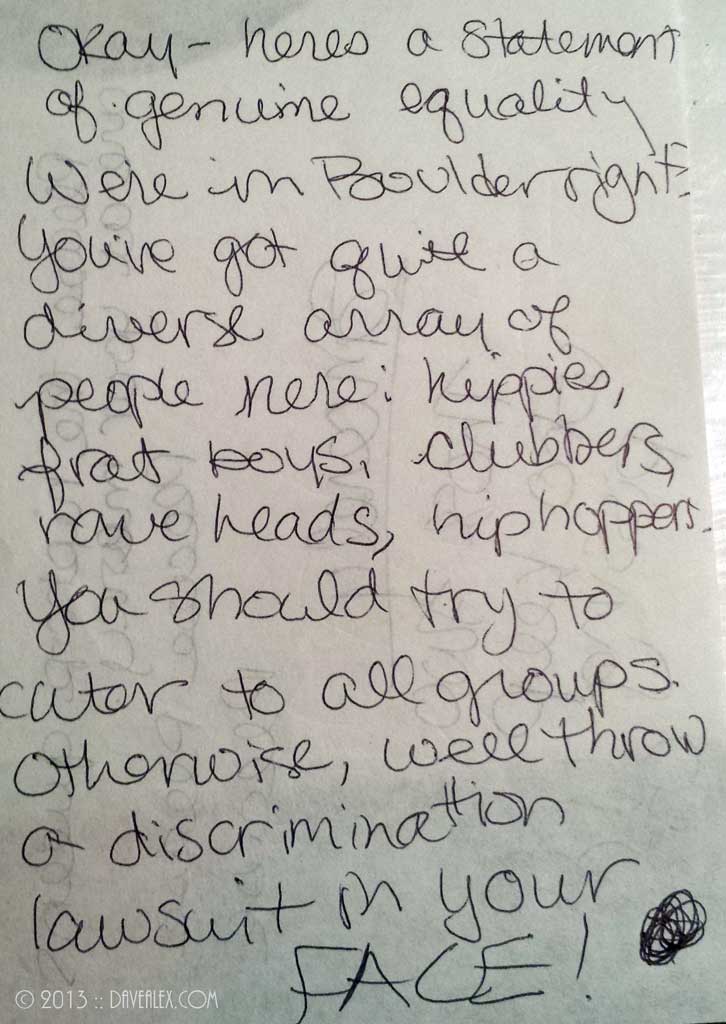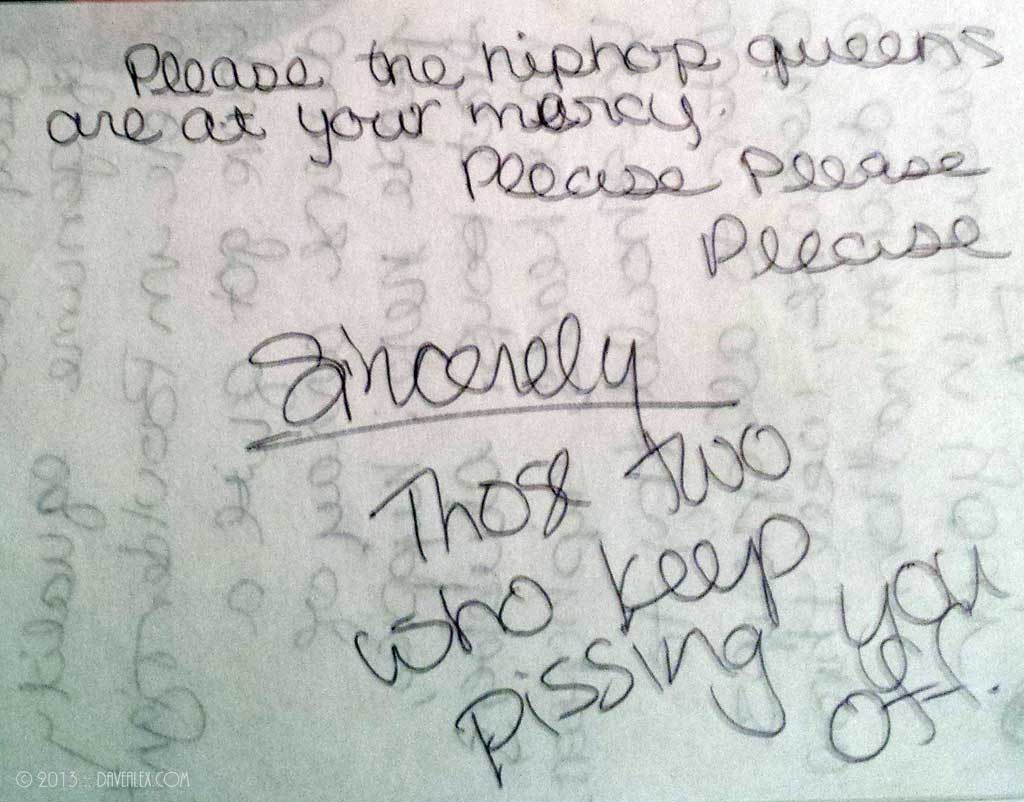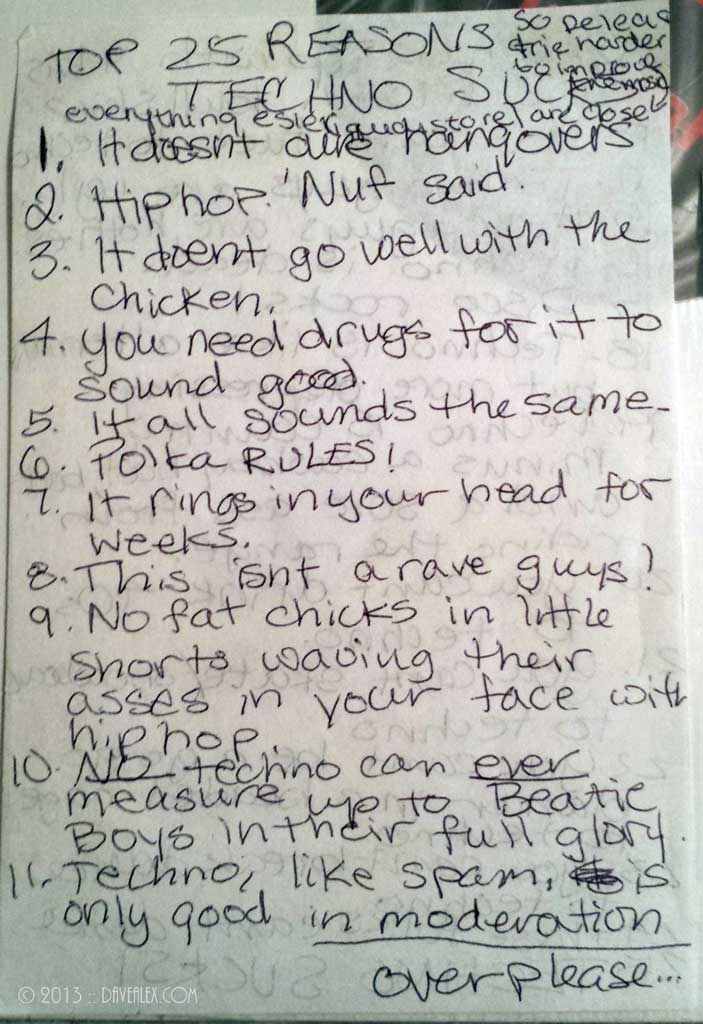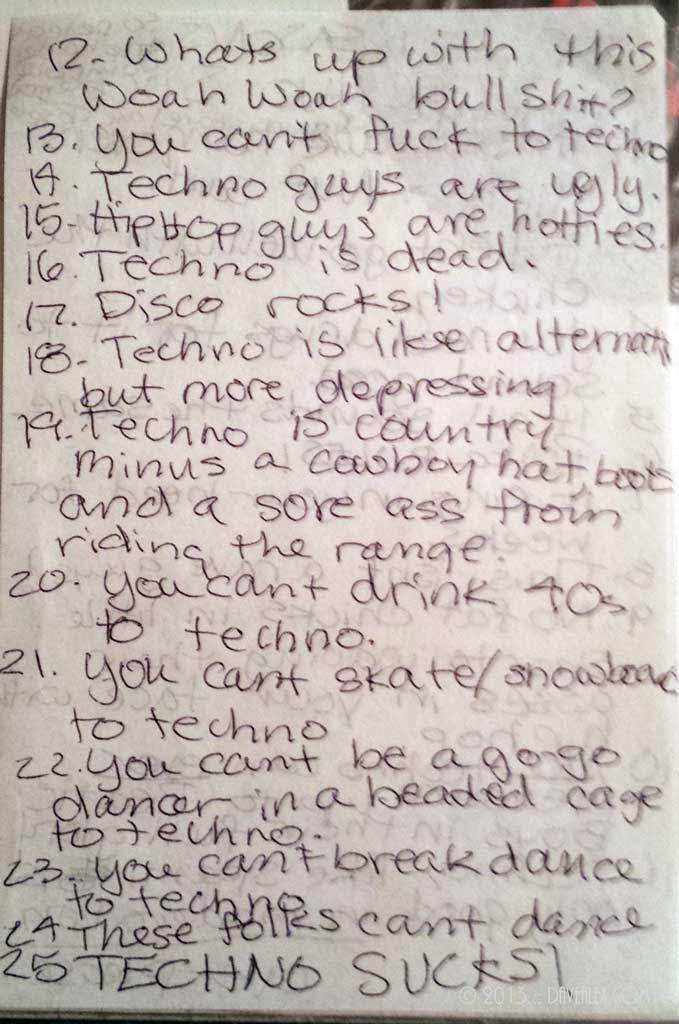 Here is the classic finale of this lengthy request. After taking nearly a whole song to read (in the near dark) the last request sheet (front and back); this one followed.  I remember this request distinctly as I couldn't believe what I actually just read; and laughed my ass off.  I believe this request was from the same ladies as the one in my previous posting; as many of the items listed are duplicated in its sequel; but never found out who they were.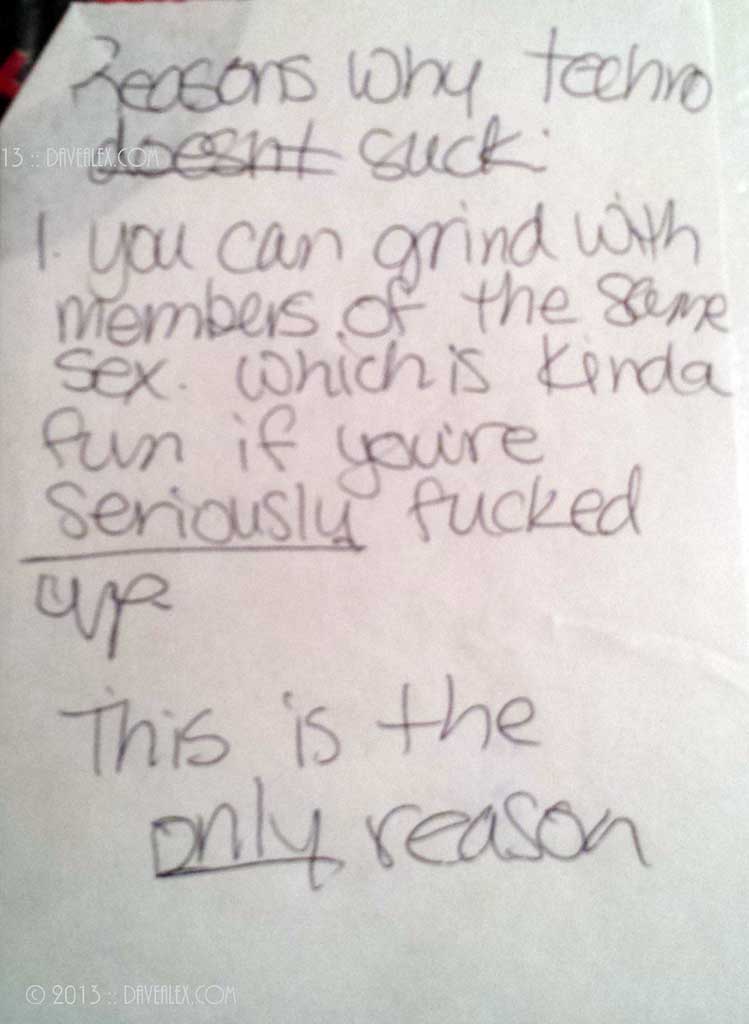 As I find more of these going through my record collection, I'll continue to post these crazy things!  LMAO!