As part of becoming a KGNU Community Radio volunteer DJ one must create a demo and then do one of the late night shows.  My first late night show was Sleepless Nights on the morning of January 22, 2017 from midnight to 3am.
It was a very fun show, I was pretty tired as I don't stay up this late usually, but fun.  I broadcast out of the Santa Fe Arts District in Denver Colorado.  Hour one was post-punk and cold-wave, hour two was Acid, and hour three was a little bit of everything electronic.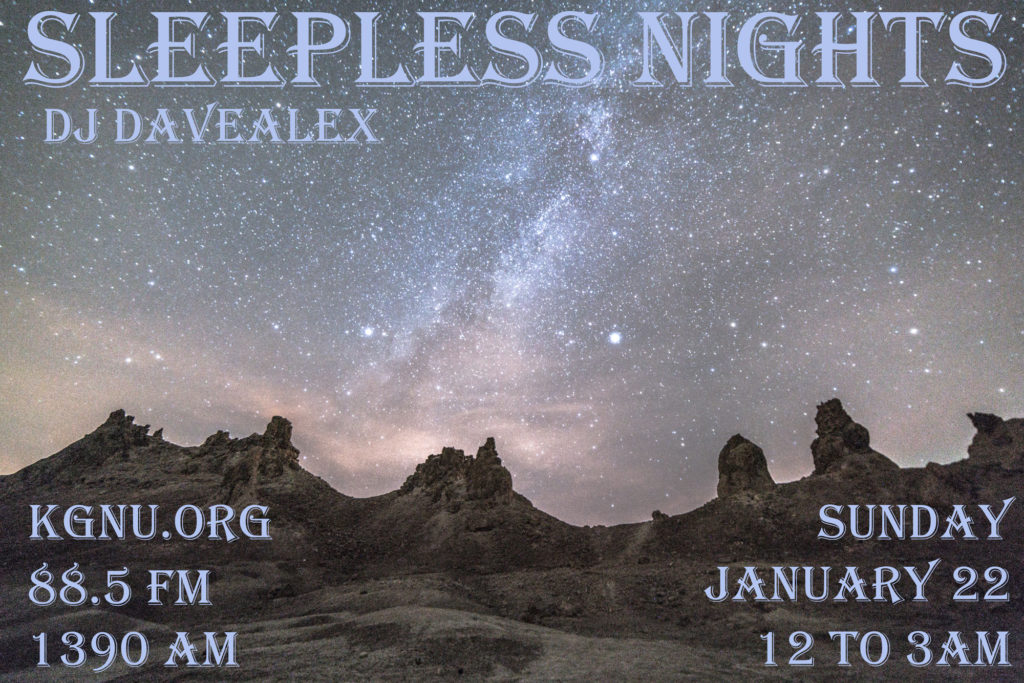 Here is the streaming show.
Here is the playlist:
Anthony Rother – Protektor – Hacker
Depeche Mode – Oberkorn (Its A Small Down) Development Mix – Meaning Of Love 12″
Konstruktivist – Lone Groover – Destiny Drive
Kline Coma Xero – Left Behind – Kline Coma Xero
– voicebreak –
Schonwald – Inland – Between Parallel Lights
Clan Of Xymox – A Day – Clan Of Xymox
Manika Girgir – ?????? ?????/Sang Tiede – Torment
Momentform – Momentform Is Fake – S/T – EP
Solvent – My Radio (Legowelt's RMX) – My Radio 12″
Dynarec – All Automatic – Exomove EP (Elektronische Werke Part 1) – EP
– voicebreak –
Illustration Sonore – Flying Lights – Circuit D'actes
Ausgang Verboten – Joy And Ease – Entertainment
– voicebreak –
Morph – Stormwatch – Stormwatch
Disintegrator – Dark Black Ominous Clouds – Disintegrator
Mike Dred – Macrocosm – Macrocosm
E621 & Link – Antacid II (Jedi Knights Remix) – Antacid
– voicebreak –
Aire Liquide – Unser Elektronischer Mikrokosmos – Neue Frankfurter Elektronik Schule
F.U.S.E. – Substance Abuse – Dimension Intrusion
Underground Resistance – Moor Horseman On Bolarus 5 – Interstellar Fugitives
– voicebreak –
Perc & Passarella Death Squad – Temperature's Rising – Temperature's Rising
Multicast – Gurrr – Multicaster
R.Rose – Purge – Vanishing Pools
– voicebreak –
Scala – Hold Me Down – Beauty Nowhere
Luigi Tozzi – Epipelagic – Deep Blue: Volume 2
Application – Front End (Remixed By Pye Corner Audio) – Applied Remixes
Electronic Dub – Electronic Dub 3 – Electronic Dub
– voicebreak