In retrospect, I had a great year digging at Devil's Head in the Pike National Forest.  Firstly, I can  be digging in about 65 minutes from starting the car here at the house.  Nothing like being close to the action!  2009 was definitely a beginner's year for me and I learned quite a bit.  I also got quite lucky (and unlucky).
I ended up finding a spot (luck!) that produced right away.  I visited that hole about 6-7 times this fall.  Most days were good; but there were a couple of days that did not produce.  I buried the hole but am thinking about digging it out again next spring…we'll see, it won't be the first time I buried that hole and then dug it out again! 😉
I believe everything I was finding was Miarolitic Cavities as opposed to pegmatite vugs.  For the most part these these were right at the boundary between the roots and harder rock about 8 – 18 inches below the surface.  Joe Dorris has a nice description of these on his website.  I also found, digging in old unfilled abandoned holes, several deeper pockets filled with thick red clay and some crystals.  I'm assuming these are more "vug" type structures in the pegmatites.  That red clay is definitely a mess!
Highlights of the hole I was digging in were the many large double terminated crystals my dad found on the first day of snow in Colorado this year.  Also some really nice orthoclause crystals, one which is multicolored in squares.  We found nice smoky quartz crystal heads from sub-inch to about 4 inches in all different quality.  Some were nice large "gemmy" color…the further south you get the darker the crystals it seems here in Colorado.  I have a cigar box full of small crystals, and several larger individuals and a few crystals on harder matrix/feldspar.
Here are the fruits of my (and Hunter's) labor on my second day in my hole.  We found a pocket that I could stick my hand into which was very exciting, that seemed more like a small vug/pocket as it was surrounded by very hard rock.  Most of the small crystals came from a pocket about a foot higher, likely a Miarotilic Cavity?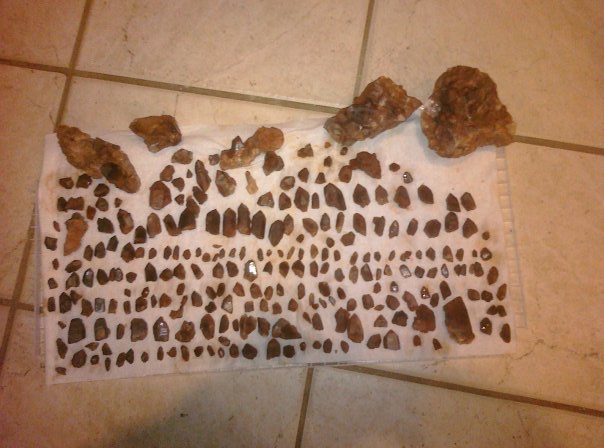 This is the same hole but the next time I went with my dad.  It was snowing so hard that we ended up having to leave we were so cold…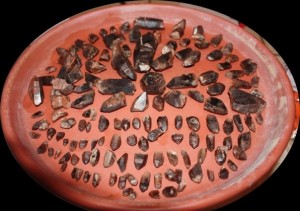 These were some of the best crystals to come out of this hole.  My dad was digging and extracting the bigger crystals and I was taking my new screen I just bought at the Gem and Mineral show the day before to sift for "smaller" ones.
On my last day in this hole of 2009, I found several small pockets along the root/rock line parallel to a quartz-ish vein about a foot away from the vein.  That afternoon I dug for about 5 hours and found nothing, so I need to determine if this spot is worth continuing with next year.  This is the coolest thing when you pull off a rock and see a "hole".  Sometimes they pan out, sometimes they don't.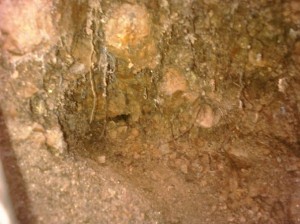 Here is another pocket I found.  I would just run my hand along the top of this hole loosening the dirt/rock and the cleared out base would be filled with rock and crystals.  This is a common way I pull these smaller points out of the ground.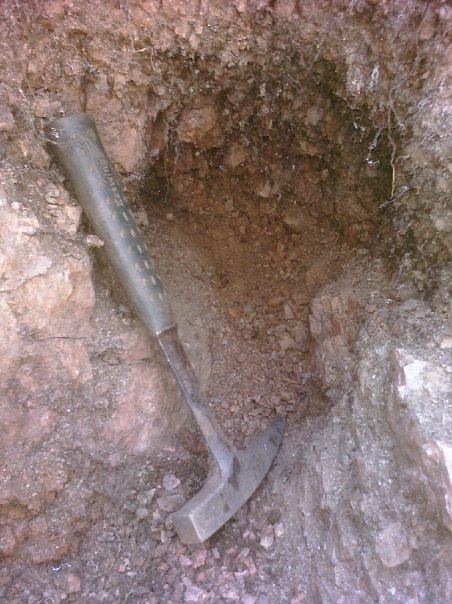 2009 was  blast and I got hooked on finding smokeys.  We have joined the Colorado Springs Mineralogical Society and plan to learn a lot this year and go on several digs, including the private claims that the society works.  My number 1 goal is to better understand how to find geological features that will tell you where a good place to dig is; that is the hardest part so far in my experience.
Oh, and sometimes, a rock falls onto your hand and there is a crystal on top of it.  This happened twice this year.  That was nice slender half-dollar sized crystal!