Day #9.  June 15, 2005.  West Central Kansas.
Video (2nd part of the storm video):

This was a down day for most chasers, but our guides strutted their stuff
today by forecasting west central Kansas as a target.  The mid level had a
lot of moisture coming up from Amarillo into West Central Kansas and there was a
lot of dry desert air coming up over Colorado forming a dry line with nice
instability once you got into Kansas.  We drove from Kearney Nebraska and
arrived at Colby Kansas at noon.  We hung out there until 5:00 when we saw
the first storm of the day blow up, and boy did it in a hurry.
We had to drive east to catch up with the storm and experienced some minor
hail on I-70 along the way.  After going south right where the Trego Center
tornado was on Day 3 (June 9th) we knew that area was in for another intense
storm.  We actually drove by where the tornado was and saw much destruction
to trees and even flipped over flatbed trucks.  We parked along a small
country road and watched this beautiful mothership supercell evolve.  I
have always wanted to see a mothership and was blessed with a super high quality
storm structure today.  We hung out with two farmers who were really cool
and calm as this beast passed over their homes.
Eventually this put down a very weak tornado right before it was overwhelmed
with a squall line that had developed over eastern Colorado–very similar to the
supercell from Day 1 in South Dakota.  Then all hell broke loose and we had
to run for our lives (well, not really, but there was large hail and intense
winds that would have wrecked havoc on our van).  The storm quickly
swallowed us up and we narrowly escaped it after almost 2 hours of being very
closely chased.  I'm positive this storm complex had to produce large
tornadoes and devastating hail storms; we'll wait to see what the NWS report
says.
This storm was the most beautiful I've ever seen and produced the most wicked
lightening storm I've ever seen too.  For over 2 hours it was black as
night (but it was daylight still) with zero visibility due to blowing rain
(gusts were around 50-60 mph).  The lightening was intense in every
direction, probably 4-5 times per second.  I tried to video it but I don't
think it came out.  You could see scary lowerings in the clouds through the
lightening at times.  What a treat from our mother nature!
There are a lot of pictures here because I am in awe of the beauty of this
storm…I couldn't decide on which to show so I chose many.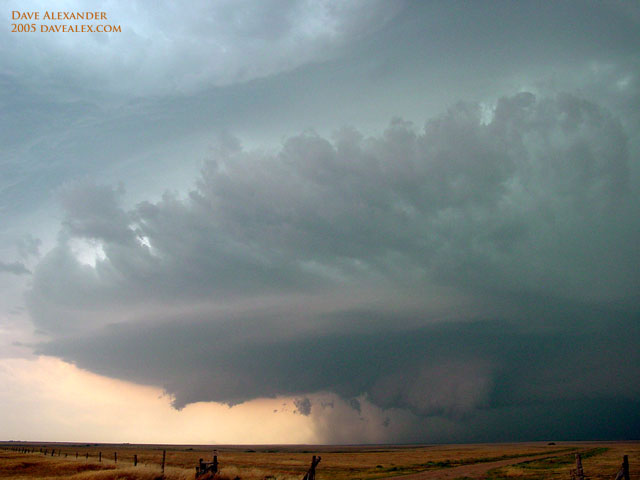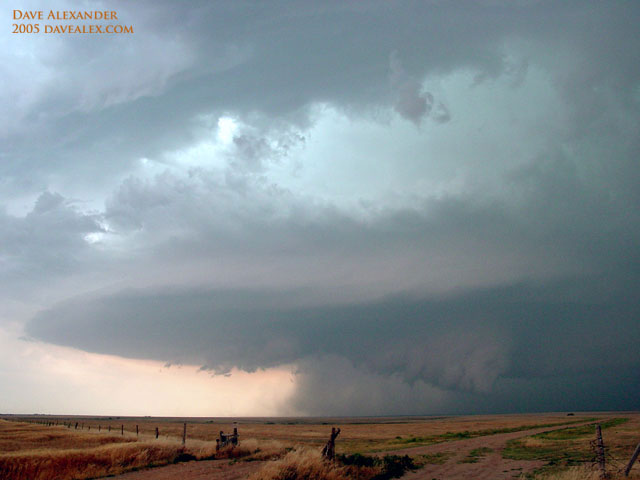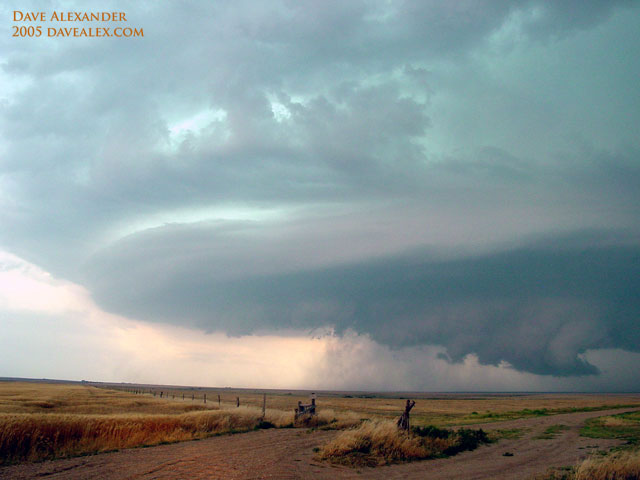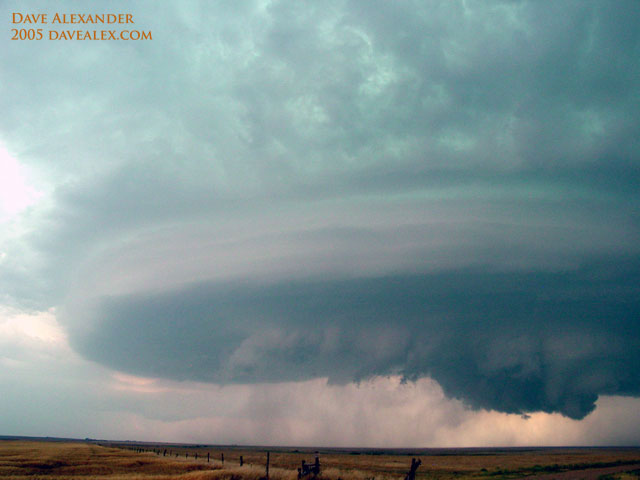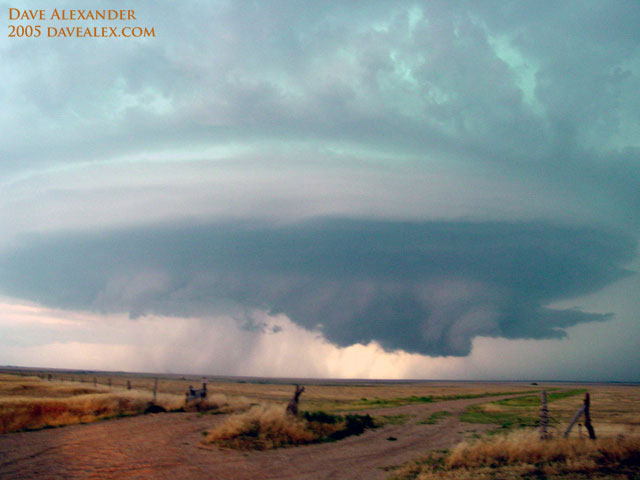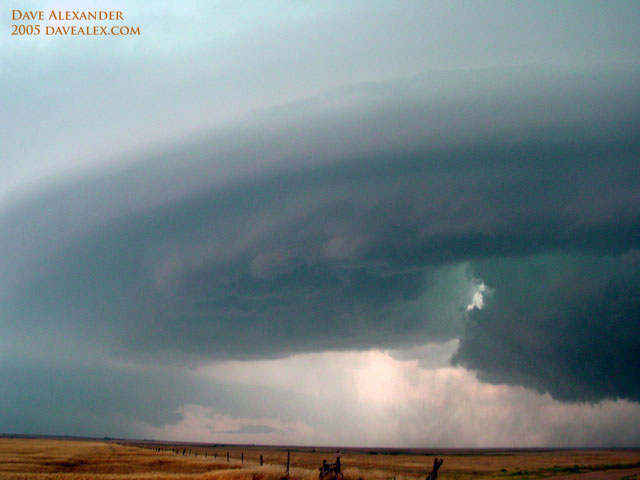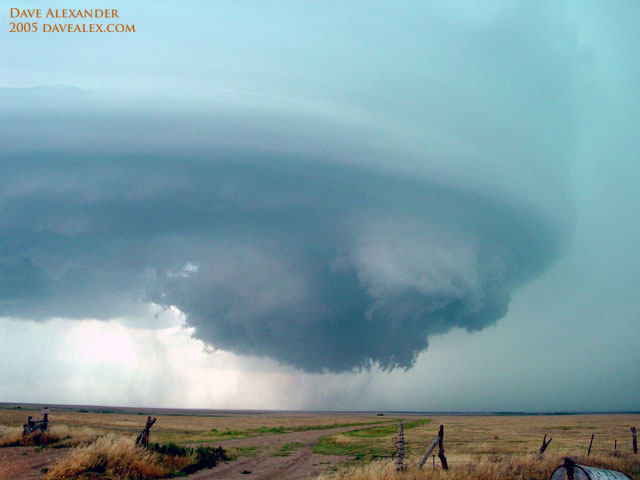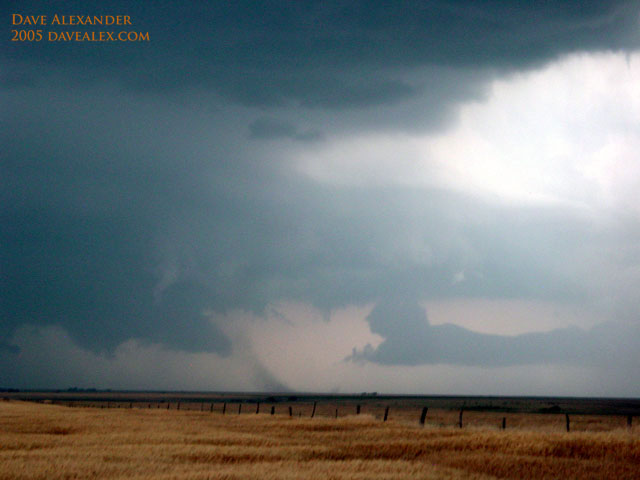 This is the Rear Flank Downdraft blowing dust in the distance.  This is
an intense wind!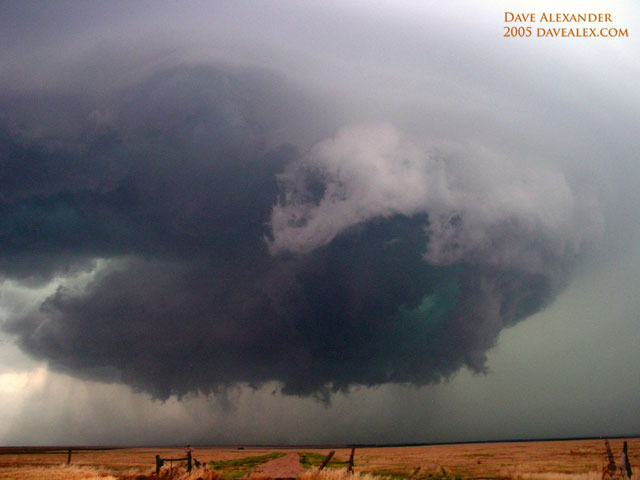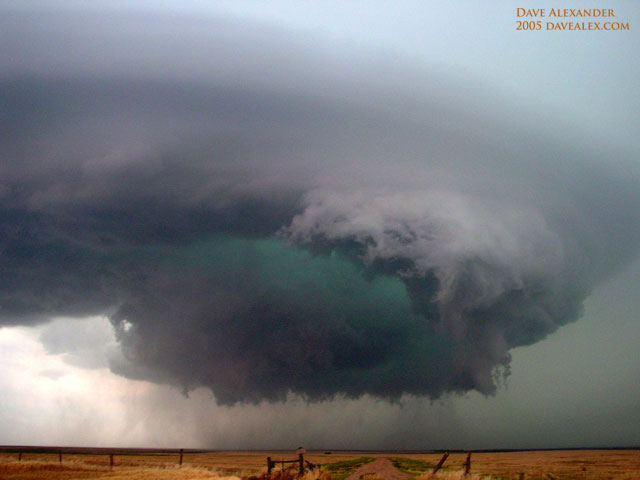 Lots and lots of rotation!
and finally a tornado.  This is called a truncated cone because the
condensation funnel didn't ever go from the cloud to the ground, but as you can
see there is a definite tornado as seen by the debris on the ground.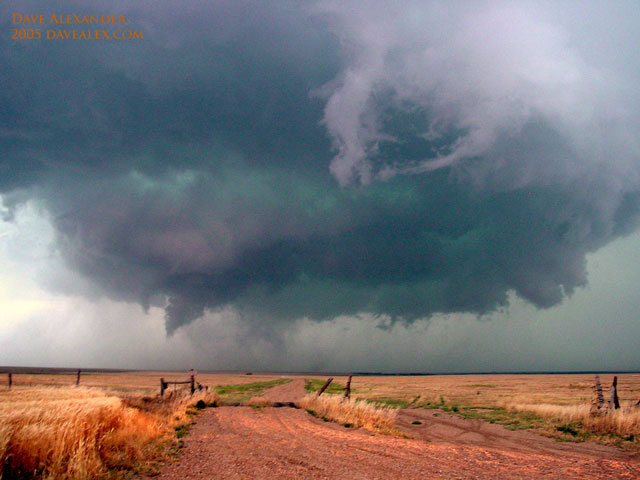 You can see the tip of the funnel in the center, it actually isn't the funnel
looking thing on the left, but that was rotating too!
Because of the intensity of this storm complex, there actually could be a
chase day tomorrow as well do to the outflow boundary generated by this MCS.
We thought we'd be sitting around on day 10 but that may not be true anymore.
Gotta love how dynamic the weather is!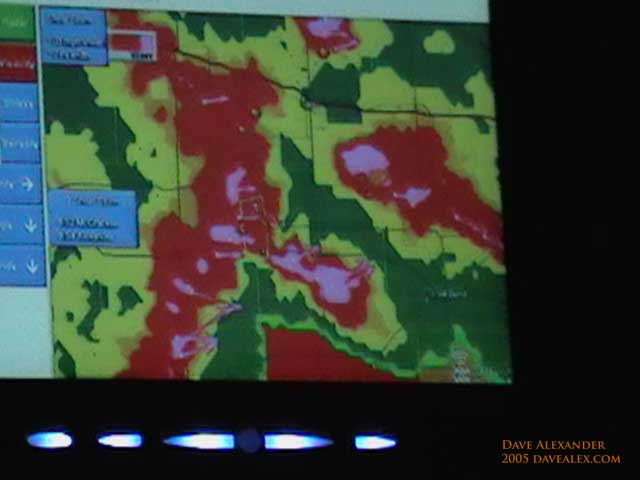 Here was our escape route.  After leaving the tornado, we were right in
front of the golden box in the yellow.  The tornado is the where the letter
F is in pink near the center of the radar.  We had to navigate down the to
the right and down the green notch.