Master Class Tour – Day 1 (June 7, 2005)
We started the day in Kansas City, Missouri. After
reviewing the weather maps the night before, we knew we had a long day's drive
to meet up with what could be the storm complex of the summer. A *VERY*
strong upper level trough was in place to meet with potential warm, moist air
and the natural upslope of the Black Hills in western South Dakota. We
left at 6:00 am and drove virtually non-stop until we were at the Badlands at
around 5:30 pm. GOES-12 Satellite showed an amazing supercell forming (I
will have pictures up shortly) on the southernly edge of the cold front boundary
and on the NE tip of arriving the "Death Jet" trough that we were excited
about. There was a monster Supercell that we estimate was putting down a
huge tornado about 50 miles north, but these storms were tracking at 35 mph to
the north and we didn't feel we could catch that storm. So we crested a
hill to see not only the Badlands for the first time but also our target
supercell. Not more than 2 minutes later a funnel appeared in the western
flank of the storm putting down a nice Elephant Trunk tornado. We were
about 18 miles from the storm and I hope to have gotten some video footage of the
tornado, but it was far away and we were struggling to get our gear all set up
after the abrupt stop to our long haul, so I didn't get any still photos. It was a beautiful tornado that lived about 5
minutes.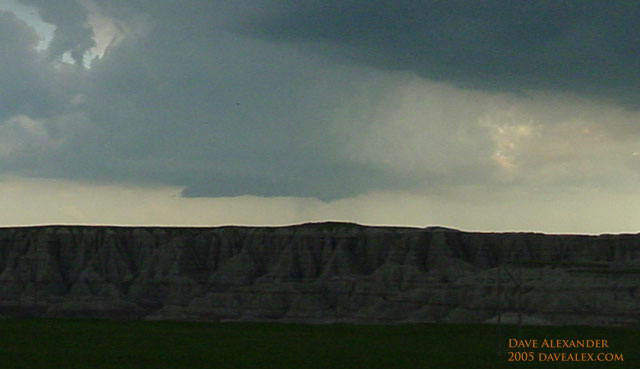 We then, with renewed enthusiasm after the LONG drive
headed south on US44. We pulled off at a good vantage point and watched
this supercell develope further. Where we stopped we actually met up with
the Twister Sisters who had National Geographic along and we were filmed for an
upcoming Tornado show. It was great to meet some of the chasers who I have
been following for years from home. This storm was something else, I've
never seen anything like it and I never have been directly in front of the
storm's path less than a mile away. There was *INTENSE* rotation below the
huge wall cloud (that nearly took up the whole base of the supercell) and we
finally decided to move once it was overhead and quarter sized hail started to
drop.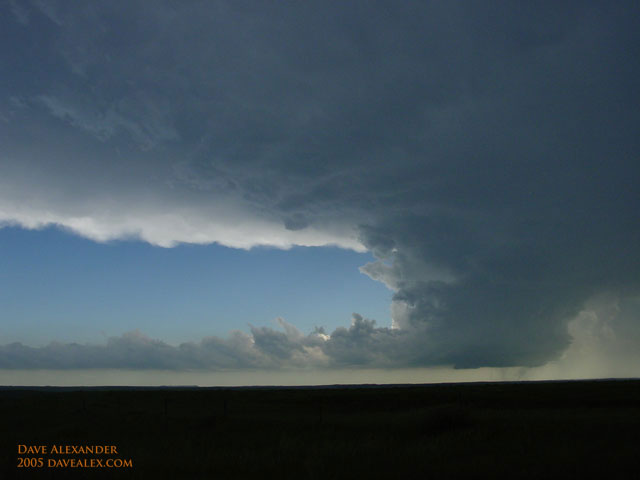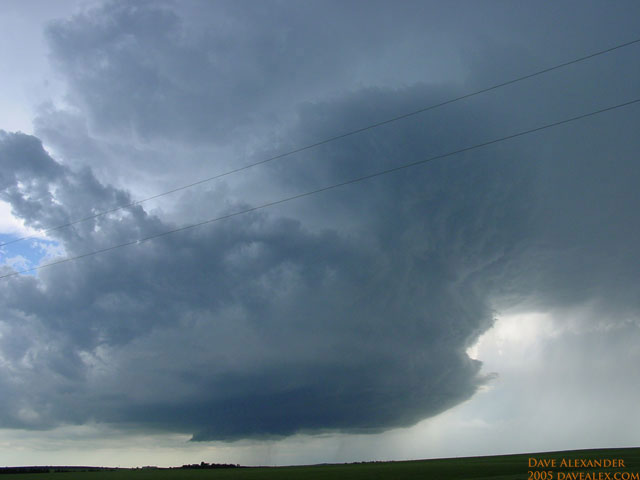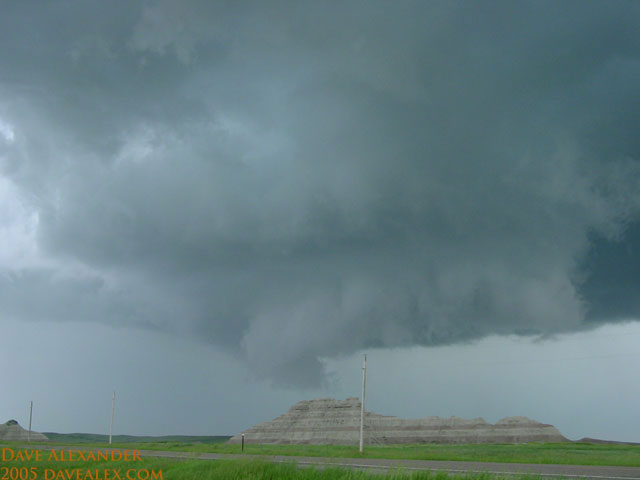 We continued south for a couple of miles to let this
baby cross the road and we stopped at a nice "Badlands" scenic outcropping and
watched a great show. The rotation of this storm said there was going to
be a big tornado at any time, but nothing did come down. We decided that
since the storm was still building we would out flank it and went 6 miles south
(away from the storm) and 16 miles east, then back north to intercept it.
At this time there was a Squall line of storms *VERY* quickly approaching us
with obvious *BIG* hail and potential tornadic activity catching up with us, so
because of the dirt road we didn't stop at all due to the obvious risks.
The public reported a tornado touching down briefly but we were within 15 miles
of this storm at all times (mainly less than 10 miles) and we didn't see any
touchdown, although there still was intense rotation. We followed the
storm and hopped back on I-90 east towards the storm. It was being overcut
with the cells directly behind us so we knew that it only had a short life left,
so we drove under the rotating wall cloud to get in front of the storm for its
last chance to put anything down. Again, there was intense rotation as
this supercell got swallowed by the Squall line, but alas, no new tornados.
The Squall line turned into a Whale's Mouth which is *VERY* rare. Note
that it was moving around 75 mph and that was intense watching it come straight
for us at that speed.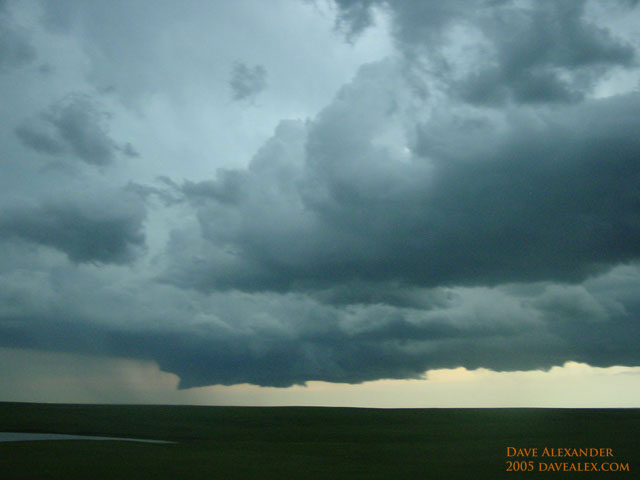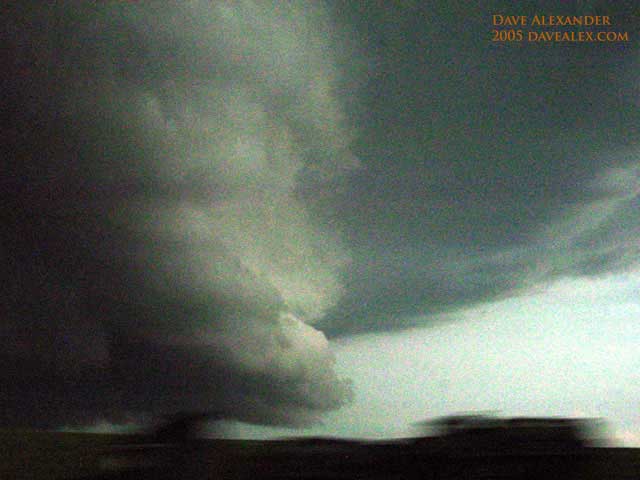 A couple of other observations. The inflow bands
to this storm were on the SE and NW flanks and were truely amazing. The SE
one had to be 100 miles long. The anvil was monsterous, it went as far as
the eye could see. There probably were over 100 chasers of this
storm…its been a dry year and everyone is desperate; but this was also a setup
that had amazing potential too. We saw so many "yahoos" (these are idiots
with all sorts of stupid crap on their "chase vehicle" trying to attract
attention to themselves–none had rims that spun which surprised me), 4 Texas Tech vehicles with
big weather stations their roofs
(looked really silly), the Tornado Intercept Vehicle that looks like a tank and
who never gets within 20 miles of a storm I am told, and
so many other folks with light-bars and crap plastered on their car saying
"Caution: Storm intercept vehicles" and the like. I am really
surprised how gung-ho some folks are and how distracted one can become! The
night ended in Mitchell SD with the storm catching up to us and giving us an
hour long lightening show (with I estimate 75-100 cloud-to-cloud bolts per
minute). It's 12:30 now and the lightening is subsiding.
This storm was truly amazing; a classic supercell!
We got to see a pretty tornado from the distance with beautiful scenery and also
an amazing storm structure. My favorite part was looking at it as it
headed directly toward us and as it started passing over us. After we
moved 2 miles south (since we were directly in the path of the rapidly rotating
wall cloud) it has some beautiful form and rotation. Looking straight up
into the outer rotation of the wall cloud shows the beauty of nature that not
many have the opportunity to see. Stunning! I also have learned a
ton (in one day, no less) about severe weather forecasting and chase techniques.
Tomorrow will be Northern Iowa, Southern Minnesota
following this same "Death Jet" with very high dewpoints feeding it and Outflow
boundaries from tonight's storms feeding the instability. Unless something
crazy happens, we'll see some great storms tomorrow too, and probably for the
rest of the week. Today's mileage. 900+ miles!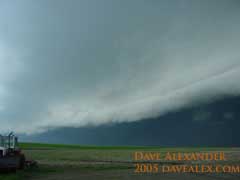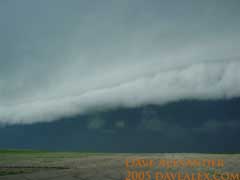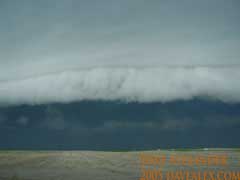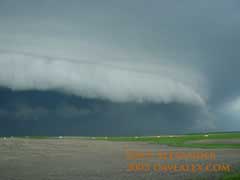 Above is the ultra-rare whales mouth. This is
horizon to horizon, about 1/4 mile away, approaching at over 75 mph. It overtook us within 2
minutes of these photos with at least 60 mph sustained winds. This is our supercell after being ran over by an intense Squall line.