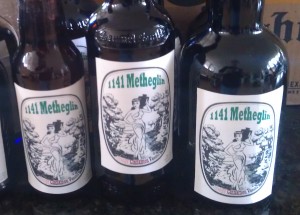 Just brewed some Methegin/Mead today (Dec 23, 2011), looking very much forward to this one. Got the recipe online and tweeked it a bit…Bottled September 2012.
Orange Vanilla Cinnamon Metheglin
16 lbs unprocessed honey
2.5 tsp bentonite
6 cinnamon sticks
12 tbsp sweet orange peel
5 Madagascar bourbon vanilla beans
5 gallon water
1 packet Sweet Mead liquid yeast
2.5 tsp yeast nutrient
All the honey was crystallized (yum) so I boiled some water and put the honey in that…after it was nice and warm I was able to with many tries get everything dissolved and in solution. Mixed with about 2.5 gallons of water; but by the time I was through with the de-crystalization I had boiled 4 gallons of must for about 10 minutes. I included the Yeast Nutrient in the boil.
After it cooled down, I added the cheesecloth with the spices and orange zest and pitched the yeast. Will rack in probably 2-3 weeks and add the bentonite then (I don't have it now…I'll get it next week, and will also clean and reintroduce the spices.
OG: 1109