Finally spring has arrived!  I swept off the dust on the old Baron Mobile Threat Net unit and reactivated my subscription and tuned up the technology in my chase vehicle…now I'm ready to chase!  Anticipating that May 21, 2014 would be a Denver Cyclone Regime I planned ahead and was ready to head out early for a fun first chase of 2014.  Adam Boggs was also up for heading out and so we planned the rendezvous at Brighton. Adam, a fellow chaser, is an incredible navigator and can keep an eye on the sky while I drive which is so much better than chasing alone!
I anticipated due to the higher dewpoints that it would be a hazy day and likely that the supercell modes would be HP.  This is somewhat dangerous to chase as often any tornadoes are rain wrapped and you have to be right there to witness them.  So our strategy for the day was to get directly in front of the storm and let it chase us, getting a great view of the structure and possibly seeing any tornado that was not rain wrapped.
Several cells popped up over the high country but quickly merged into one large supercell southwest of Denver.  All the cells northwest of Denver were quickly vanishing as they came onto the front range, so there was only one play, the Denver Supercell.  Chasing in a city is simply dangerous, hence why we were waiting just NE of the city for it to come to us.  Adam and I intercepted this storm as it was "putting down tornadoes" in the Aurora area, we were north of DIA.
NOTE:  Click on any image for a larger view…on some photos I upped the brightness a bit because it was very dark under these storms.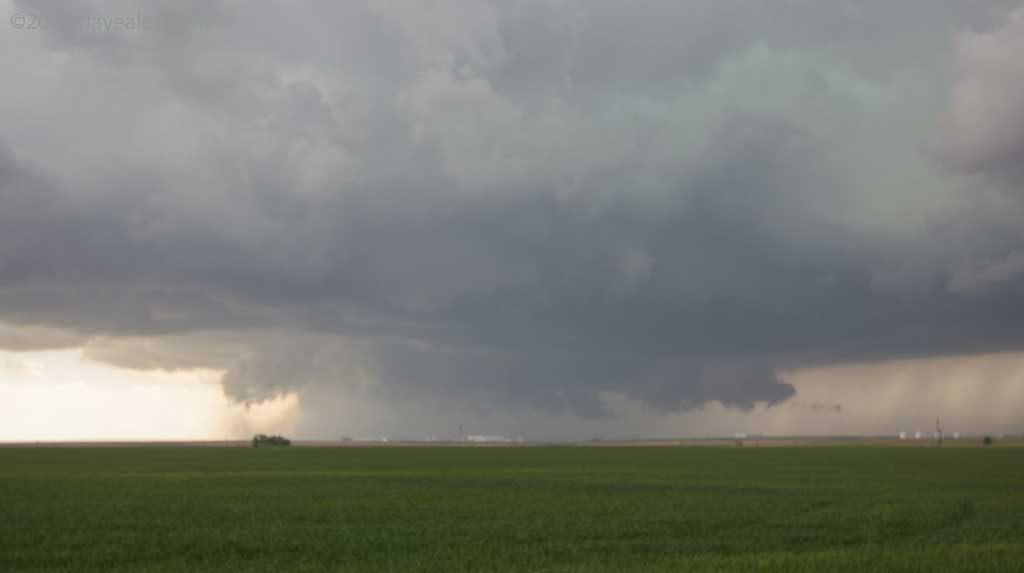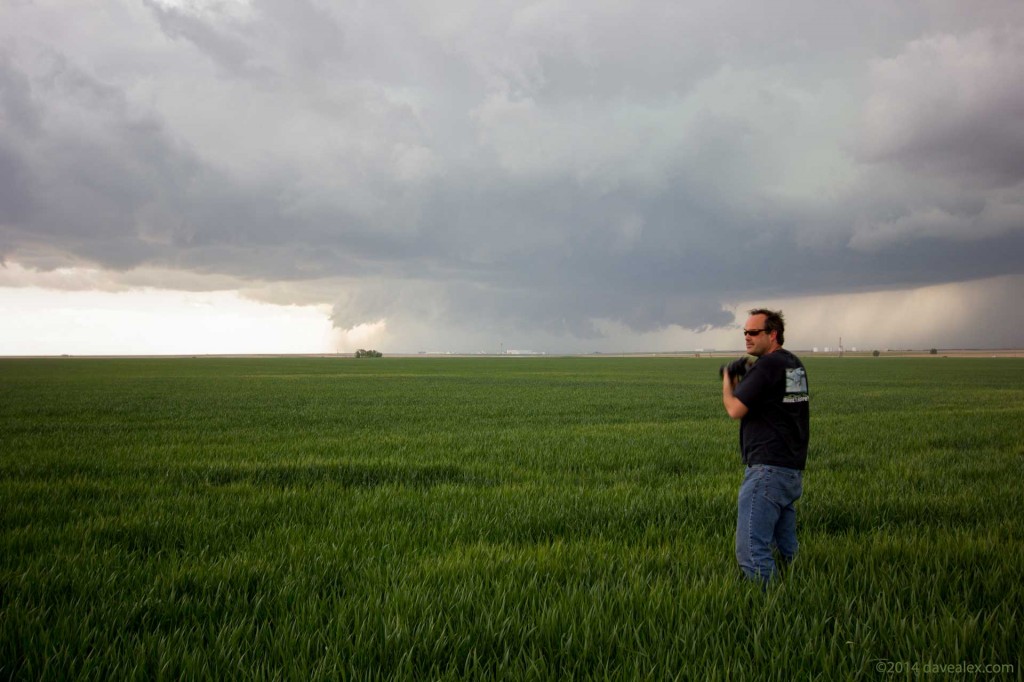 We repositioned getting closer.  With the sun behind the cell from our vantage point, the colors were really starting to "pop".  The contrast with the newly green wheat fields were making this storm spectacular.  There were planes still landing at DIA as this storm encroached; eventually folks at the airport went to shelters and there was so much hail the snowplows had to clear the runways.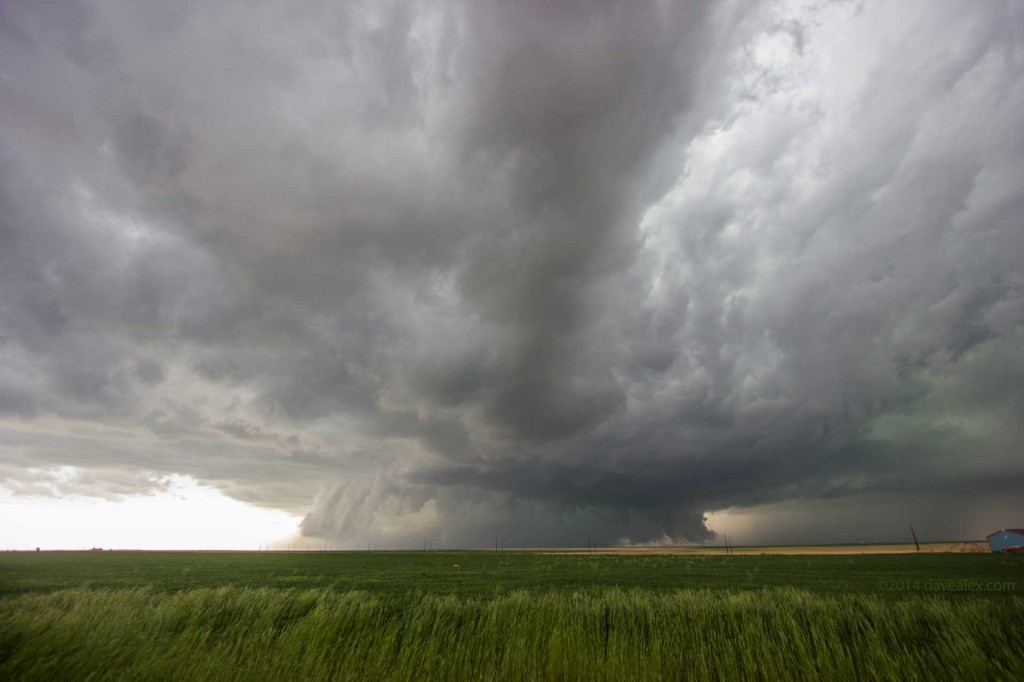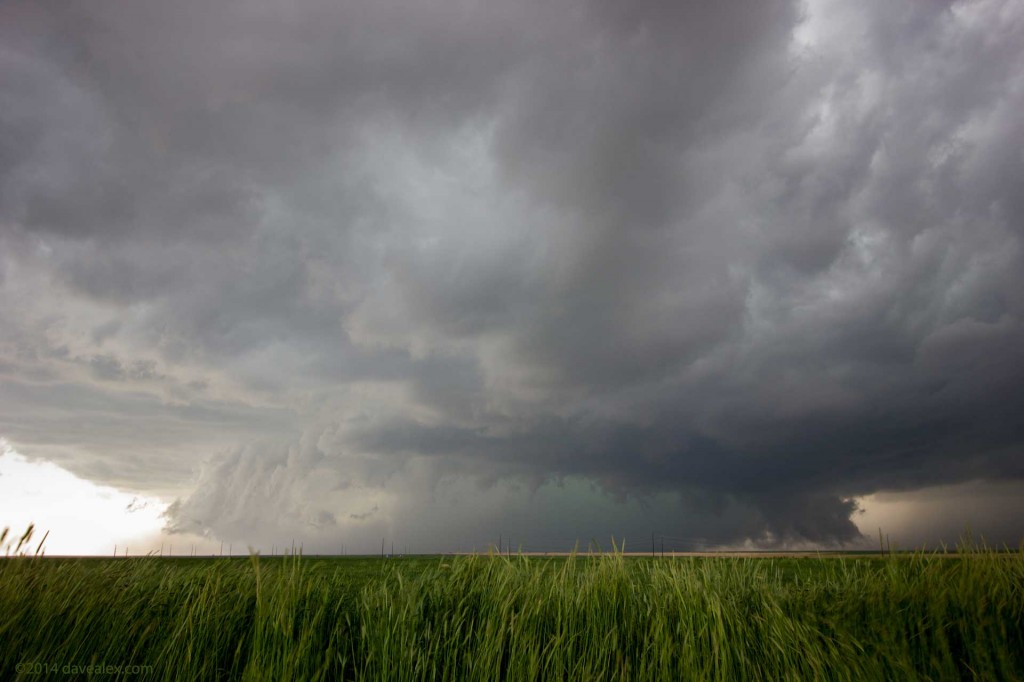 As with any chase, it is a game of get into position, take some pictures and take in the beauty of the storm, then reposition again, and so on.  The next tornado was reported in Watkins.  We were about 3 miles NE of there at this time and didn't see any tornado, obviously it was rain wrapped.  However with our view directly in the path of the storm the colors were amazing!  If you've ever heard about the "clouds being green" when there is hail near; this is what they mean…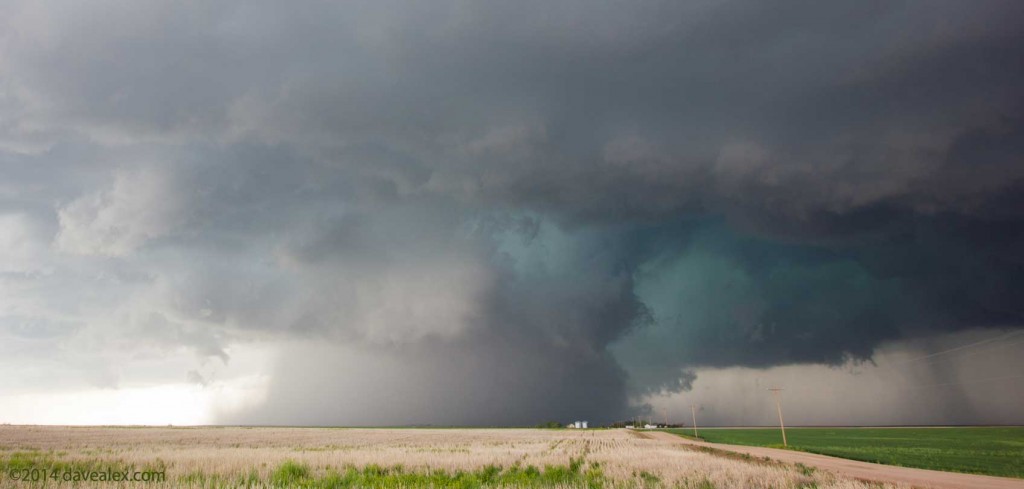 We were just mesmerized by the colors of the storm at this point in time.  It was likely the most beautiful supercell I've witnessed from a color perspective!  The pictures just don't do it justice!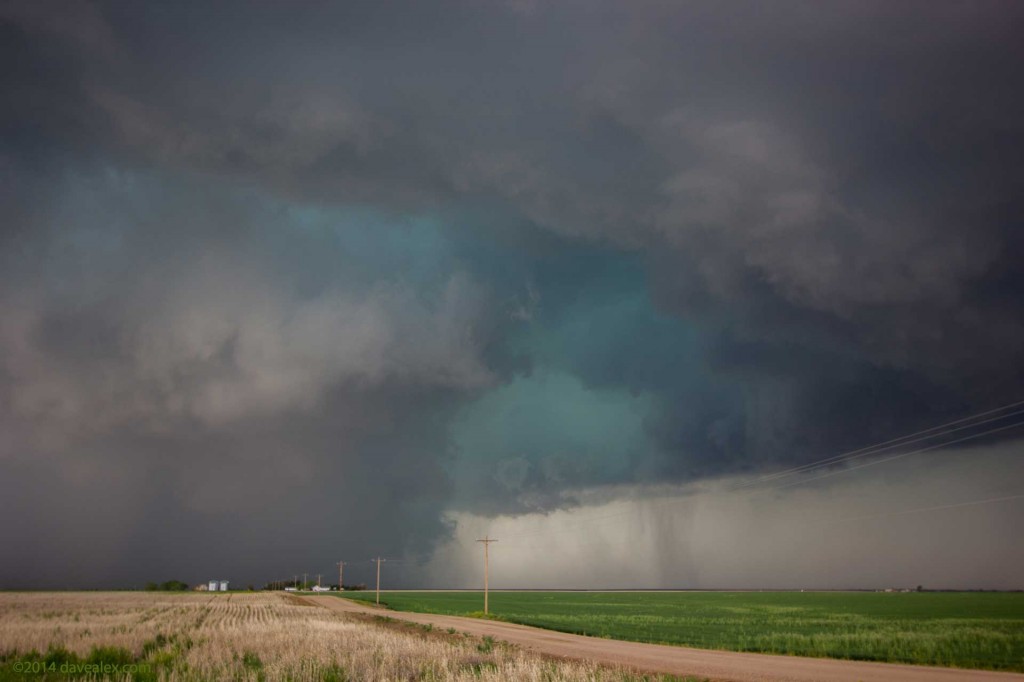 Once again we repositioned to keep the storm from pummeling us with big hail and potential tornadoes.    We figured since this beast kept putting down tornadoes (that we didn't see even though we were "right there"); we're bound to see one if we continue with our great position.  Unfortunately there was just too much moisture…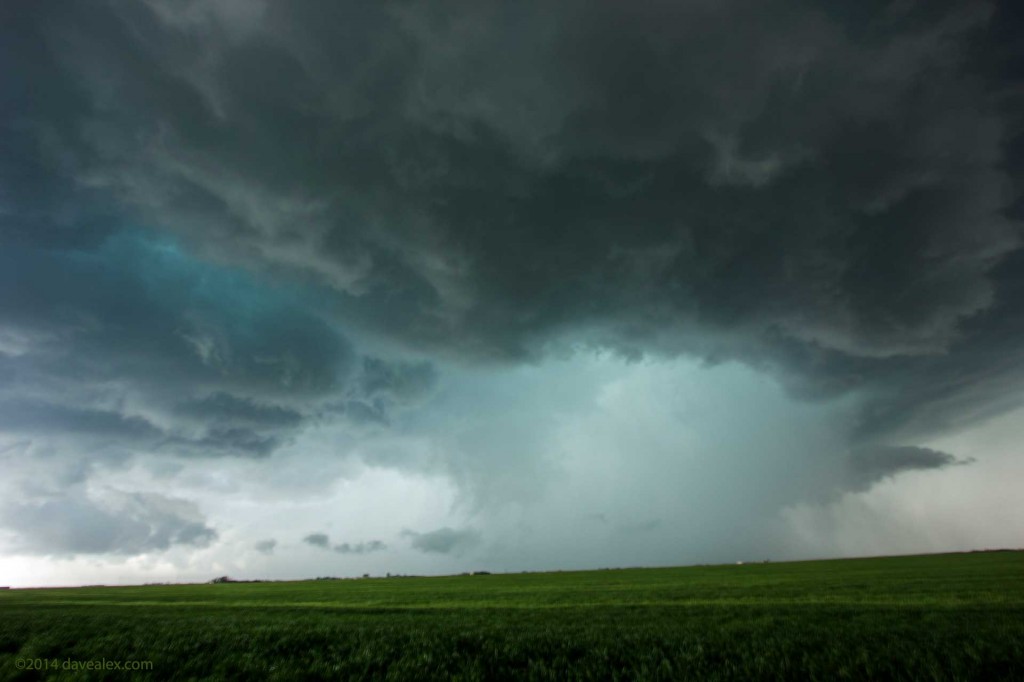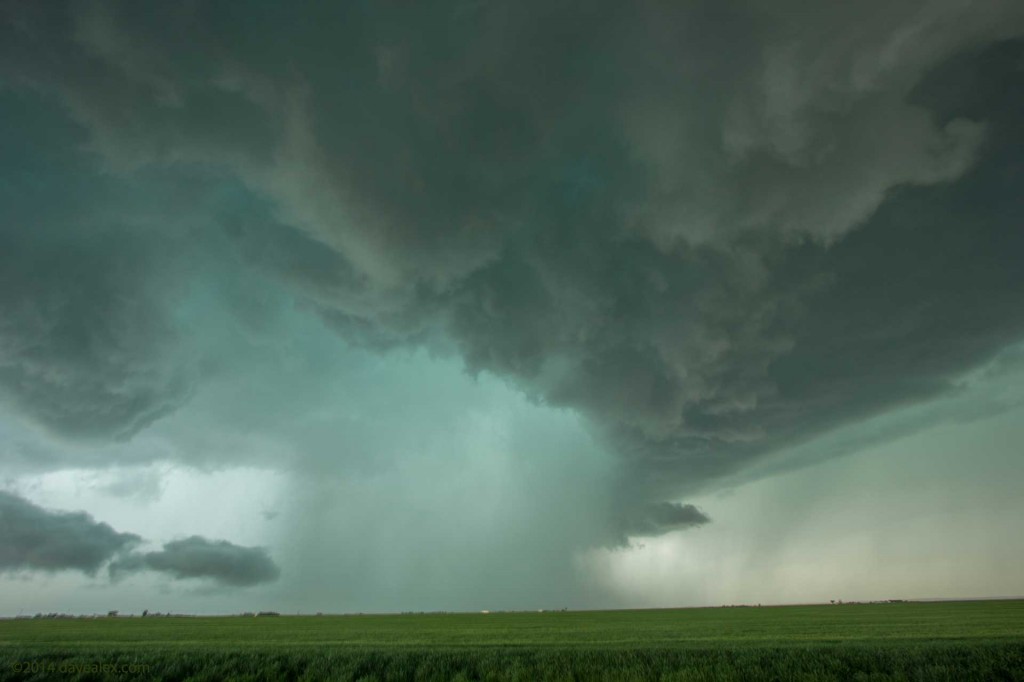 For most of the chase thus far, and especially at this time, the clouds were churning and swirling but there was no tight visible rotation to call into the National Weather Service. Since we weren't core punching and were ahead of the storm all day, we couldn't report any hail events either.  There were enough chasers on the road and only one storm that we figured any severe event would be witnessed and called into NWS.
North of Bennett this lowering caught our eye; but again not enough visible rotation to call it a funnel.  This is about a mile or two away.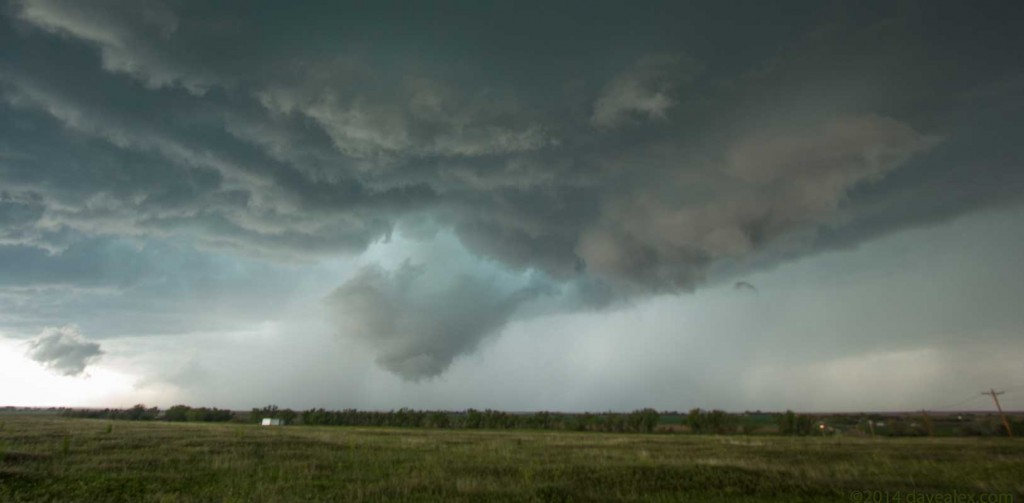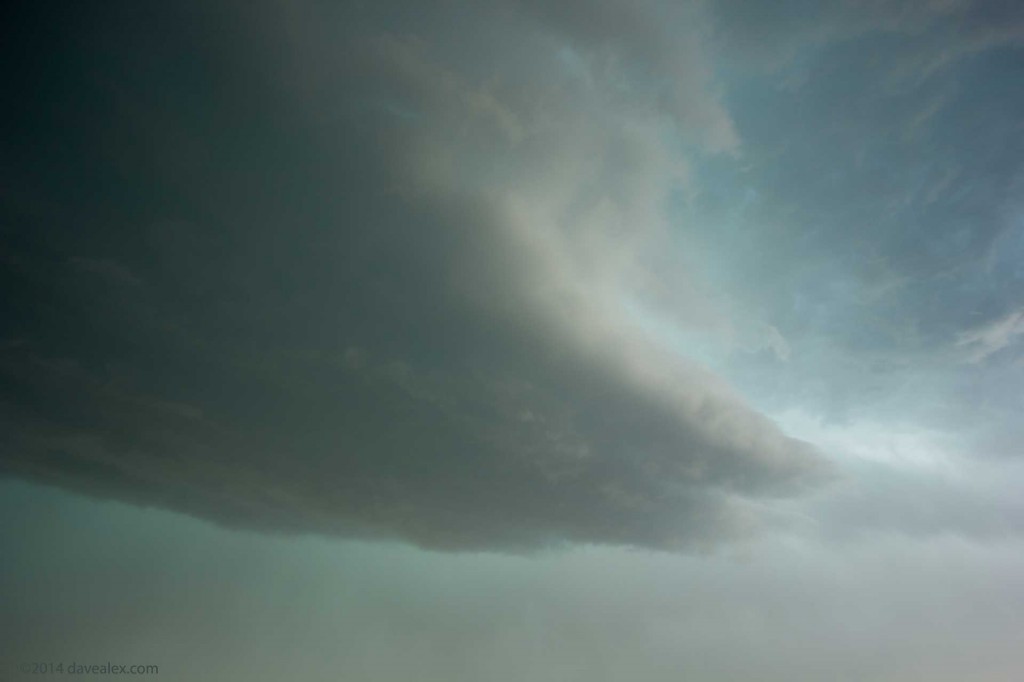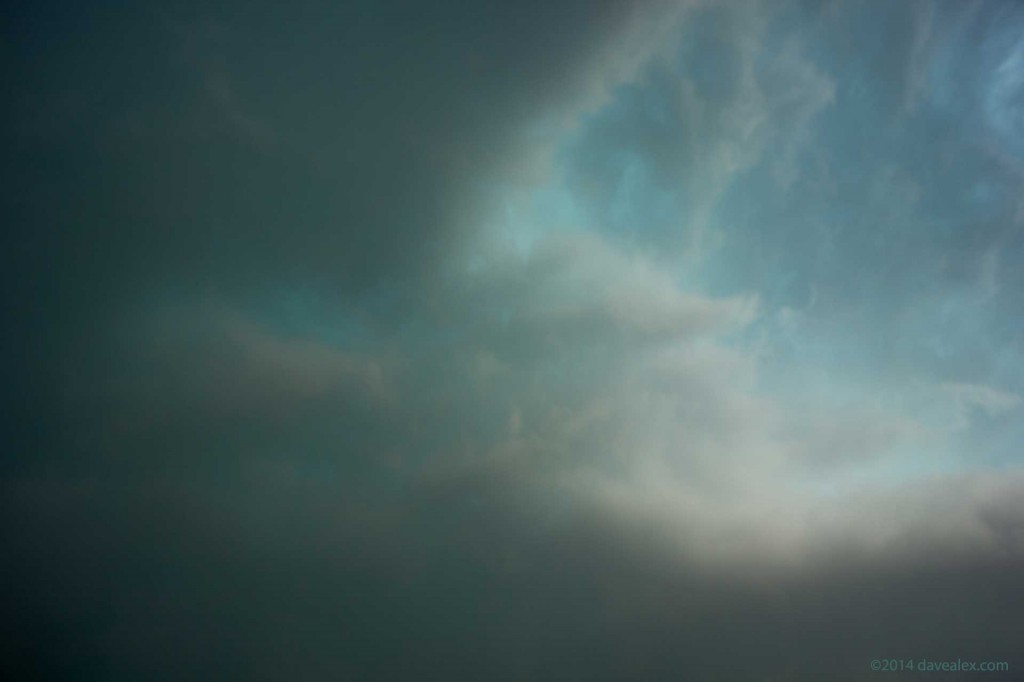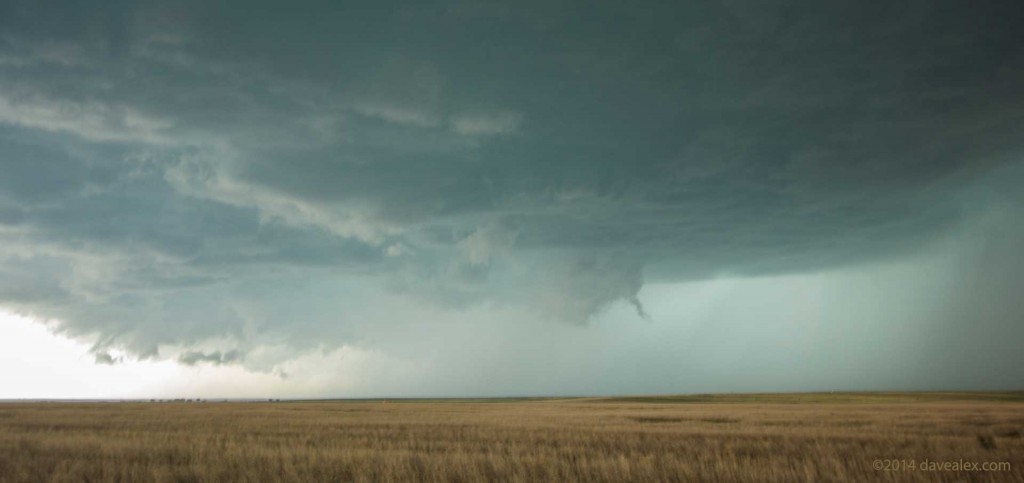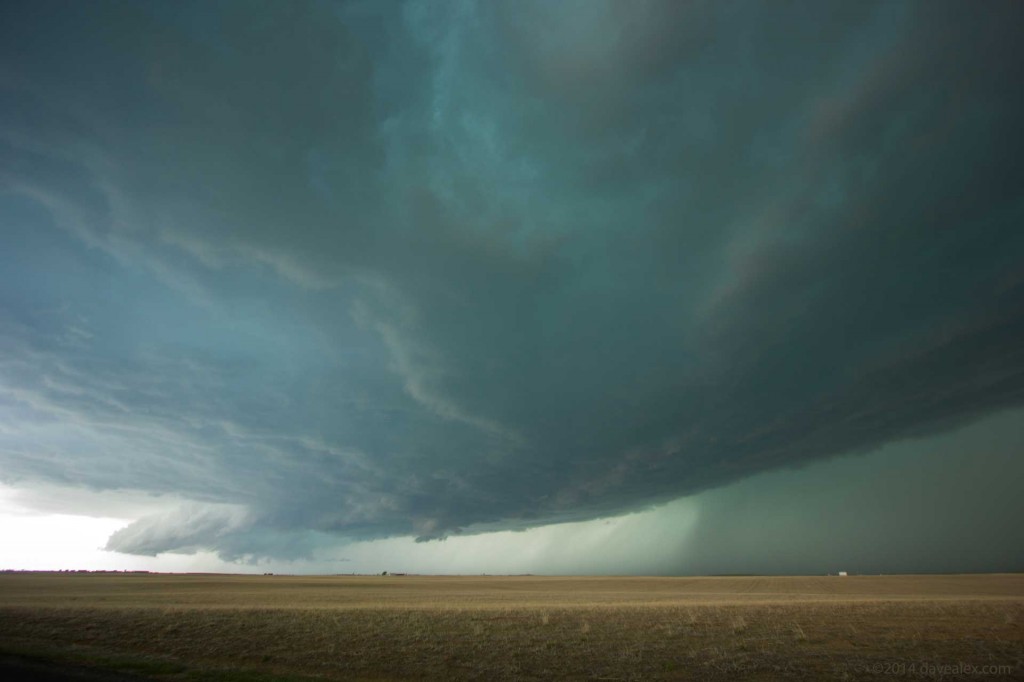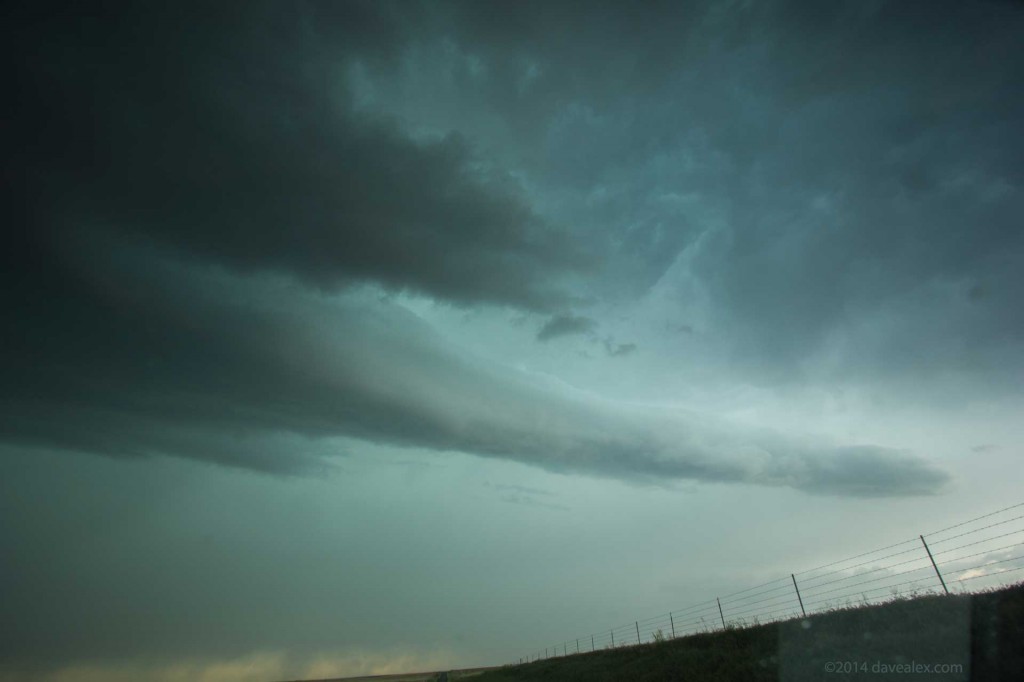 As we were driving Adam suggested we stop to take some pictures as there was something behind us that wasn't normal.  The rain band had taken on an eerie look.  It must have been due to lighting with the position of the sun and our position.  Anyway, the colors were still phenomenal and we got this unique rainband shadow thing next to the core of the storm!  Cool!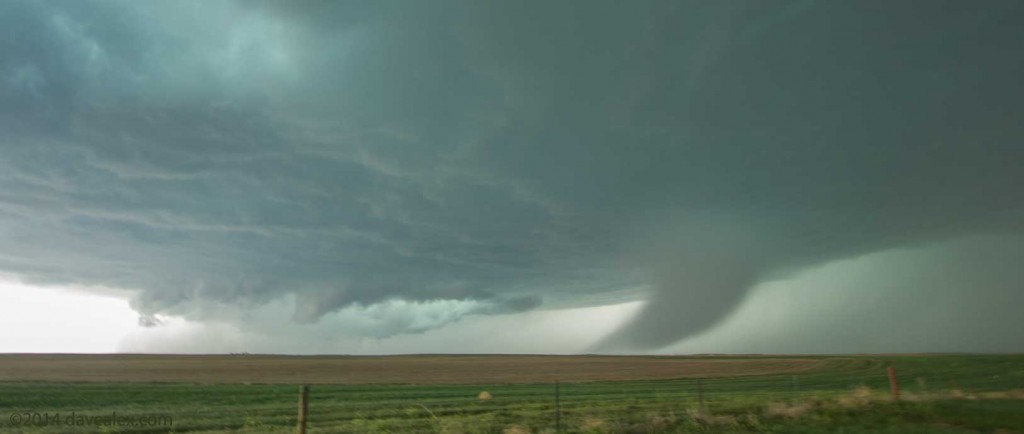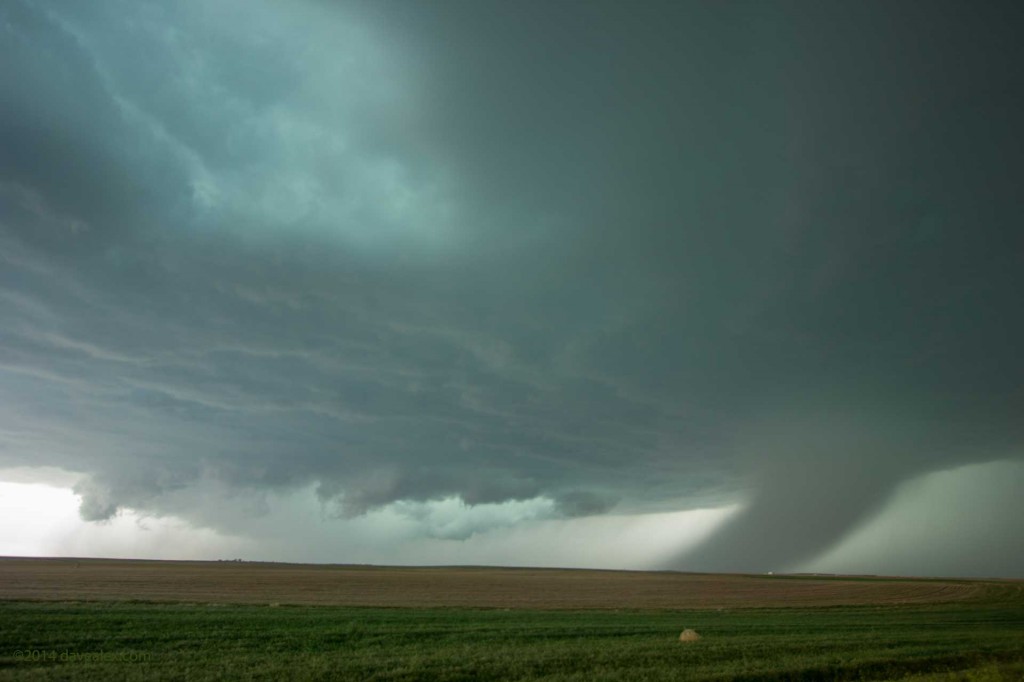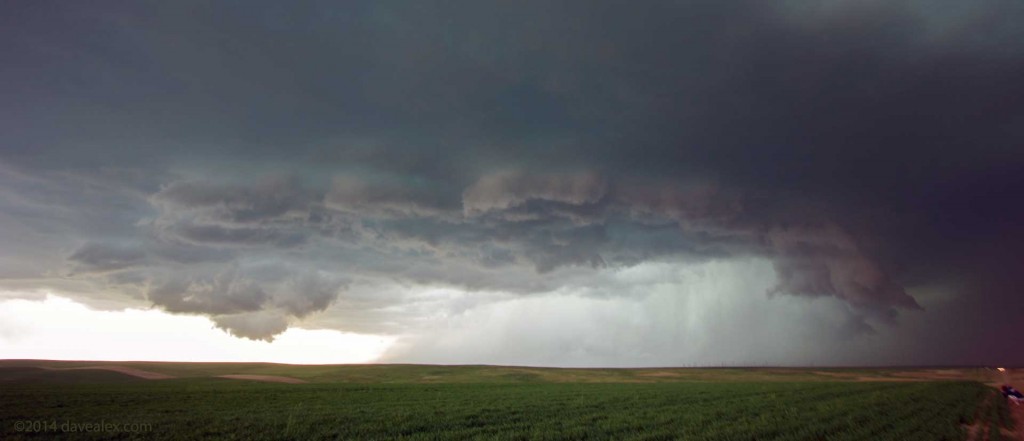 All in all, this was a fantastic chase.  Although we were in great position with this tornadic supercell all afternoon, we never did see any tornadoes even though 8 were reported.  I suspect they were rain wrapped and only visible if you were "right there"…but it is odd that going through a city that no pictures have turned up yet given nearly everyone has a camera.  We'll wait and see what the final count ends up being later this year when the NWS finishes its analysis. We only got into the hail a couple of times with the largest being larger than quarter size…otherwise a perfect chase day!
This supercell was overtaken by a line of storms coming north and that is when we threw in the hat.  We ended up in Fort Morgan, had some dinner, and had a relaxing drive back to Brighton where we first met up.  Looking forward to more great chases this spring!