We've been wanting to do this trip for a while; so we decided to embark on a long 3-day weekend trip with my dad and my kids to go Selenite digging in the Great Salt Plains in North-central Oklahoma.  I did some calling around and because of the oil boom and the Wynoka Rattlesnake Festival no hotels were available except in Enid; so we opted for a place in neighboring Anthony Kansas–the Anthony Motel & Cafe.
The Cafe was closed and I think we were the only non-oil industry guests at the motel; but it was nice enough…we got the Harley room so who could ask for more? Got there Friday evening and hung out in the room and went to bed early.  Drove south to Cherokee OK on Saturday morning and headed out to the Salt Plains.  Being a storm chaser as well; I was amazed that we were in the center of the high risk area; so we kept our eye open for building storms all day…
The wind was brutal; about a 30-40 mile southerly wind all day that picked up about 3:00pm…so we decided we had enough digging and decided to leave.  Of course, like everyone else, we lost several things that blew out of the back of the truck and we couldn't catch them it was blowing so hard!
We dug all day and found that the Selenites were a couple of inches below the ground.  Hunter discovered that if you dug near the standing water you'd find crystals right away.  They said to dig a hole in the sand, let it fill with water (we are at the water table) and then use a bucket or can to wash the sand from the walls.  This did work and crystals did fall into the murky, sandy water; but we discovered that the Crystals exist right at the interface between the sand and clay usually; so we ended up just digging horizontal about 3″ below that interface and then pulling out the crystals on the top of the sand rather than in the water…seemed quicker and easier.  You can either set out the crystals in the wind to dry; or just toss them in a bucket…we did both.
There appeared to be several types of crystals.  Those that formed in the sand, we called them "Sandy".  Those that formed in the clay that were larger and brownish.  Those that formed in clay that were bow-ties of sand in clear crystals, we called them "bow ties".  Those that formed in both sand and clay; we called them "changlings".
Note that digging this way you have to be careful with your shovel as it is easy to break or bend it…we bent one of ours and another person there broke their metal shovel.  The clay is stiff and heavy; so go easy.  Daphne discovered the "motherload" of the day which put us into the great clusters and bow-tie crystals…of course this was just before we wanted to leave so we ended up staying an extra hour…but it was worth it.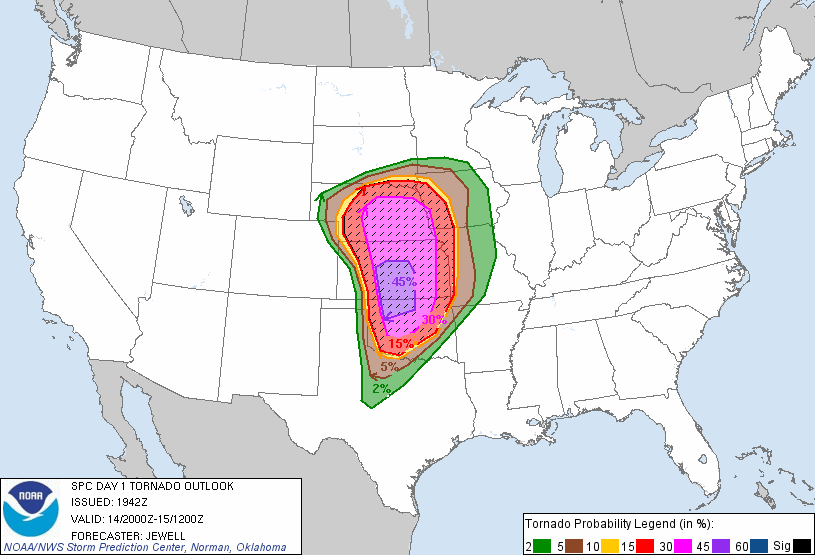 We went home and saw the storms forming on radar…the ones that looked to impact our location of Anthony were at the time near Woodward, OK; which is where several folks died.  The storm directly impacted Cherokee where we were all day (note that when we drove through every carwash and other bay was taken by cars already).  I decided not to chase the storms given I was with the family and in Erin's truck (hail damage was not an option; plus some of the side dirt roads would not be good in her car) so we decided to hang out in Anthony.  About dark; the storm came through and we took refuge in the local funeral home basement; which was the normal storm shelter after the sirens started blaring!  The kids got a good experience of what it is like to be a citizen in tornado prone areas (they've been on several chases with me prior…so they know that side too; which isn't as scary).  The twister went about 4 miles SE of town on its way to Wichita.
On the way home Daphne wanted to see "tornado damage" so I chose a route to put us through where I read there were touch-downs.  We saw some damage near Hudson which was relatively minor; albeit still scary!
Overall a great trip, some amazing crystals and chased by a storm on a high risk day in the heart of tornado alley! Great fun!